Print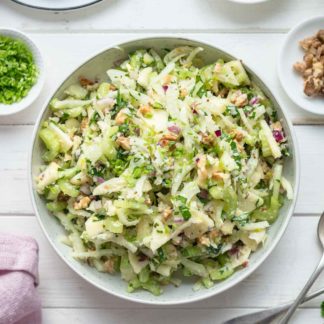 Celery Salad with Apple and Fennel
This simple and refreshing winter salad recipe. This fresh-tasting salad uses sliced celery stalks as the star, along with thinly sliced fennel and tart apple. Unami-rich parmesan cheese and crunchy walnuts take the taste and crunch factor to the next level.
1

clove

garlic,

minced

1/2

tablespoon

whole grain Dijon mustard

3

tablespoons

freshly squeezed lemon juice

3

tablespoons

extra-virgin olive oil

sea salt and freshly ground pepper,

to taste

3

celery stalks,

thinly sliced

1

medium fennel,

quartered, cored and very thinly sliced

1

green or other tart apple,

peeled, cut into thin wedges and cut crosswise thinly

1

small bunch flat-leaf parsley leaves,

chopped

1

small red onion,

finely diced

50

g

parmesan cheese,

freshly grated

50

g

walnuts,

coarsely chopped and lightly toasted

1

tablespoon

thinly sliced chives

(optional)
Whisk olive oil, lemon juice, grainy mustard, garlic in a small bowl and season with salt and pepper, to taste.

In a large bowl, toss the sliced celery, fennel, and apple with half the dressing. Add the parsley, red onion, and three-quarters of the parmesan and toss gently to combine. Drizzle with remaining vinaigrette, scatter with the chives, walnuts and remaining parmesan, season to taste and serve. Enjoy!
Walnuts can be dry toasted in a skillet or in a preheated oven to 375°F / 190°C. Just spread the walnuts in a pie plate and toast for 7 to 8 minutes, until golden, then coarsely chop the nuts.
I like to use Wellant apples for this recipe -- they have a sweet-tart flavour and crisp, juicy texture, Braeburn, Elstar or tart green apples are also great choices, but you can use the variety you like best.
Leftovers & Storage: Because of the crunchy nature of celery, apples, and fennel, this salad is a great make-ahead any time of year. It will hold up well as leftovers as well.