Print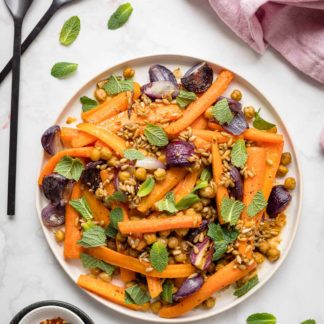 Roasted Carrots with Chickpeas, Red Onion & Mint
A simple roasted carrot side dish that is packed with flavour thanks cumin roasted chickpeas, caramelised red onion, fresh mint and a fabulously spiced sunflower seed dressing. Perfect on its own (vegan) or topped with crumbled feta.
For the roasted vegetables and chickpeas:
650

g

small to medium carrots (1 bunch),

peeled, halved lengthwise, larger carrots cut in half (finger length pieces)

6

small red onions,

peeled and quartered

1

x 400 g can

chickpeas drained,

rinsed, and patted dry with a paper towels

2

tablespoons

extra-virgin olive oil,

divided

1

teaspoon

ground cumin

sea salt and freshly ground pepper,

to taste
For the dressing:
2

tablespoons

extra-virgin olive oil

2

tablespoons

raw sunflower seeds

1

teaspoon

coriander seeds,

coarsely chopped

a pinch crushed red pepper flakes

½

teaspoon

hot paprika

2

tablespoons

red wine vinegar

1

tablespoon

freshly squeezed lemon juice

2

tablespoons

fresh mint leaves,

coarsely chopped or torn into pieces
Preheat oven to 425°/ 220°C line two baking sheets with parchment paper. Place the carrots on one baking sheet, drizzle with 1 tablespoon oil and toss to coat. Add the onions to the second baking sheet, toss with 1/2 tablespoon oil, and arrange on one half of the baking sheet. (Make sure to give the vegetables plenty of room, this is key to getting perfectly roasted veg with nicely browned, caramelized edges – crowded vegetables steam!)

In a small bowl, toss the chickpeas with the ground cumin and the remaining 1/2 tablespoon oil. Transfer to the baking sheet with the onions.

Arrange sheets in the oven, with carrots in the top third of oven. Roast, tossing halfway through, until golden brown and tender, 20-25 minutes. Remove from oven. Move the tray with the onions and chickpeas to the middle of the oven, and roast another 5-10 minutes, until onion browned in places. Remove and set aside to cool.

Meanwhile, prepare the dressing. Heat 2 tablespoons oil in a small skillet over medium heat. Add the sunflower seeds, coriander seeds, red pepper flakes, and paprika. Cook stirring often, until spices are fragrant and oil gently bubbling, about 2 minutes (be careful not to burn!). Remove from heat, let cool, then stir in the vinegar and lemon juice. Season with salt and pepper.

Transfer the roasted carrots and onions to a large serving plate or shallow serving bowl, drizzle with the dressing and toss to coat well. Scatter the mint leaves over top. If desired, serve the geröstete Karotten with crumbled feta on the side, if desired. Enjoy!
This side dish can be served lukewarm or at room temperature.
Inspired and adapted from Bon Appetit magazine.