Print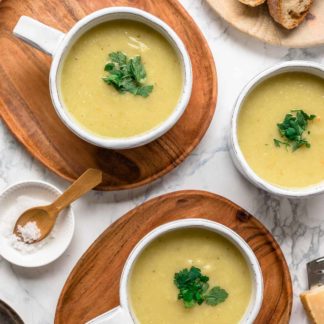 Potato Soup with Parsnip & Leek
This simple potato soup is a creamy (without cream!), comforting winter soup. Roasted potatoes, parsnips, onion and garlic add an extra depth of flavour. As do, sautéed leeks and parmesan. Easily made vegetarian or vegan. Serves 4-6.
500

g

potatoes (waxy),

peeled and cubed

200

g

parsnips,

cut to similar size as potatoes (2-3 small)

1 ,

medium yellow onion,

peeled and cut into chunks

1

head of garlic,

top trimmed to expose cloves

2

tablespoons

extra-virgin olive oil,

divided

2

large leeks (white and pale green part only),

halved lengthwise, sliced and rinsed well

4

cups

vegetable broth

water to thin

4

tablespoons

freshly grated parmesan

(see notes)

sea salt and freshly ground pepper,

to taste
Preheat oven to 430°F / 220°C and line a large baking sheet with parchment paper.

Add potatoes, parsnips, onion, head of garlic to baking sheet. Drizzle with 1 tablespoon olive oil and toss to coat. Sprinkle with salt.

Roast the vegetables for 25 minutes, or until the potatoes and parsnips are fork-tender. Flip vegetables half way through for even cooking.

Meanwhile, in a large saucepan, heat remaining tablespoon of oil on medium, add chopped leeks and, stirring occasionally, cooking until soft. About 10 minutes.

Add the roasted vegetables to the pot, and squeeze the garlic bulb to release the roasted garlic (discard remains).

Add vegetable broth, increase heat and bring to a simmer. Add parmesan, salt and white pepper. Using an immersion blender, blend until smooth.

Serve into bowls and top generously with herbs.
If using thin-skinned potatoes, feel free to leave their skin on, as the skin contain both flavour and vitamins.
A note about parmesan cheese. It is made with calf rennet, so it is not a vegetarian product. To make this soup vegetarian try using Montello cheese (organic food store). It is an Italian hard cheese, similar to the Parmigiano Reggiano, only without animal rennet. Or make this potato soup recipe vegan by using nutritional yeast flakes instead of parmesan.