Print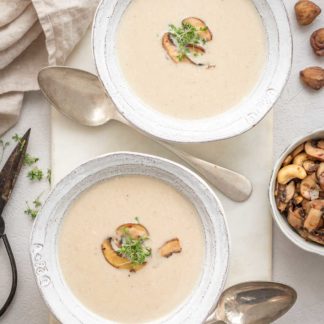 Chestnut Soup – Creamy & Delicious
The ultimate chestnut soup. Serve this decadent, creamy soup on it own with some crusty bread or as the first course at your Christmas dinner. Serves 4 as meal, or 6 as a starter.
2

tablespoons

ghee or olive oil

3

shallots,

finely chopped

1/4

small celery root,

peeled and finely chopped

2

packages chestnuts (pre-cooked, vacuum-packed),

chopped (400 g)

1/8

teaspoon

cinnamon

(Ceylon)

1/3

cup

dry white wine

(80 ml)

1

litre

chicken of vegetable broth

1/2

medium apple,

peeled and cut into pieces

250

g

heavy cream whipping cream

sea salt & freshly ground pepper,

to taste

1

x 150 g

container crème fraîche

2

tablespoons

freshly squeezed lemon juice

chopped flat-leaf parsley,

to garnish
mushroom and cashew topping (optional)
In a large saucepan, heat the ghee or oil over medium to medium-high, sauté shallots until golden, add celery root. Cook a further 2 minutes.

Add the chopped chestnuts to the saucepan, along with the cinnamon. Stir and then add the white wine. Sauté until reduced and then add the broth. Add the apple pieces and season with salt and pepper.

Simmer for 5 minutes, then add the cream and cook over medium heat for 20 minutes, or until the celery is softened.

Puree with an immersion blender, until smooth and then stir in the crème fraîche and lemon juice.

To serve, ladle the chestnut soup into bowls and finish with a scatter of parsley, or other garnish of choice.
For the topping (optional):
While the soup cooks prepare the topping by heating a drizzle of oil over medium to medium-high in a medium skillet. Add the mushrooms and garlic and cook for 3-4 minutes, until the mushrooms until softened. Add the cashews, chili flakes, and toss for a minute or so until the nuts are golden-brown. Squeeze over the lemon juice and season with sea salt.

Add a spoonful of the mushroom topping to the soup or serve on the side. Enjoy!
Ready-prepared chestnuts (vacuum-packed) can be found in most supermarkets. There is no need to roast your own!
The soup can be cooled completely and stored in a covered jar in the refrigerator for 3 to 4 days or frozen for up to a month. Bring the soup back to a boil before serving.