Print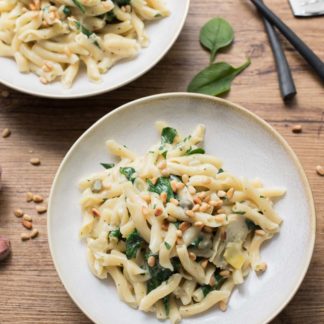 Creamy One Pot Pasta with Artichokes & Lemon
Rich and filling, this creamy one-pot pasta recipe is full of flavor, thanks to artichokes, capers and lemon. The weeknight-friendly pasta dish comes together in just 30 minutes. Depending on appetite this recipe serves 4-6.
2

Tbsp.

extra-virgin olive oil

2

shallots finely chopped

4

garlic cloves,

minced

½

cup

dry white wine

½

tsp.

sea salt

½

tsp.

freshly ground black pepper

3

cups

chicken broth or vegetable broth

2

cups

water

500

g

dry pasta

(I used Torchiette)

150

g

container Crème fraîche

35

g

freshly grated Parmesan cheese,

plus more for garnish

165

g

artichoke hearts,

quartered (see notes)

2

Tbsp.

capers

drained

2

tablespoons

fresh chopped parsley

1

tablespoon

freshly squeezed lemon juice

pinch

chili flakes

optional

2-3

handfuls baby spinach

optional
Heat oil in a large high-sided sauté pan over medium heat. Add shallots and garlic; cook 4-5 minutes, until softened. Add wine and increase heat to medium-high; simmer 2-3 minutes or until liquid is reduced by half. Stir in salt and pepper.

Add broth and water to pan; bring to a boil. Add pasta, Cook, uncovered, stirring occasionally, until pasta is almost al dente (depending on pasta about 9-10 minutes) and a lot liquid is absorbed (reduce heat slightly while boiling, if needed).

Reduce heat to medium, stir in crème fraîche and parmesan; cook for 2 minutes, stirring often, until sauce begins to thicken. Stir in artichokes and capers and cook for 1 more minute.

Add the parsley, lemon juice, a small pinch of chili flakes and the baby spinach. Stir to combine and remove from heat. Once baby spinach has wilted (about 1 minute) serve into shallow bowls.
I like to add a small pinch of chili flakes to this pasta dish, however this is optional.
The best tasting marinated artichokes are found at your local delicatessen, farmer's market. Otherwise, use jarred artichokes. 
For the extra flavour, I like to use chicken broth for this recipe. When using store-bought broth, I always use organic cubes, rather than powder. I like the ones from Alnatura. For a vegetarian version, I recommend the same brand but vegetable broth cubes.