Print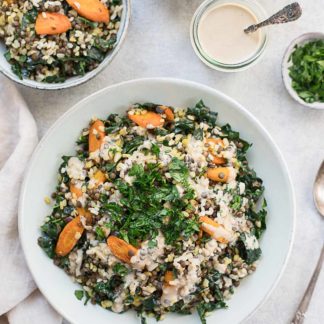 Lentil-Rice Salat with Roasted Carrots and Tahini Dressing
Healthy and hearty roasted carrot lentil-rice salad topped with a lemon-tahini dressing. Naturally vegan and gluten-free!
For the salad:
1

cup

short grain brown rice

(200 g)

2/3

cup

dry lentils french green (Puy lentils)

(135 g)

7-8

medium carrots,

peeled and cut into 1 cm thick diagonal slices

1 1/2

tablespoon

olive oil

2

teaspoons

cumin seeds

2

teaspoons

coriander seeds,

roughly crushed with pestle and mortar

1/2

teaspoon

paprika

(sweet)

1/2

teaspoon

ground turmeric

sea salt and freshly ground pepper,

to taste

1

small red onion,

finely chopped

3-4

handfuls Tuscan lacinato kale or spinach leaves,

stems removed and chopped into bite-sized pieces

Chopped fresh flat-leaf parsley,

to garnish (optional)
For the Lemon Tahini Dressing:
8

tablespoons

tahini

(well-stirred)

2

cloves

garlic,

minced

4

tablespoons

freshly squeezed lemon juice

1

teaspoon

maple syrup

1/2

teaspoon

sea salt,

plus more to taste

freshly ground black pepper

125

ml

water,

plus more as needed
Prepare the rice: In a saucepan, cook the rice (according to the package instructions), in double the amount of water for 35-40 minutes until all water is absorbed.

Prepare the lentils: In a saucepan, cook the lentils (according to the package instructions), with a 3:1 ratio of water to lentils. Bring to a boil, then reduce to a low simmer, cover and cook for 20-25 minutes, until cooked but still firm.

Preheat the oven to 400°F / 200°C. Place carrots, olive oil, cumin, coriander, paprika, turmeric in a bowl, season well with sea salt and freshly ground black pepper, and mix well. Spread out in a single layer on a baking tray and roast for 25 minutes, tossing halfway, until golden and tender.

In a large serving bowl, add the greens. If using Tuscan kale, lightly massage with drizzle of oil to tenderize the leaves. Add the red onion.

To make the dressing, combine all the ingredients in a small bowl and whisk until well combined. If the dressing is thicker than you'd like, whisk in water by the tablespoonful until it reaches the desired consistency.

Add the rice, lentils and carrots to the bowl with the greens. Toss to combine. Drizzle with some of the tahini dressing and garnish with a little chopped parsley.

Serve the remaining tahini dressing on side to be added, as desired.
I like to serve this salad slightly warm or at room temperature.
I serve this salad with quite a bit of dressing as some prefer just a drizzle and others quite a lot. Any leftovers of the dressing can be stored in the fridge up to 1 week. This dressing is great over roasted vegetables such as carrots or cauliflower, or tossed together with a salad made from hearty winter greens.
Turmeric powder has a warm, bitter, pepper-like flavour. It is a powerful anti-inflammatory and an antioxidant. It can be skipped if you don't have on hand, or aren't a fan of its taste.