Print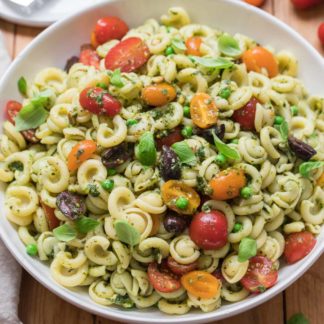 Pesto Pasta Salad with Peas and Tomato
Easy pasta salad with homemade pesto, peas and tomatoes. Light and full of summer flavors! Perfect for BBQs and picnics.
For the fresh pesto dressing (200 ml):
for the pasta salad:
500

g

dried pasta

(such as volanti, fusilli, penne or farfalle)

45

g

pine nuts,

lightly toasted

1

cup

frozen peas,

defrosted (or fresh peas!) (ca 130 g)

350

g

cherry tomatoes,

halved

½

cup

Kalamata olives,

pitted and halved or in thin slices (50 g)

35

g

parmesan cheese,

freshly grated

Sea salt and freshly ground pepper,

to taste

Handful of small basil leaves,

to garnish
Bring a large pot of salted water to boil for the pasta. Cook the pasta until al dente (according to package directions). Remove pasta from heat, drain and immediately rinse the pasta under cool water to prevent the noodles from sticking to one another. Drain well and transfer to a large serving bowl.

Meanwhile, toast the pine nuts in a dry skillet over medium-high heat (this only takes a few minutes, so keep your eyes on them). Transfer to a plate to cool.

Make the pesto by adding basil, shallot, garlic, chili flakes, lemon juice, and salt to a food processor and blending to combine. Stream in the olive oil until creamy and smooth, scraping down sides as needed. It should be thick but pourable. (Alternatively the pesto can be made using an immersion blender).

Add the pesto to the bowl with the pasta. Toss until well-combined. Now add the peas, tomatoes, olives, parmesan and pine nuts to the bowl. Gently mix to incorporate. Season with salt and pepper, to taste. Garnish with more basil leaves and serve at room temperature.
I used volanti pasta which can be bought made from durum wheat semolina, spelt, red lentils (gluten-free!) I buy my basil at the market which is sold in large bunches.
2 cups packed is probably about two small plants worth of basil leaves.
Half of the basil can also be substituted with spinach, if desired.
If you can't get your hands on enough basil to make your own pesto, then I recommend buying freshly made pesto from the farmer's market, a delicatessen or look in the refrigerated section at your local supermarket or organic food store, they often sell high-quality pesto. Don't forget to add some chili flakes!