Print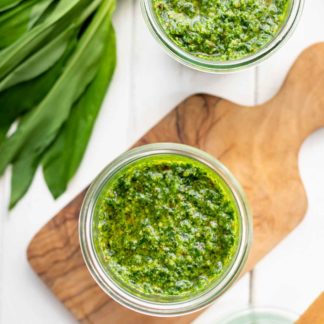 Wild Garlic Pesto
A simple wild garlic pesto made with roasted hazelnuts. Perfect pair for pasta, potatoes or spread for sandwiches. Yields enough to fill approximately a 200 ml glass.
To serve (optional):
500

g

dried pasta of choice

plus 125 ml reserved cooking water, to thin pesto

blanched green asparagus & peas
Place the wild garlic and parsley in a food processor. Process until quite well broken up.

Add the grated parmesan and process further (this helps further break down the garlic and parsley leaves).

Then add the roasted hazelnuts, salt, pepper, lemon zest and lemon juice. Turn the machine back on, and add olive oil to your desired consistency.

Voila! Enjoy.
Bunch sizes can vary. I use equal parts wild garlic and parsley.
Store-bought roasted hazelnuts can be used for this recipe, otherwise roast the hazelnuts in a dry skillet over medium heat, toast the hazelnuts, stirring them to color evenly, until the skins char in places and begin to split and flake, about 10 minutes. Transfer the nuts into a clean kitchen towel and wrap the towel around them. Rub the nuts against one another inside the towel to remove the skins. Do not worry if some bits of skin remain.
Homemade pesto lasts for 4 to 5 days in the fridge (or longer if stored properly), so I I usually double this recipe. Drizzle a little olive oil over the top and seal closed in a Weck glass to keep the pesto green.