Print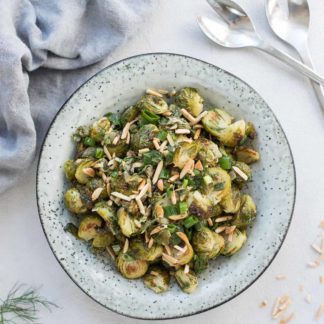 Mediterranean Roasted Brussels sprouts with capers, dill and lemon
This incredibly delicious, super flavorful recipe for Mediterranean style roasted Brussels sprouts is quick, easy and healthy! Naturally gluten-free and vegan. Serves 4-6 as a side.
750

g

Brussels sprouts,

trimmed and cut in half (keep the loose leaves)

3

tablespoon

extra-virgin olive oil

(see tips)

2

tablespoons

capers (in brine),

drained and chopped

1

green onion,

light and dark green partss, finely chopped

2

tablespoons

freshly chopped dill

Juice of ½ lemon

sea salt and freshly ground pepper,

to taste

3

tablespoons

toasted almond slivers

(25 g)
Preheat the oven to 400°F / 200°C and line a baking sheet pan with parchment paper (optional, I like using it for easy clean-up).

Transfer the sprouts and any loose leaves to the baking sheet. Drizzle with 1 tablespoon olive oil and season with salt and pepper. Toss until combined and arrange them cut-side down.

Transfer to the preheated oven and roast until golden brown, and a bit crisp outside and tender on inside, about 20-25 minutes.

Meanwhile, toast the almonds in a dry skillet until lightly golden and aromatic.

Prepare the dressing. In a small bowl, add the remaining olive oil, capers, green onion, dill, lemon juice and a pinch of salt. Stir to combine.

In a serving dish, toss the roasted Brussels sprouts with the dressing and half of the toasted almonds. Garnish with the remaining almonds, serve and enjoy!
ROASTING WITH OLIVE OIL: For dishes like this I use my favorite go-to extra-virgin olive oil that not only tastes fantastic, but is also heat resistant, making it the perfect choice for cooking, roasting or salads. I buy it online (3 bottles at a time) and when I am at the Isar market I pick up their organic oil, though since is a little more expensive, I only use it for salads.
I like the crunch of slivered almonds, but you can also use flaked almonds if you want something more refined.
LEFTOVERS? My favorite way to use up leftover roasted vegetables is to add them to a green salad the next day. And Brussels sprouts are no exception, they taste especially good in a massaged kale salad.