Print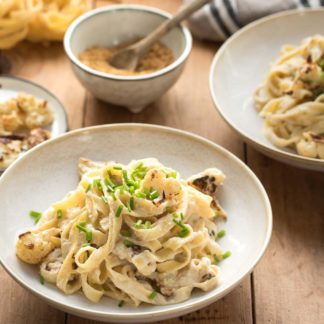 Vegan Fettuccine Alfredo with Roasted Cauliflower
A rich, creamy, and delicious Fettuccine Alfredo recipe is 100% dairy-free. Together with roasted cauliflower this is a delicious vegan recipe! Plan ahead, for a creamy sauce, the cashews should be soaked overnight. Enough sauce for 2 large portions or 4 small ones.
For the vegan Alfredo sauce:
2

small yellow onions,

chopped

1

cup

vegetable broth,

separated (250 ml)

4

large garlic cloves,

minced

1/2

teaspoon

sea salt

freshly ground black pepper,

to taste

75

g

raw unsalted cashews,

soaked overnight in hot water, drained and rinsed

1

tablespoon

freshly squeezed lemon juice

2

tablespoons

nutritional yeast

(organic food store)
For the roasted cauliflower:
In a medium non-stick saucepan, add the onion and 1/2 cup (125 ml) broth. Heat over medium to medium-high heat and cook for 10 minutes, or until the onion is very tender and the broth reduced. Add the garlic and cook for 2-3 minutes, stirring often. If there is still broth remaining, continue cooking until completely evaporated.

Transfer to a blender. Add another 1/2 cup (125 ml) broth, plus the salt, pepper, soaked cashews, lemon juice, and nutritional yeast.

Blend on high until very creamy and smooth. Add more broth, if needed, to reach the desired consistency. Taste and season with more salt and pepper (or more nutritional yeast), if desired.

Meanwhile, prepare the roasted cauliflower. Preheat the oven to 425°F / 220°C and line a baking sheet with parchment paper.

Transfer the cauliflower florets to the baking sheet. Toss with oil and place flat side down. Season with a few good pinches of salt and pepper. Place in the preheated oven and roast for 25 minutes, or until tender and lightly browned.

Cook pasta according to package directions in a well salted pot of water. Reserve 1/4 cup (60 ml) of the pasta water. Drain and add the Alfredo sauce to the pasta, plus a little pasta water to thin it out, if desired.

Top with the roasted cauliflower and garnish with fresh chives or parsley. Enjoy!
If only making dinner for two, then you may have some leftover sauce (depending on how saucy you like to your pasta). Store it in a sealed container in the fridge. You can expect it to thicken up overnight, which you can thin out with a little broth or pasta cooking water when reheating.