Print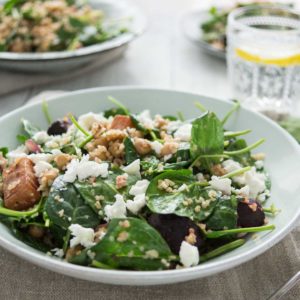 Spinach Salad with Roasted Beets, Chickpeas, Bulgur and Feta
A delicious, healthy and easy spinach salad recipe with roasted beets, chickpeas, bulgur, walnuts, mint and feta. Even with roasting beets, it's ready in less than 45 minutes. For a quick-midweek meal either roast the beets ahead of time or use store-bought pre-cooked ones.
For the roasted beets:
3

medium-sized beets,

peeled, halved, then quartered (500-600 g)

olive oil,

to coat the beets

sea salt and freshly ground pepper,

to taste
For the salad:
200

g

bulgur

3

tablespoons

extra-virgin olive oil

1

small red onion,

sliced

1

teaspoon

ground cumin

1

teaspoon

ground coriander

1

x 400 g can

organic chickpeas

drained and rinsed

100

g

baby spinach leaves

3

tablespoons

freshly chopped mint leaves

1/2

cup

walnuts,

coarsely chopped and lightly roasted

2

tablespoons

Crema di Balsamico

150

g

feta cheese,

crumbled
Preheat oven to 400°F / 200°C and line a baking sheet with parchment paper.

Toss the beets with a drizzle of olive oil, season with salt and pepper and spread evenly on the baking sheet. Transfer the beets to the preheated oven and bake for about 30 minutes, flipping the pieces halfway through, until the beets are tender (cooking time may vary slightly depending on the size of the beet pieces). Remove from oven and set aside.

Meanwhile prepare the bulgur (according to package instructions). Cook in a 2:1 ratio water to bulgur. Bring it to a boil. Cover, reduce heat, and simmer for 10 minutes or until tender. Cover and set aside.

Heat 1 tablespoon of the oil in a large non-stick skillet over medium heat. Add the onion, cook, stirring for 5 minutesor until tender. Add the cumin, coriander, and cook, stirring for 30 seconds. Add the chickpeas and roasted beetroot, and stir until chickpeas heated.

Meanwhile, combine the bulgur, spinach, mint and walnuts in a large bowl. Drizzle with 1 tablespoon oil of the Crema di Balsamico and the remaining oil (2 tablespoons). Add the chickpea beet mixture and toss to coat. Serve into bowls and scatter with feta cheese. Drizzle with the remaining Crema di Balsamico and enjoy!
Store-bought pre-cooked beets can also be used for this recipe if you are looking for a quick mid-week meal!