Print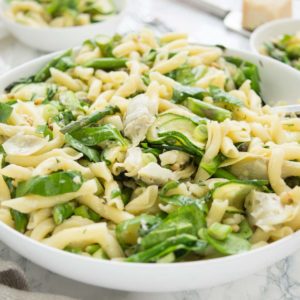 Spring Asparagus Pasta Salad
This easy Spring Artichoke Pasta Salad is quick and easy to make ahead and is SO delicious! Serves 4 as a main, or 6 or more, as a side.
For the pasta salad:
400

g

uncooked short pasta

I used torchiette

1

tablespoon

extra-virgin olive oil

1

bunch asparagus

sliced on the bias into bite-sized pieces (500 g)

1

medium zucchini

sliced thinly with a mandoline

3

cloves

garlic

minced

sea salt and freshly-cracked black pepper

to taste

1

x 310 g jar

artichoke hearts (in brine or marinated),

drained and coarsely chopped

4

green onions,

finely chopped

1

tablespoon

capers (in brine),

drained and coarsely chopped

generous handful baby spinach leaves,

coarsely chopped

40

g

parmesan cheese,

plus extra for serving

30

g

pine nuts,

lightly toasted
For the dressing:
4

tablespoons

extra-virgin olive oil

3

tablespoons

freshly-squeezed lemon juice

2

tablespoons

red wine vinegar

3

tablespoons

finely chopped fresh basil leaves

1

tablespoon

finely chopped fresh dill leaves

1/2

teaspoon

sea salt

freshly ground black pepper
Cook the pasta in a large pot of salted water until al dente (according to package directions). Drain pasta and rinse under cold water for about 20-30 seconds until no longer hot. Set aside.

Meanwhile, as the pasta is cooking, heat the oil in a large skillet over medium-high heat. Once the pan is hot, add the chopped asparagus, season with a generous pinch of salt and pepper, and stir to combine. Sauté for 4 minutes, stirring occasionally.

Stir in the garlic and zucchini, plus 1 tablespoon water (this helps steam the vegetables) and continue sautéing for 1 minute more, stirring occasionally, until the garlic is fragrant. The asparagus should be tender but still slightly crisp on the inside and the zucchini only slightly cooked. Remove from heat and set aside.

In a small bowl, whisk together dressing ingredients together in a small bowl until combined.

In a large bowl, combine the cooked pasta, asparagus mixture, artichoke hearts, green onions, capers, spinach, parmesan and toasted pine nuts. Drizzle with the dressing, then toss to combine.

Serve garnished with additional parmesan, if desired. Enjoy!

This spring asparagus pasta salad also keeps well. Just cover it and refrigerate it in a sealed container (for up to 2-3 days).
If using capers in vinegar, rinse before using.