Print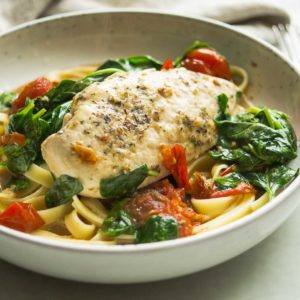 Coconut Chicken with Tomatoes & Spinach
A quick and easy to make one-pan chicken recipe with coconut milk, fresh tomatoes, sun-dried tomatoes and spinach. Makes great leftovers, whether eaten cold or warm.
4

boneless skinless chicken breast halves,

preferably free range or organically raised

1

tablespoon

olive oil or coconut oil

1/2

teaspoon

dried basil

1/2

teaspoon

dried oregano

1/2

teaspoon

dried thyme

1/2

teaspoon

salt and a couple grinds of black pepper

Pinch

of cayenne pepper

1

tablespoon

flour,

or more

1

large clove garlic,

minced

60

g

sun-dried tomato halves

(packed in oil), chopped (about 8-10 halves)

3/4

cup

chicken broth

(185 ml)

200

g

can organic coconut milk

250

g

baby roma tomatoes or cherry tomatoes

100

g

baby spinach
In a small bowl, add the dry basil, oregano, thyme, salt, ground black pepper and cayenne pepper. Stir to combine. Season both sides of the chicken breasts with spice blend, then sprinkle with the flour.

Heat the olive oil in a large non-stick skillet over medium-high heat. Add the chicken breasts in a single layer to the pan. Cook until seared on both sides, about 1 minute per side.

Add the garlic, sun-dried tomatoes, chicken broth, and coconut milk; stir in with the chicken. Scatter the cherry tomatoes on top.

Cover the pan with a lid. Let the sauce simmer over medium-low heat until the chicken is cooked through, about 20 minutes.

Uncover the pan. Stir in spinach, cover and let stand for 1-2 minutes, until spinach wilted.

Serve over rice or pasta and enjoy!
I like to serve this with pasta, which can easily be prepared while the chicken simmers.