Print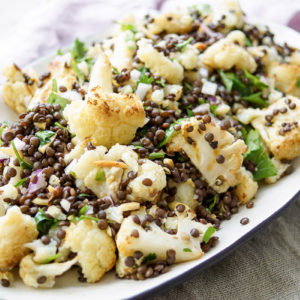 Roasted Cauliflower with Lentils and Lemon Dill Caper Vinaigrette
A hearty vegan side dish or salad made with nutty, tender roasted cauliflower and lentils tossed in a flavorful dressing.
For the salad:
1

cup

beluga lentils

(200 g)

1

large head of cauliflower,

trimmed and cut into florets

2-3

tablespoons

extra-virgin olive oil

sea salt and freshly ground pepper,

to taste

1

small red onion,

finely chopped

1/4

cup

slivered almonds,

lightly toasted (25 g)

1

small bunch flat-leaf parsley,

chopped
For the lemon caper and dill vinaigrette:
4

tablespoons

freshly squeezed lemon juice

1/2

teaspoon

finely grated lemon zest

(from an organic lemon)

1

clove

garlic,

minced

2

teaspoons

capers (in brine),

drained and chopped

1

teaspoon

grainy Dijon mustard

1/4

teaspoon

dried dill

(1 teaspoon if using fresh dill)

4

tablespoons

extra-virgin olive oil

sea salt and pepper,

to taste
Preheat the oven to 425°F / 220°C and line a baking sheet with parchment paper.

Cook the lentils according to package instructions. When done, remove from heat and drain if needed. Set aside to cool slightly.

While the lentils are cooking, roast the cauliflower: Place the cauliflower florets to a large bowl, drizzle with oil and toss to combine. Transfer to the baking sheet and season with salt and pepper, to taste. Place in the preheated oven and roast for about 20-25 minutes, or until tender and lightly browned, depending on size of the florets. Toss the cauliflower on the sheet halfway through roasting time.

Meanwhile, place almonds in a small saucepan over medium-high heat. Toast the slivered almonds, stirring often, until golden brown.

To make the vinaigrette, in a small bowl, whisk together the lemon juice, zest, garlic, capers, mustard, dill and olive until combined. Season to taste with salt and pepper.

In a served bowl, combine the cauliflower and lentils. Drizzle with the vinaigrette. Toss gently. Add the red onion, toasted almonds and parsley. Toss again to combine. Serve and enjoy!
This dish can be served warm or at room temperature (or even cold!). For serving at room temperature, transfer the lentils to the serving bowl to cool and allow the cauliflower to cool on the baking tray, before tossing together with the remaining ingredients.