Print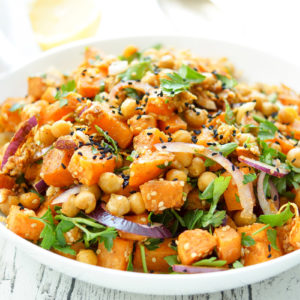 Roasted Chickpea and Sweet Potato Salad
This roasted chickpea and sweet potato salad with parsley and red onion in a chili-coriander-cumin dressing makes for a healthy, plant-based meal that's vegan and gluten-free.
To roast the chickpeas and sweet potatoes:
2

tablespoons

olive oil,

divided

1

x 400 g can

organic chickpeas

1

teaspoon

ground cumin

sea salt and freshly ground pepper,

to taste

1

large organic sweet potato,

peeled and diced (ca. 400 g)

1/4

teaspoon

cayenne pepper

(for less spiciness, reduce to 1/8 teaspoon)

1/2

teaspoon

paprika

(sweet)

1

tablespoon

sesame seeds
To assemble the salad:
1

teaspoon

cumin

1

teaspoon

ground coriander

1

teaspoon

chili powder

(mild)

2-3

large cloves garlic,

minced

finely grated zest of 1 organic lemon,

plus freshly squeezed juice of 1/2 a lemon (or to taste)

1

small red onion,

halved and thinly sliced

1

small bunch flat-leaf parsley,

chopped

1

tablespoon

nigella seeds

(black cumin) (optional)

extra drizzle of olive oil,

optional
To roast the sweet potato and chickpeas: Preheat oven to 400°F / 200°C and line a baking sheet with parchment paper.

Add chickpeas to a small mixing bowl and toss with 1 tablespoon olive oil and 1 teaspoon of cumin. Season with salt and pepper. Arrange on half of the prepared baking sheet.

In a second bowl, add the diced sweet potato and toss with the remaining olive oil, cayenne pepper, paprika, sesame seeds and a sprinkle of salt. Transfer to the other half of the baking sheet and arrange in a single layer.

Bake for 15 minutes, then remove from oven to toss chickpeas and sweet potatoes to ensure even cooking. Return to oven and cook for 10-15 minutes more, or until sweet potatoes are tender and lightly browned.

In a serving bowl, add the cumin, coriander, chili powder, garlic, lemon zest and lemon juice. Whisk together to combine. Add the roasted chickpeas and sweet potato, then the red onion and parsley. Toss together until well combined.

Sprinkle with nigella seeds and drizzle with a little more olive oil, if desired.

Serve warm or at room temperature. Enjoy!
Toasting the nigella seeds brings helps release their oil which brings out more of their flavor. To do so, in a dry pan, lightly toast the nigella seeds over medium-low heat for two to three minutes, then sprinkle them over the roasted chickpea and sweet potato salad.
I buy Nigella seeds at my local organic food store however you can also find them online. They add a very subtle nut-like, peppery taste to dishes. To bring out this flavor dry roasting is recommended. Otherwise, they are beautiful seeds to use as garnish and for adding a little extra crunch.