Print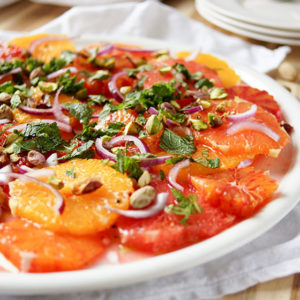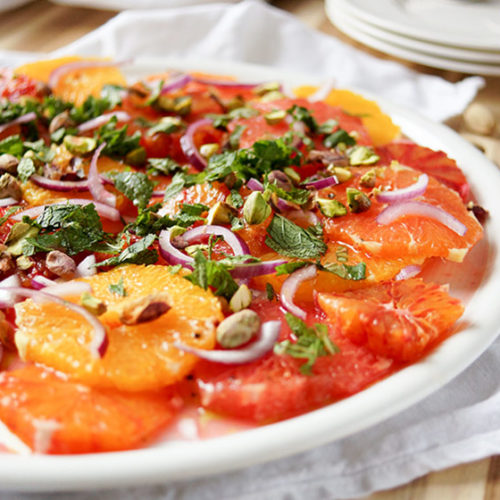 Citrus Salad with Pistachios and Mint
Simple citrus salad with blood oranges, pink grapefruit, cara cara and navel oranges, red onion, mint, pistachios and roasted pistachio oil.
For the dressing:
2

tablespoons

freshly squeezed juice from 1 blood orange

1

tablespoon

unseasoned rice vinegar

(Japanese)

1/2

teaspoon

honey

3

tablespoons

pistachio oil

sea salt and freshly ground pepper
To slice all of the citrus into rounds, cut the bottom and top off of each citrus fruit. Stand the fruit up on its bottom and slice down the fruit, removing just enough skin to expose the flesh underneath and as much of the pith as possible. Once entirely peeled, turn the citrus on it's side and slice into round "discs". Arrange the slices on a platter and scatter the red onion, mint and pistachios on top.

Whisk together the orange juice, rice vinegar and honey in small bowl. Gradually whisk in pistachio oil. Season with salt and pepper, to taste.

Drizzle the dressing over salad and serve. Enjoy!
This salad improves in flavor as it sits, making it the perfect brunch addition, so feel free to prepare it ahead of time and let it sit at room temperature for the flavors to mingle.
To prepare the fruit for this citrus salad, you need to remove the orange peels and the pith (you want the fruit's exterior to be "white"-free). Everyone has their own method, but I do this by cutting off both ends of the oranges, then I stand them up on the cut side and remove the rest of the peel and pith by cutting away strips by moving the knife down the sides of the orange from top to bottom.