Print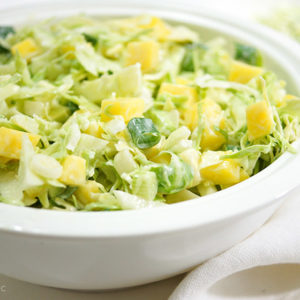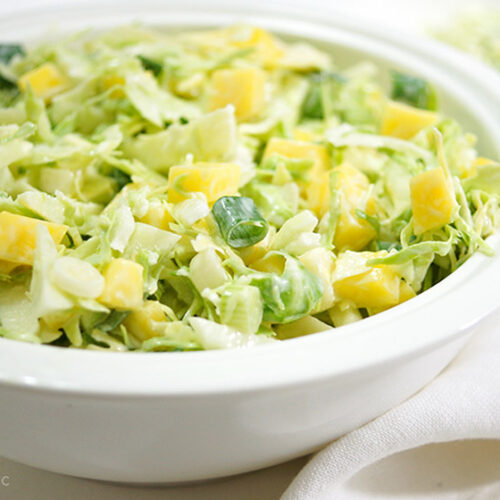 Oxheart Cabbage Coleslaw with Apple and Mango
Oxheart cabbage coleslaw with apple and mango, together with green onions, and a dollop of zingy crème fraîche, lemon and Greek yogurt is light and refreshing.
For the salad:
1

small oxheart cabbage,

outer leaves removed and sliced thinly using a mandoline, core discarded (200 g sliced)

1

small kohlrabi,

trimmed, peeled and cut into thin strips

1

Granny Smith apple,

peeled, cored, quartered and thinly sliced

1

ripe but firm mango,

sliced thinly and diced

4

green onions,

sliced thinly (including green part)
Place the cabbage, kohlrabi, apple, mango and green onion in large salad bowl; set aside.

In a small bowl, add the crème fraîche, yogurt, lemon juice, olive oil and salt. Whisk together until completely combined.

Pour the dressing over the salad and toss until fully coated.

Can be served immediately, otherwise refrigerate for 15-20 minutes to allow the flavors to fully develop. Enjoy!
This recipe makes for great leftovers, as it can be kept in the refrigerator for 2-3 days in a sealed container - and tastes just as great!