Print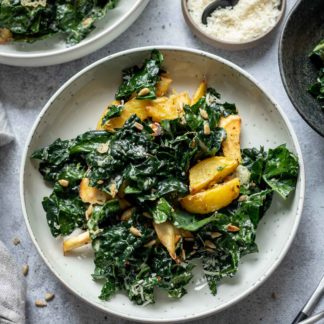 Fall Salad with Tuscan Kale and Parmesan-Roasted Potatoes
A rich fall salad make with Tuscan kale packed with flavor and texture. Tossed in a creamy caesar-like sunflower seed butter dressing. Simply delicious!
For the potatoes and parsnips:
350

g

potatoes,

peeled and cut into wedges

2

parsnips,

peeled and cut into chunks (similar size to potatoes)

1

tablespoon

extra-virgin olive oil

1/2

teaspoon

sea salt

1/2

teaspoon

red pepper flakes

25

g

parmesan,

grated
For the dressing:
3

tablespoons

sunflower butter

(organic food store)

2

cloves

garlic minced

3

tablespoons

lemon juice, plus 1 teaspoon

6

small oil-packed anchovy fillets,

very finely chopped (15 g)

2

tablespoons

Dijon mustard

4

tablespoons

extra-virgin olive oil

2

tablespoons

water (or more),

to thin
For the salad:
1

bunch Lacinato kale leaves

stems removed and torn into bite-sized pieces

4

tablespoons

raw sunflower seeds,

lightly toasted

grated Parmesan,

to garnish, plus more for serving

sea salt and freshly ground pepper,

to taste
Preheat oven to 425°F / 220°C and line a baking sheet with parchment paper.

In a medium bowl, toss the potatoes and parsnips with the olive oil, red pepper flakes, and sea salt.

Spread evenly on the prepared baking sheet, careful not to crowd. Roast for 10 minutes, toss and then roast 10-15 more minutes, until potatoes golden on the edges and tender. Sprinkle with the parmesan and roast 2-3 more minutes, or until cheese is golden and bubbling. Remove from oven and set aside for 5 minutes to cool.

Meanwhile, in a small bowl, mix together the salad dressing ingredients until well combined and prepare the salad leaves.

In a large serving bowl, add the kale leaves. Drizzle with a small amount of olive oil and use your hands to massage until all leaves are coated. Set aside for 5 minutes.

Drizzle leaves with 3 tablespoons dressing and toss well, until evenly coated. Then add the toasted sunflower seeds, and toss gently. Add 2 tablespoons more dressing, (or to desired amount) and toss again.

Add the roasted vegetables, using a spatula to scape up any bits of cheese, and toss gently again. Garnish with a little parmesan, ground pepper, and sea salt, if needed. Serve immediately.

Serve with additional parmesan on the side as well as the remaining dressing (if any) to be added as desired. Enjoy!
To toast the sunflower seeds, heat a dry skillet over medium heat. Add sunflower seeds, and, stirring often, toast just until the seeds begin to take on a golden color. Transfer to plate and set aside.
The dressing can be stored, sealed, in fridge, for up to 5 days.
For a relaxing atmosphere in the kitchen I recommend my personal Elle Republic: Chilled Out Kitchen Tunes Playlist auf Spotify.