Print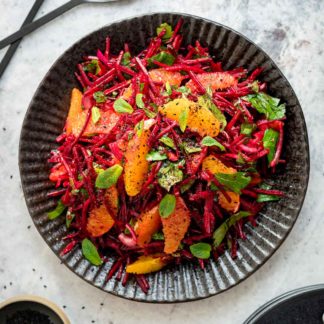 Beetroot and Orange Salad
This raw beetroot and orange salad recipe is easy, fresh and packed with flavour. Tossed with red onion, fresh parsley and mint, this salad makes a terrific winter side dish.
For the salad:
4

medium beetroot (600 g),

peeled and coarsely grated or julienned

3

large oranges,

peeled and sectioned (or thinly sliced)

1/2

small red onion,

thinly sliced (or whole one if really small)

3

tablespoons

coarsely chopped flat-leaf parsley

(about 1/2 small bunch)

3

tablespoons

coarsely chopped mint

(about 1/2 small bunch)
For the dressing:
4

tablespoons

extra-virgin olive oil

1

tablespoon

red wine vinegar

Finely grated rind and juice of ½ lemon

(1 1/2 tablespoons)

1

small garlic clove,

minced

sea salt and freshly ground pepper,

to taste
To garnish (optional):
nigella seeds

(black cumin)

sumac
In a small bowl, whisk together the dressing ingredients and set aside.

In a large bowl, combine the beetroot, orange, onion and herbs, drizzle with the dressing and toss to combine. Season with salt and pepper, to taste. Garnish with a sprinkle of nigella seeds and sumac, if desired.

Letting the salad stand before serving allows the flavours to meld. Leftovers can be stored in a airtight container in the fridge and also taste delicious the next day.

Enjoy!
To section the oranges: Peel the oranges while cutting off the white skin. Remove the orange fillets along the dividing walls with a sharp knife on the left and right.
I prefer to use a mandoline to julienne the beet. See above for more tips on how to prepare it.
Sumac can be found in some well-stocked supermarkets,Turkish or Middle Eastern markets, or online. Nigella seeds are often sold at your local organic food store.