Print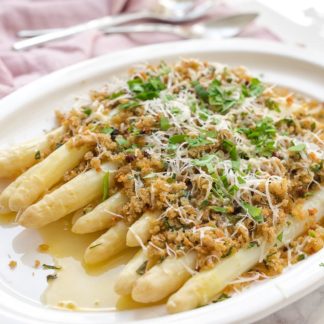 Asparagus with Lemon Butter & Parsley Breadcrumbs
A simple, tasty recipe for white asparagus served with a lemon butter sauce over homemade breadcrumbs made with garlic, lemon zest, parsley and olive oil.
2

slices

of bread,

crust removed and coarsely chopped or torn

1

garlic clove,

minced

1

teaspoon

coarse sea salt

1

small handful fresh parsley,

plus more to garnish

finely grated zest of 1 small organic lemon

1

tablespoon

extra-virgin olive oil

700

g

white asparagus,

peeled and trimmed (more if desired)

50

g

butter

juice of 1 small organic lemon

freshly grated Parmesan,

to taste
Preheat oven to 480°F / 250°C and line a baking tray with parchment paper.

Put the bread, garlic, salt, parsley, lemon zest and olive oil in a food processor and process until breadcrumbs form. Scatter the crumbs on the prepared baking tray. Bake in the middle of the oven until golden brown. Watch carefully, this only takes a few minutes!! Remove and set aside.

Blanch or steam the asparagus — according to preferred doneness. I like my asparagus so that it is still firm in the middle, although many like it cooked through. So anywhere from 8-15 minutes depending on preference.

Meanwhile, add the butter and lemon juice to a small pan and whisk over medium heat. Remove from the heat when the butter has melted.

Place the asparagus spears on plates, sprinkle with breadcrumbs and parmesan. Drizzle with the lemon butter, garnish with a little fresh parsley and serve. Enjoy!
To prepare the asparagus, peel and then apply gentle pressure at the bottom of each spear until it snaps/breaks where it is tender.
To steam the asparagus you can either use a steamer basket in a large pot, or a special asparagus steamer.
I use my favourite coarse sea salt (Marisol Flor de Sal) for the breadcrumbs. It can be found online.