Print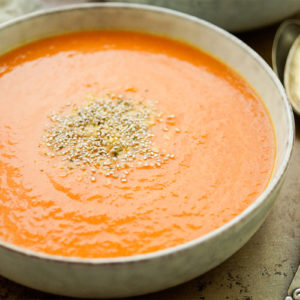 Vegetable Loaded Detox Cure Soup
A delicious and creamy detox cure soup that is packed with good for you ingredients. Easy to make, and full of nutrients. Naturally vegan and gluten-free. Serves 4 or more.
1 1/2

tablespoon

coconut oil

2

medium onion,

peeled and chopped

2

medium beet,

peeled and chopped

2

large carrot,

peeled and chopped

1/2

sweet red pepper,

seeded and chopped

5

stalks celery,

chopped

1/2

fennel,

chopped

1/2

Habanero chili,

or less

2

thumbs ginger root,

peeled and chopped

2

cups

vegetable broth

(500 ml)

2

cups

water

(500 ml)

1/2

teaspoon

sea salt,

plus more to taste

200

ml

organic coconut milk

Garnish with shaved radish,

chia seeds, hemp seeds or other garnish of choice
In a large deep pot, heat the coconut oil over a medium to medium-high heat.

Add the diced onions, carrot and celery and cook, stirring occasionally, for 5-7 minutes, until the onion is soft.

Add the rest of the vegetables, as well as the broth and water. Bring to a boil, then reduce to medium-low allowing the soup to gently simmer for around 35 minutes, or until the beetroot is tender.

Remove from the heat and using a hand-held immersion blender, purée the soup until smooth, then stir in the coconut milk. Return to the heat and warm through.

Alternatively, cool the soup slightly, then purée in a blender, in small batches as necessary. Note: If using a blender make sure the hole in the center of the lid is open to allow steam to escape.

Taste and season with salt, to taste. Serve into bowls, garnish as desired and enjoy!