Print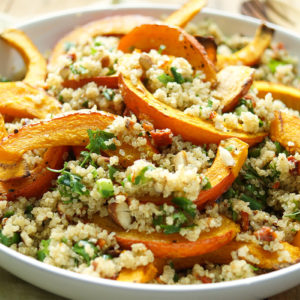 Roasted Pumpkin and Quinoa Salad with Almonds
An easy and healthy quinoa salad with almonds and roasted pumpkin full of rich and warming fall flavors. This recipe serves 6 but makes terrific leftovers that can be enjoyed either cold or at room temperature.
For the salad:
1

small organic hokkaido pumpkin,

max. 1 kg, trimmed, seeded and cut into wedges (unpeeled)

olive oil,

for coating

1 1/2

cups

uncooked quinoa

(300 g)

1

cup

whole raw almonds,

toasted and finely chopped (130 g)

4

green onions,

thinly sliced (greens and white parts)

10-12

oil-packed sun-dried tomato halves,

finely chopped (about 65 g)

1

small bunch flat-leaf parsley,

chopped

100

g

feta cheese,

crumbled (optional)
Preheat oven to 425°F / 220°C and line a baking sheet with parchment paper.

Rinse the uncooked quinoa in a fine mesh strainer. Place in a medium saucepan and cook according to package instructions, for about 15 minutes. Once most of the liquid is absorbed and the quinoa is light and fluffy, remove from heat, fluff with a fork, and let stand for another 5 minutes. Transfer to a large salad bowl.

Meanwhile, toss the pumpkin slices with a drizzle of olive oil (I do this directly on the baking sheet and toss them using my hands). Season with salt and pepper and spread evenly on the baking sheet. Roast in the oven for 25-30 minutes or until the pumpkin is tender.

In a small bowl, whisk together the dressing ingredients until well combined. Pour the dressing over the quinoa, add the almonds, green onion, sun-dried tomatoes, parsley, and feta (if using) to the bowl and toss to combine. Taste and adjust salt and pepper, as desired. Transfer the pumpkin slices to the bowl and gently toss or serve as is.

Enjoy warm or at room temperature. This dish also holds up well for leftovers the next couple of days.
It may seem like a lot of nuts for this recipe, but the crunchy almonds are a terrific complement to the other flavors and textures. I used whole raw almonds for this recipe, but you could also used slivered almonds if preferred. The nuts can be toasted on the stove top or roasted in the oven. Toasting nuts draws the natural oils to the surface, intensifying the rich nutty flavor and makes the nuts crunchier. A great addition to any salad! Read here for more tips.
Not everyone is a fan of pumpkin, so free to substitute with roasted sweet potatoes or other roasted vegetable of choice. I am willing to bet roasted carrots and parsnips would also taste with this dish.
The feta cheese is entirely optional for this recipe. It tastes great both ways. I like to enjoy this salad without and then add a little feta cheese to the leftovers to change things up a bit.