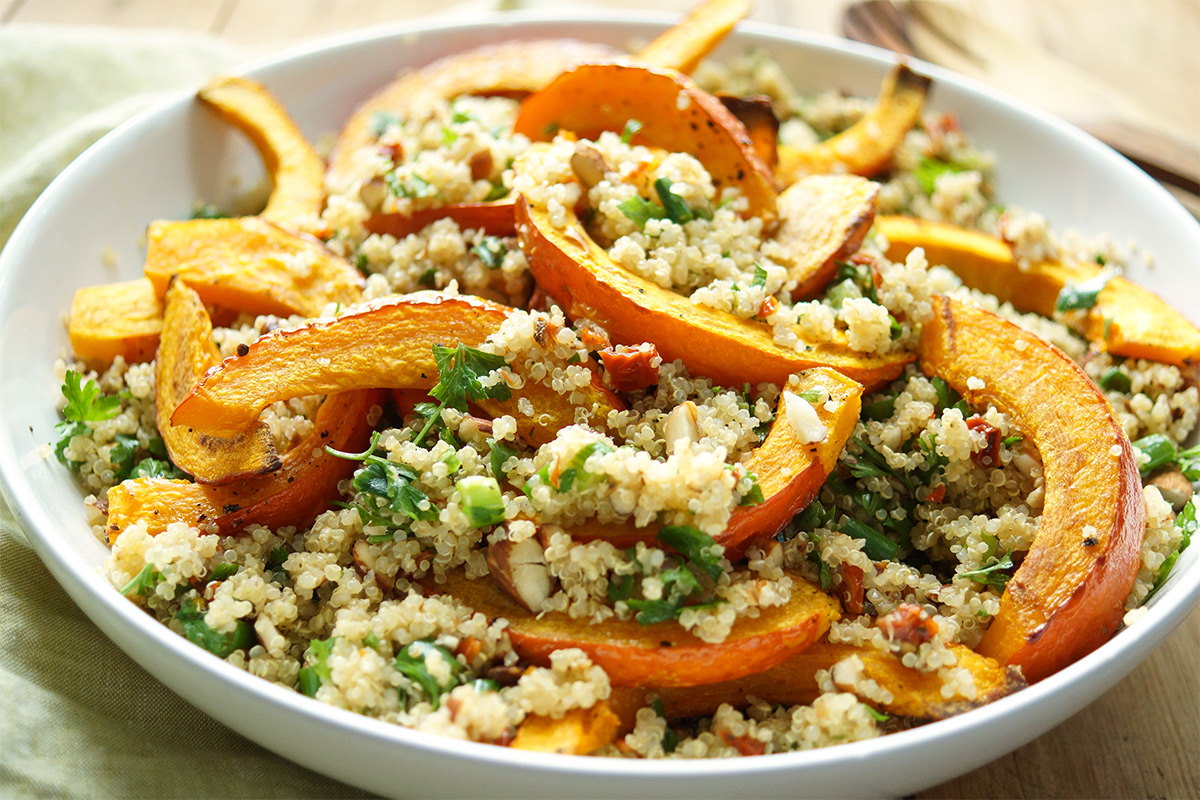 So here it is, the first pumpkin dish of the season! And a simple recipe for a roasted pumpkin and quinoa salad. One packed with crunchy toasted almonds, richly flavored sun-dried tomatoes, fresh green onions and parsley. All of that tossed in a super-good-for-you dressing made with apple cider vinegar, olive oil and cumin. This is naturally vegan recipe (and gluten-free), but for anyone following a vegetarian diet who loves the salty flavors of Greek feta — go ahead and add some. Tastes awesome too!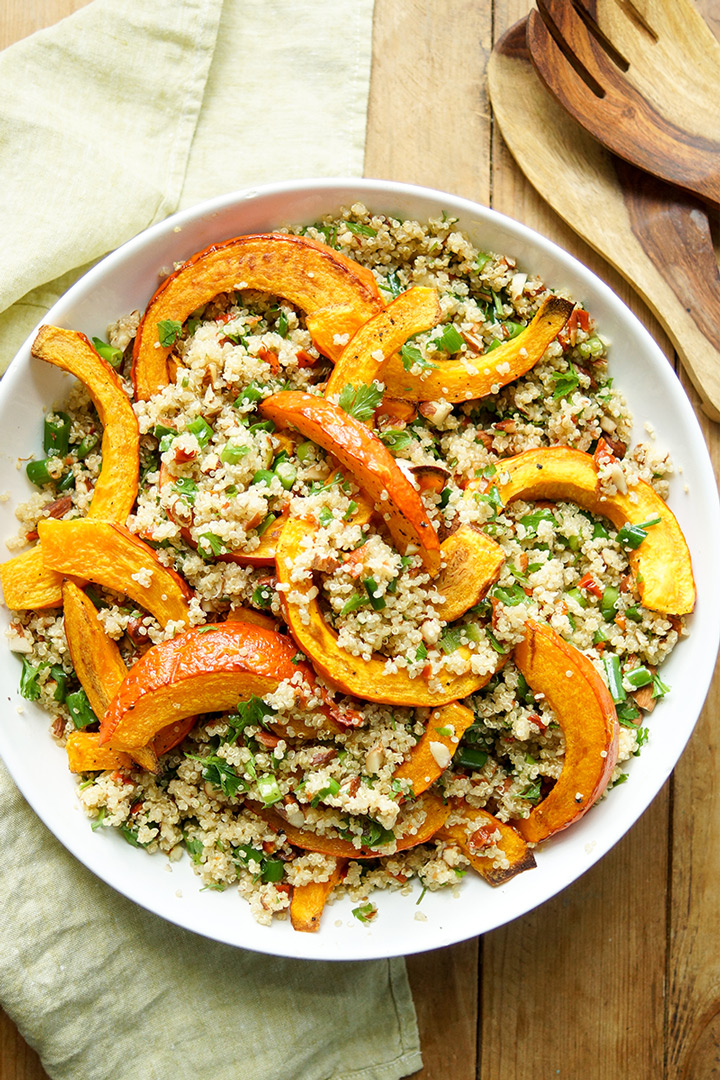 Fall is pumpkin season
Pumpkins are one of those things I buy in fall that seem to sit on my kitchen counter for weeks before I feel inspired enough to actually cook something with it. Soup is the usually choice, but it's not quite soup weather yet. And although I love Hokkaido pumpkins, butternut squash is still my go-to pumpkin choice when it comes to soup. It's not quite the season for those yet, so instead I picked up a couple of little Hokkaido pumpkins with every intention of using them right away! I managed one. I had actually planned to bake both of them and stuff them with a quinoa salad, but there was no chance of getting my favourite Schwabe excited at the prospect of eating a meal that comprised mainly of pumpkin. So instead I went with the salad version. Yep, here it is — a tasty roasted pumpkin and quinoa salad. Which meant quinoa salad for him, and the full deal for me.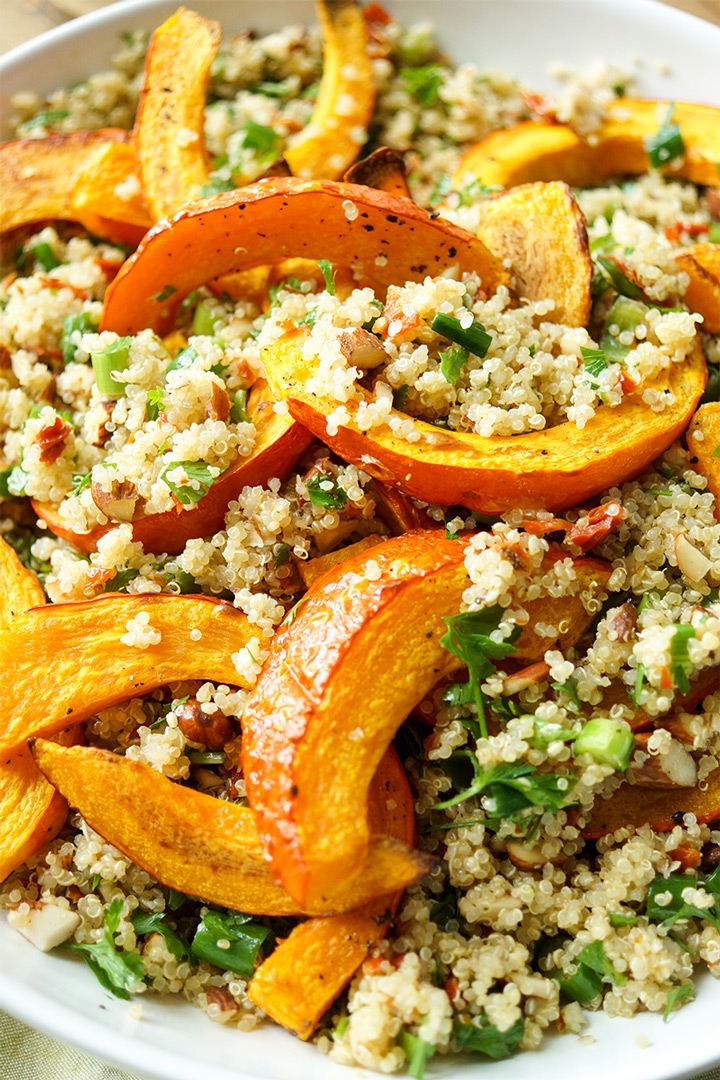 Choose organic Hokkaido pumpkins for this roasted pumpkin and quinoa salad
The fab thing about cooking with Hokkaido pumpkins is that you don't need to peel them. Way less work! And you can find them in plenty of smallish sizes so they is none of that "OMG what am I going to do with all this pumpkin?" business. If you like sweet potato then you will probably like Hokkaido's too. I say probably. I'd say they are not quite so creamy and not quite so sweet, but they have a lovely resemblance to chestnuts. So maybe if you crossed a chestnut with a sweet potato? Anyhow, I like them. And of course, they are healthy too. They are packed with fibre and beta-carotene, especially since you get all those vitamins just underneath the skin. Oh yeah, since we are eating all of it, buy organic!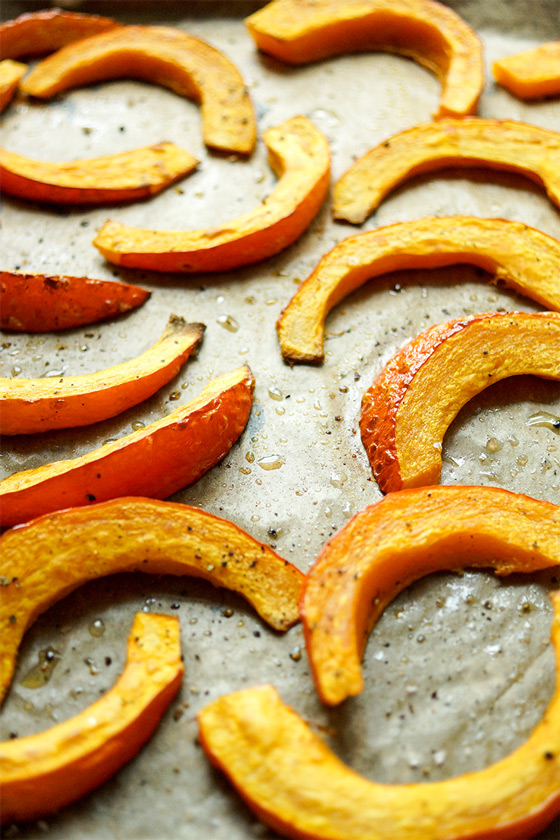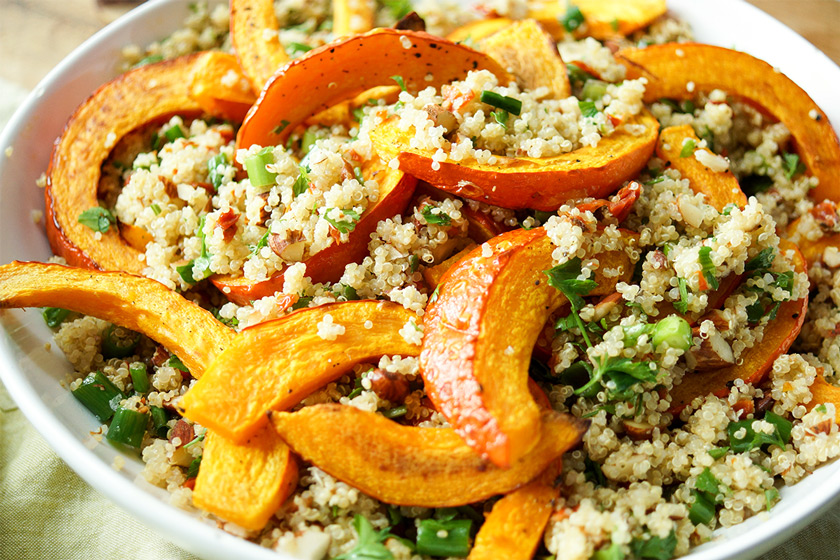 Apple cider vinegar adds flavour and is healthy choice
So what about the dressing? Well, I am really trying to introduce more apple cider vinegar into my life. This stuff is seriously good for you — the health claims are endless! Of course it's a change from my usual I-love-lemons routine, but a friend of my swears by it and ONLY uses it for her salad recipes. So here we go. I have to say the first bite of a salad using apple cider vinegar is always a bit surprising and a bit curious. The second bite, better. The third bite, OMG this is good and then I can't stop myself from loving it. All I can say, is give apple cider vinegar a chance, it's yummier than imagined and our bodies will definitely thank us for it. A roasted pumpkin and quinoa salad is a good place to start. 🙂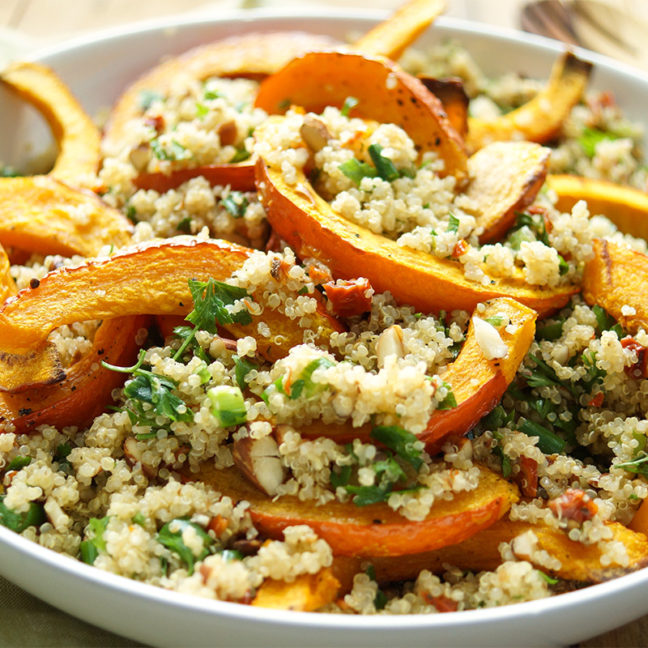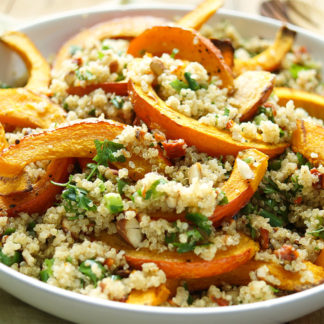 Roasted Pumpkin and Quinoa Salad with Almonds
An easy and healthy quinoa salad with almonds and roasted pumpkin full of rich and warming fall flavors. This recipe serves 6 but makes terrific leftovers that can be enjoyed either cold or at room temperature.
Ingredients
For the salad:
1

small organic hokkaido pumpkin,

max. 1 kg, trimmed, seeded and cut into wedges (unpeeled)

olive oil,

for coating

1 1/2

cups

uncooked quinoa

(300 g)

1

cup

whole raw almonds,

toasted and finely chopped (130 g)

4

green onions,

thinly sliced (greens and white parts)

10-12

oil-packed sun-dried tomato halves,

finely chopped (about 65 g)

1

small bunch flat-leaf parsley,

chopped

100

g

feta cheese,

crumbled (optional)
For the dressing:
4

tablespoons

extra-virgin olive oil

4

tablespoons

organic apple cider vinegar

1

teaspoon

ground cumin

1/2

teaspoon

sea salt,

or to taste

freshly ground pepper,

to taste
Method
Preheat oven to 425°F / 220°C and line a baking sheet with parchment paper.

Rinse the uncooked quinoa in a fine mesh strainer. Place in a medium saucepan and cook according to package instructions, for about 15 minutes. Once most of the liquid is absorbed and the quinoa is light and fluffy, remove from heat, fluff with a fork, and let stand for another 5 minutes. Transfer to a large salad bowl.

Meanwhile, toss the pumpkin slices with a drizzle of olive oil (I do this directly on the baking sheet and toss them using my hands). Season with salt and pepper and spread evenly on the baking sheet. Roast in the oven for 25-30 minutes or until the pumpkin is tender.

In a small bowl, whisk together the dressing ingredients until well combined. Pour the dressing over the quinoa, add the almonds, green onion, sun-dried tomatoes, parsley, and feta (if using) to the bowl and toss to combine. Taste and adjust salt and pepper, as desired. Transfer the pumpkin slices to the bowl and gently toss or serve as is.

Enjoy warm or at room temperature. This dish also holds up well for leftovers the next couple of days.
Notes
It may seem like a lot of nuts for this recipe, but the crunchy almonds are a terrific complement to the other flavors and textures. I used whole raw almonds for this recipe, but you could also used slivered almonds if preferred. The nuts can be toasted on the stove top or roasted in the oven. Toasting nuts draws the natural oils to the surface, intensifying the rich nutty flavor and makes the nuts crunchier. A great addition to any salad! Read here for more tips.
Not everyone is a fan of pumpkin, so free to substitute with roasted sweet potatoes or other roasted vegetable of choice. I am willing to bet roasted carrots and parsnips would also taste with this dish.
The feta cheese is entirely optional for this recipe. It tastes great both ways. I like to enjoy this salad without and then add a little feta cheese to the leftovers to change things up a bit.
Did you try this recipe?
Then tag @ellerepublic on Instagram and hashtag it #ellerepublic
How did you like it?
Please let me know how this Roasted Pumpkin and Quinoa Salad with Almonds recipe turned out for you! I would love to hear how you liked it. Simply rate it with the stars above ⭐or leave me a comment and rate it below.
Did you make any changes to this recipe?
If you have tips for other readers, let me know! It helps me and other readers so much. Sharing is Caring :-).
This post contains affiliate links. If you decide to make a purchase through my link, Amazon will pay me a commission for it. This doesn't cost you anything additional and the price remains the same. More about advertisements on Elle Republic.