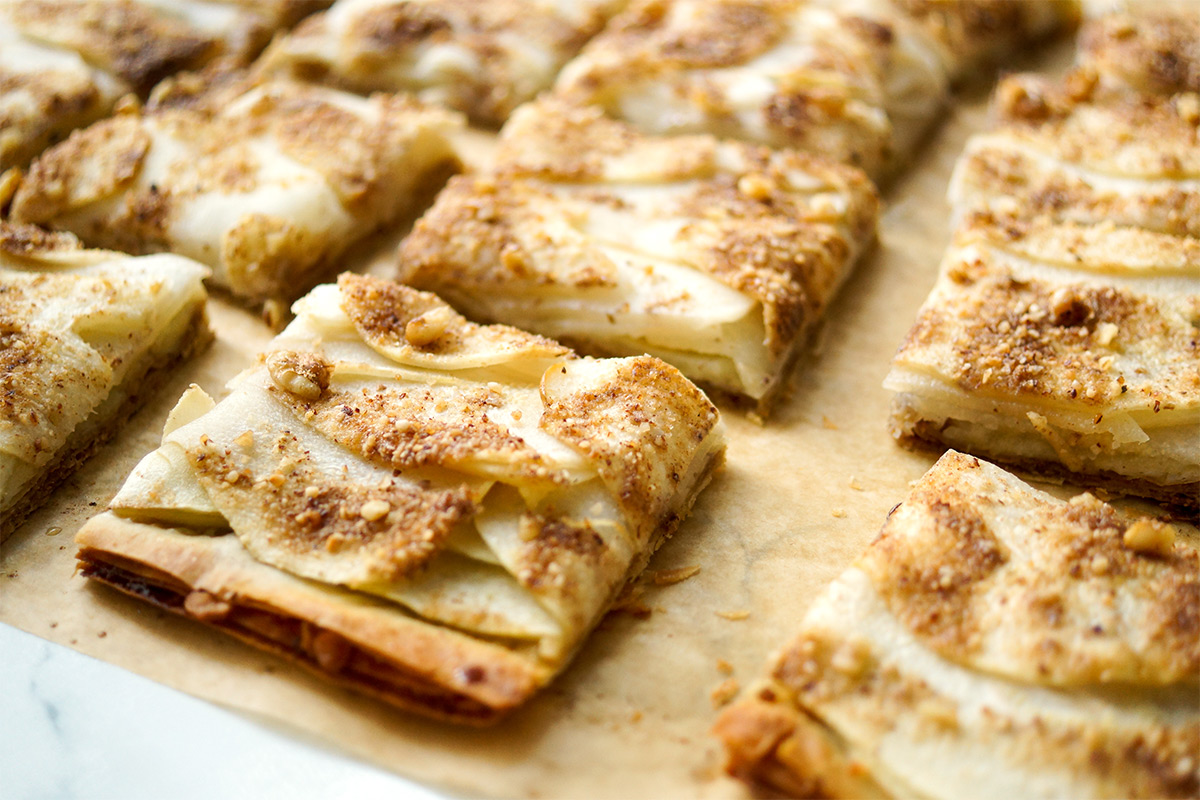 Simple, delicious AND perfect for those who don't like super sweet desserts. That's me! I love savory. And that's what's so great about this apple pear phyllo tart. It relies mainly on the natural flavors of the apples and pear. Though, I also use a little pure organic unrefined mascobado raw cane sugar to add a touch of rich caramel sweetness.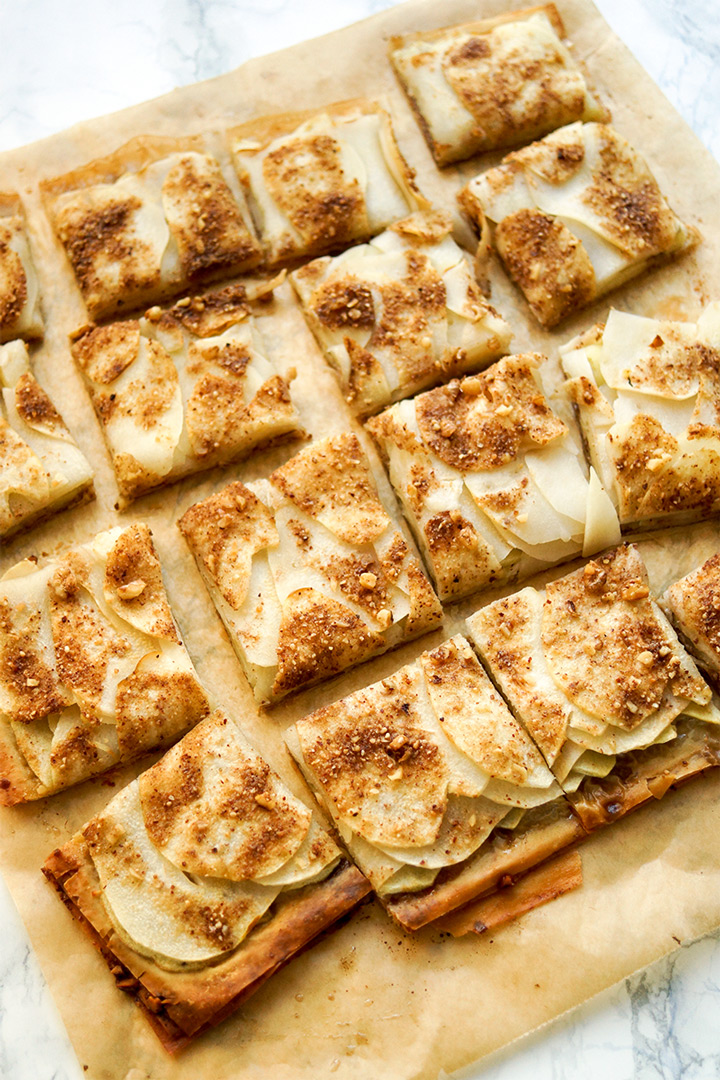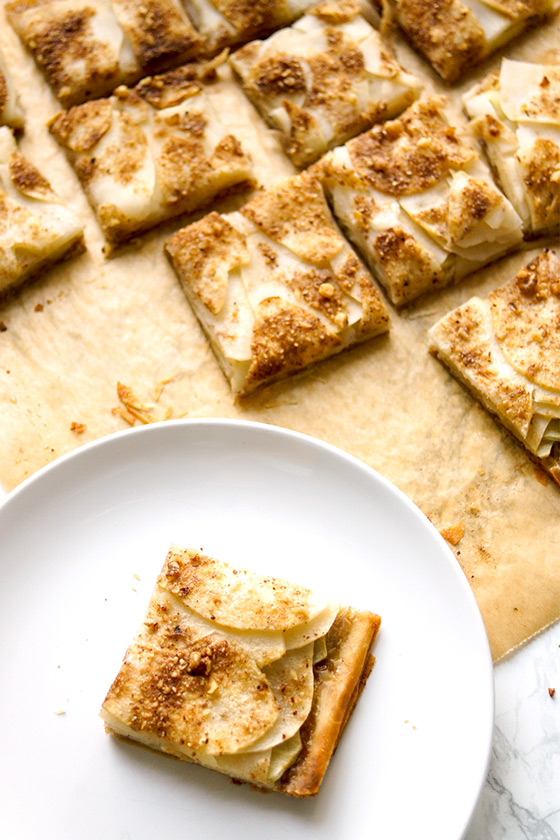 An apple pear phyllo tart is the perfect thing to celebrate the end of summer and kick-off autumn
Pears are in season now which makes it the perfect excuse to pick some up for a little baking. For this tart recipe I used a mix of pears (Bartlett, also called Williams Christ pears) and tart Granny Smith apples. Granny Smith are of course imported (I think mainly from South Africa), so if you want something from the mainland a better choice would be Greenstar apples which are mainly cultivated in Switzerland and Belgium (season starts in October), otherwise, choose a tart local variety. As for the pears, choose firm pears that are still green. Bartlett pears are like bananas are they ripen, they turn yellow and soften. Firm pears work best for this tart recipe.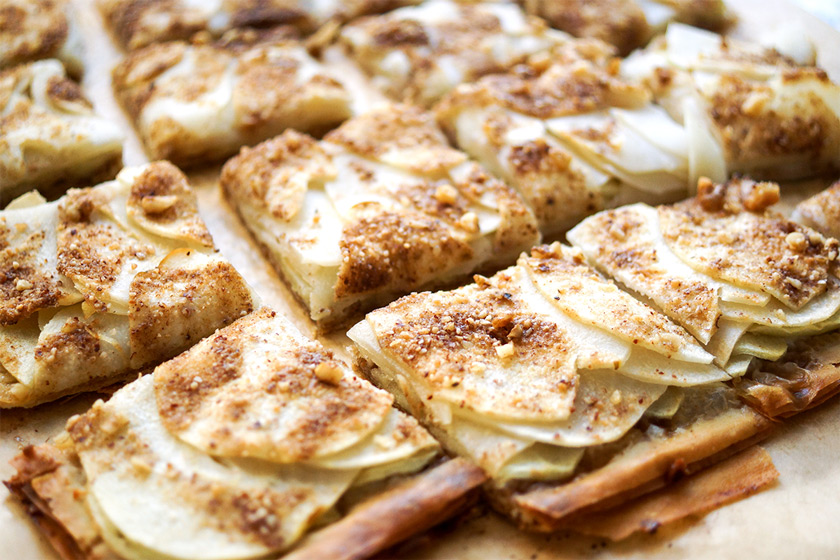 Phyllo (Filo) pastry creates a very thin layered base
Phyllo or Filo (which means "leaf" in Greek) is a type of pastry dough that is made up of super thin, tissue paper-like sheets made from flour, water and a bit of oil. Unlike puff-pastry, phyllo doesn't get all puffy when you bake it. You'll likely recognise it for desserts like apple strudel. And it's typically used to make "Sigara borek" and "Baklava", but it also is great for making savory and sweet snacks or desserts like this.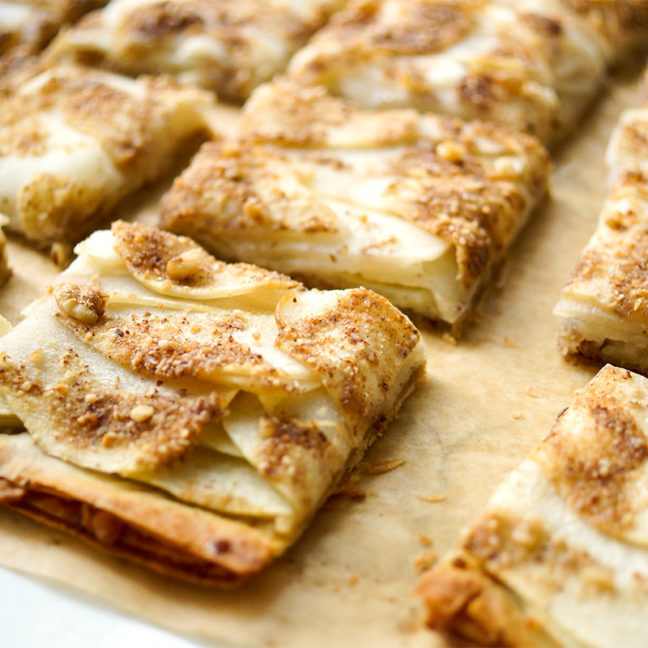 Easy Apple Pear Phyllo Tart
A simple and easy apple pear tart made with phyllo pastry. This makes a nice dessert or snack. Serve warm with your favorite vanilla ice cream or enjoy at room temperature.
Ingredients
1/3

cup

walnuts,

finely chopped (35 g)

1/3

cup

almond meal

(ground almonds) (35 g)

1/4

cup

soft brown sugar

(I recommend GEPA organic mascabado raw can sugar) (45 g)

1/2

teaspoon

cinnamon

6

sheets store-bought phyllo pastry

(30 x 31cm format)

100

g

butter,

melted

2

Granny Smith apples,

alternatively use Greenstar or a locally grown tart variety

3

firm pears
Method
Preheat oven to 400°F / 200°C and line a baking sheet with parchment paper.

In a large bowl, combine the walnuts, ground almond, brown sugar, and cinnamon.

Lay one sheet of phyllo on the prepared baking sheet. Lightly coat the phyllo surface with melted butter using a pastry brush. Repeat this step, with a second layer of phyllo on top. Once buttered, sprinkle with 2 tablespoons of the walnut-almond mixture. Repeat with the remaining sheets of phyllo pastry (making use to use only 2 tablespoons of the walnut and almond mixture per layer so enough is left for the topping).

Peel and thinly slice the apples and pears, then arrange over the pastry in an even layer.

NOTE: I use a mandolin to slice the fruit thinly. I find this is the easiest and quickest method to get thin and evenly sliced apples and pears. I started with a layer of apples, then layered the pear slices on top.

Brush the top layer of fruit with the remaining butter and sprinkle over the remaining walnut-almond mixture.

Transfer to the preheated oven and bake until the edges are crisp and golden, and the pears have softened (about 25 minutes).

Let stand for a few minutes to cool slightly before cutting into the desired size. Enjoy!
Notes
For this recipe I used 6 sheets of from fresh store-bought 250 g package of phyllo pastry. Phyllo pastry is also available in the frozen food section.
The ground almond mixture not only adds flavor, but sprinkling it over the pastry layers helps soak up any extra moisture from the fruit, keeping the pastry base from going soggy.
Did you try this recipe?
Then tag @ellerepublic on Instagram and hashtag it #ellerepublic
How did you like it?
Please let me know how this Easy Apple Pear Phyllo Tart recipe turned out for you! I would love to hear how you liked it. Simply rate it with the stars above ⭐or leave me a comment and rate it below.
Did you make any changes to this recipe?
If you have tips for other readers, let me know! It helps me and other readers so much. Sharing is Caring :-).
This post contains affiliate links. If you decide to make a purchase through my link, Amazon will pay me a commission for it. This doesn't cost you anything additional and the price remains the same. More about advertisements on Elle Republic.