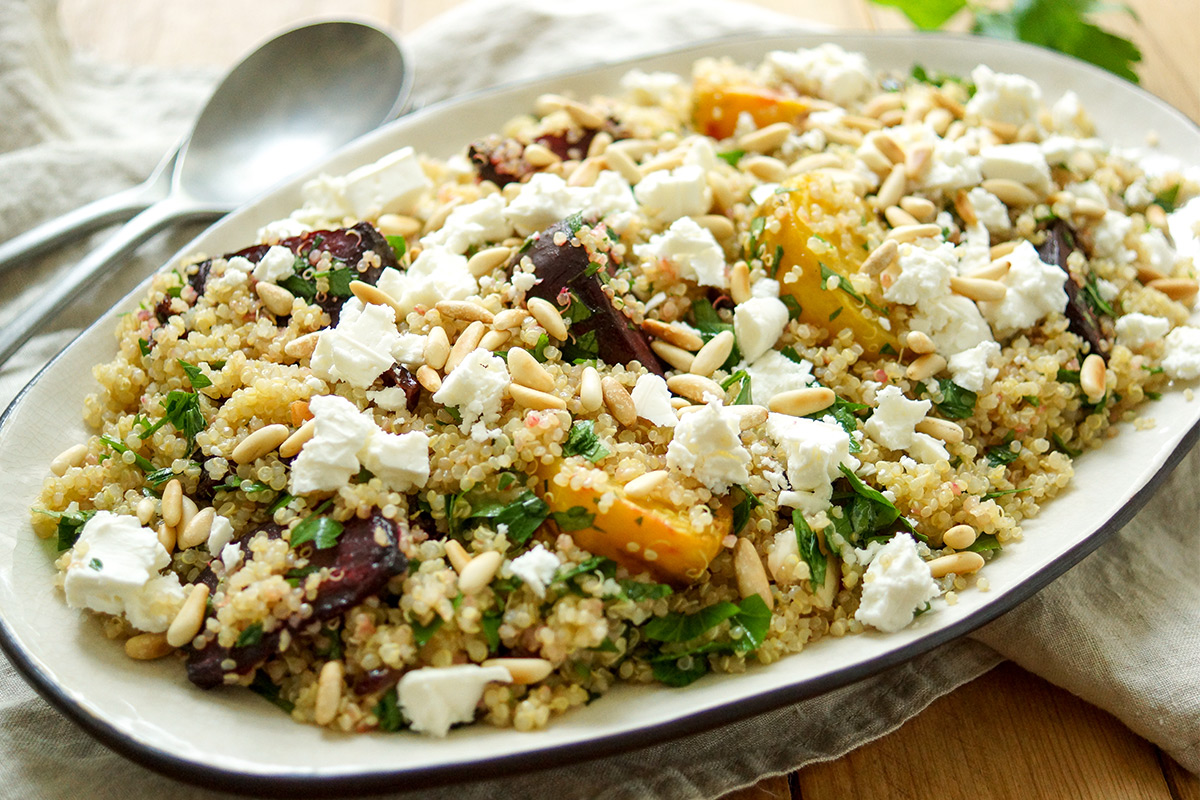 Two words to describe this quinoa salad with roasted beets — SUPER YUM! So here's where the deliciousness starts…quinoa, who doesn't love it? Second, we have roasted beets, two types — red beet and golden beet. Want to get fancy? Then go ahead and add a candy cane beet to the mix. Throw in some naturally sweetened organic cranberries, some toasted pine nuts, fresh parsley and toss it in an awesome dressing made with white balsamic (beets love balsamic!), maple syrup, garlic, Dijon and a splash of olive oil. Sprinkle it with some salty feta cheese and what do you have? A super SIMPLE and super DELICIOUS salad! I'm pretty sure you're going to love.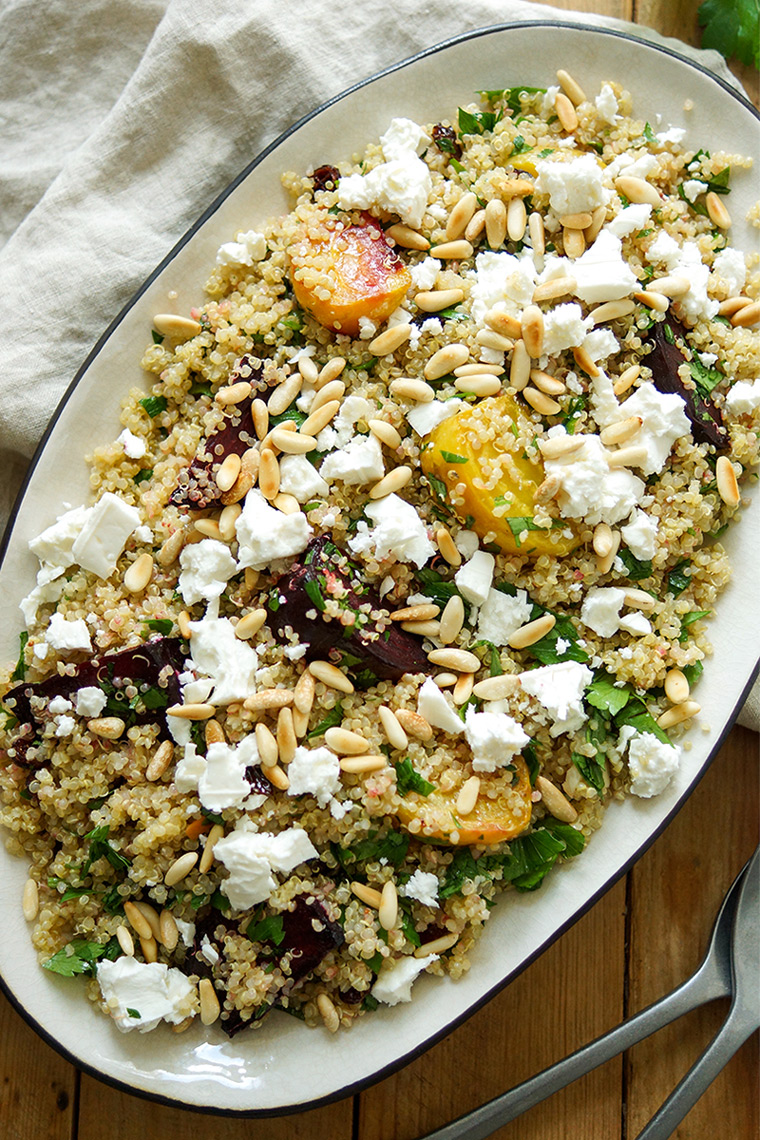 Look for feta made in Greece — it's the only one that is REAL feta
I've kinda fallen in love with a new feta (or maybe just overlooked) from my local grocery store. It's made 85% sheep's milk and 15% goat's milk and comes from the Greek island of Lesbos. This is the real stuff and it holds the PDO (Protected Designation of Origin) to prove it. This means it is produced regionally, the traditional way, using free-grazing native sheep and goats. The result a delicious feta that's matured in sea salty brine with flavorful rich and creamy texture. So tasty, I love it!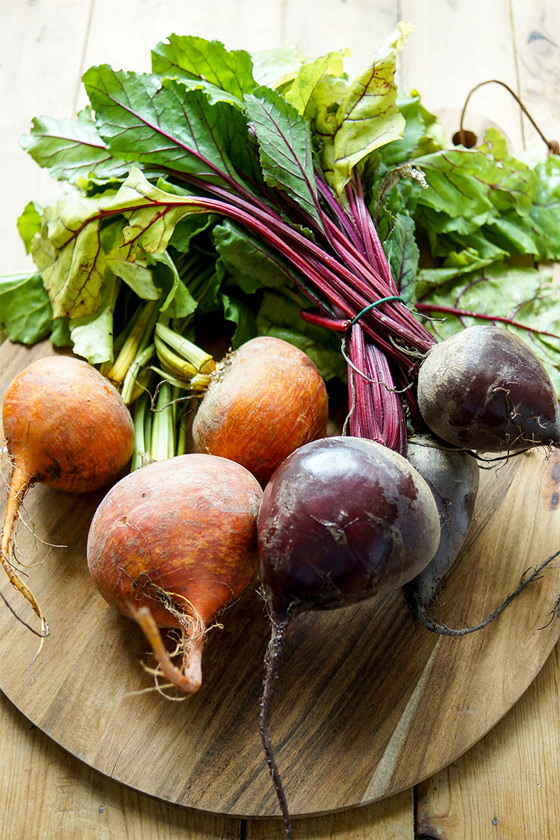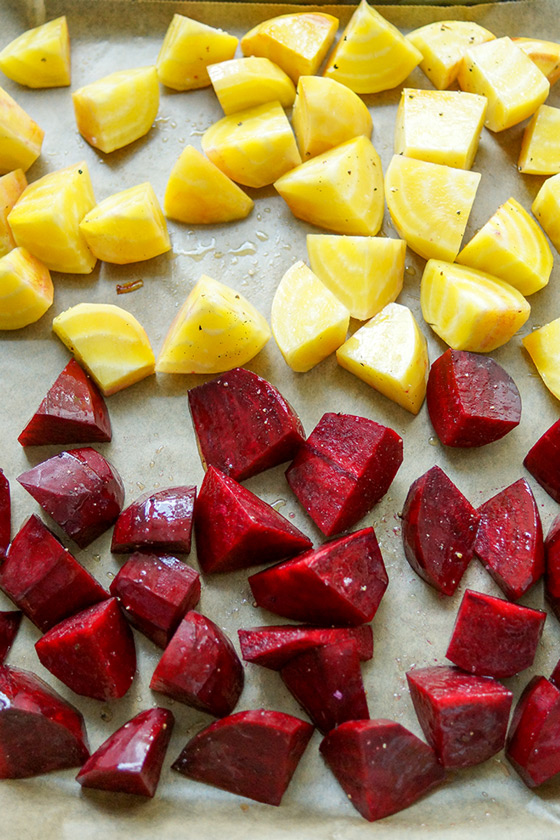 How I make this quinoa salad with roasted beets recipe EVEN easier to prepare
Anyone who has tried roasting beets whole know this takes time. At least an hour, if not more. And then there is all that rubbing with a paper towel to get the skin off. Work! Not for this salad recipe. Peeling the beets and cutting them into wedges before roasted speeds up the roasting time significantly. I'd say by at least half. And if you want to avoid messy red stains, then use golden beets — they can be found at your local farmers' market or your local organic food store (I used a mix since I like the contrast). As for the rest of the preparation, well, that's easy — it can all be done while the beets roast.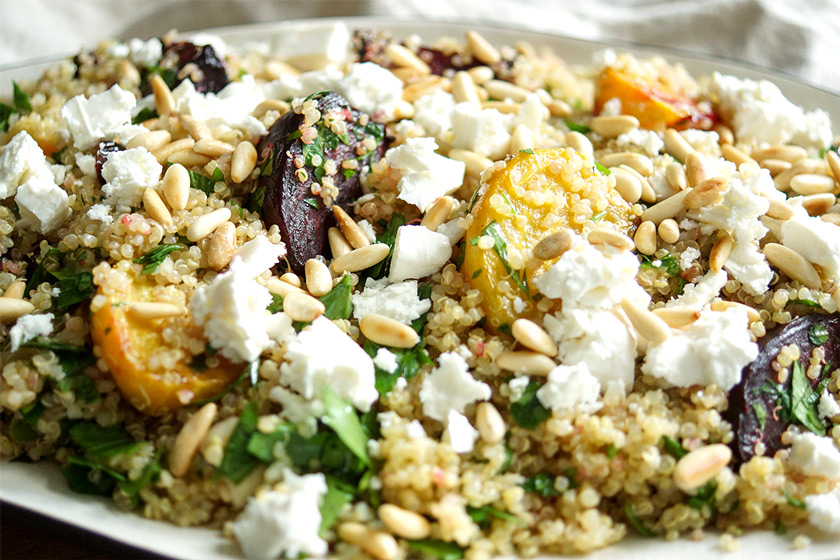 Roast extra beets for leftovers
If you're going to roast vegetables, you might as well roast a large batch. Doing so, means you have extra leftovers that can be enjoyed the next day — either at room temperature—or even cold, straight out of the fridge. Just be sure to cool the remaining beets completely before transferring them to an airtight container and storing in the fridge. So what to do with the leftovers? Make a salad of course! Maybe try a beet salad with lemon, thyme and feta, or simply toss the beets in red wine vinegar, olive oil, salt and pepper and add some crumbled goat cheese or, another favorite… make a tasty beet risotto.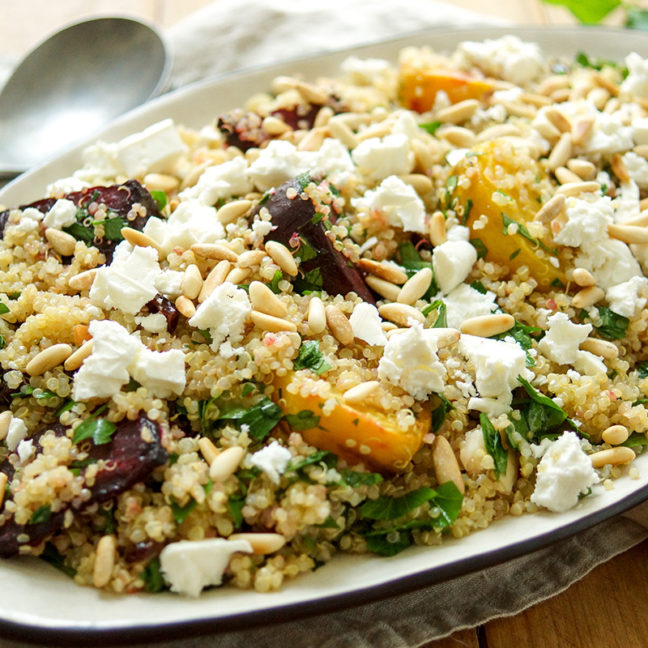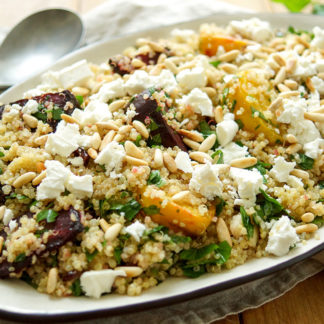 Quinoa Salad with Roasted Beets, Feta + Pine Nuts
A healthy, easy quinoa salad recipe with roasted beets. Even with roasting the beets, it's ready in less than an hour. Enjoy as a tasty side dish or salad or even leftovers the next day! Naturally gluten-free, easily made vegan (just omit the feta).
Ingredients
For the salad:
1

cup

uncooked quinoa

(200 g)

2-3

small to medium-sized beets,

peeled, halved, then quartered (500-600 g)

extra-virgin olive oil,

to coat the beets

sea salt and freshly ground pepper,

to taste

25

g

dried organic cranberries,

coarsely chopped

1

small bunch flat leaf parsley leaves,

chopped

2

tablespoons

pine nuts,

lightly toasted

crumbled feta,

to garnish (50 g or more)
For the dressing:
2

tablespoons

white balsamic vinegar

2

tablespoon

extra-virgin olive oil

1

teaspoon

pure maple syrup

1

clove

garlic,

minced

1

teaspoon

Dijon mustard

1/2

teaspoon

sea salt
Method
Preheat oven to 375°F / 190°C and line a baking sheet with parchment paper.

Rinse the uncooked quinoa in a fine mesh strainer. Place in a medium saucepan and cook according to package instructions, for about 15 minutes. Once most of the liquid is absorbed and the quinoa is light and fluffy, remove from heat, fluff with a fork, and let stand for another 5 minutes. Transfer to a large salad bowl to further cool.

Meanhwile, toss the beets with a drizzle of olive oil, season with salt and pepper and spread evenly on the baking sheet (Note: since I used two different types of beets I tossed them with oil using seperate bowls so that the red beets wouldn't stain the yellow ones).

Transfer the beets to the preheated oven and bake for about 35 minutes, flipping the slices halfway through, until the beets are tender (cooking time may vary slightly depending on the size of the beet pieces). Remove from oven and set aside.

In a small bowl, whisk together the dressing ingredients until well combined.

Add the cranberries and parsley to the bowl with the quinoa, pour over the dressing and toss to combine. Add the roasted beets and gently toss again. Sprinkle with the pine nuts and crumbled feta. Serve and enjoy!
Notes
I like to serve this salad at room temperature or just slightly warm. Plus leftovers keep really well, so this salad can also be enjoyed the next day (and even day after).
To toast the pine nuts, dry fry them in small skillet until golden. Pine nuts toast quickly, so keep an eye on them!
If buying beets with fresh looking greens, don't toss them — enjoy them sautéed or add them to your morning smoothie!
Did you try this recipe?
Then tag @ellerepublic on Instagram and hashtag it #ellerepublic
How did you like it?
Please let me know how this Quinoa Salad with Roasted Beets, Feta + Pine Nuts recipe turned out for you! I would love to hear how you liked it. Simply rate it with the stars above ⭐or leave me a comment and rate it below.
Did you make any changes to this recipe?
If you have tips for other readers, let me know! It helps me and other readers so much. Sharing is Caring :-).
This post contains affiliate links. If you decide to make a purchase through my link, Amazon will pay me a commission for it. This doesn't cost you anything additional and the price remains the same. More about advertisements on Elle Republic.