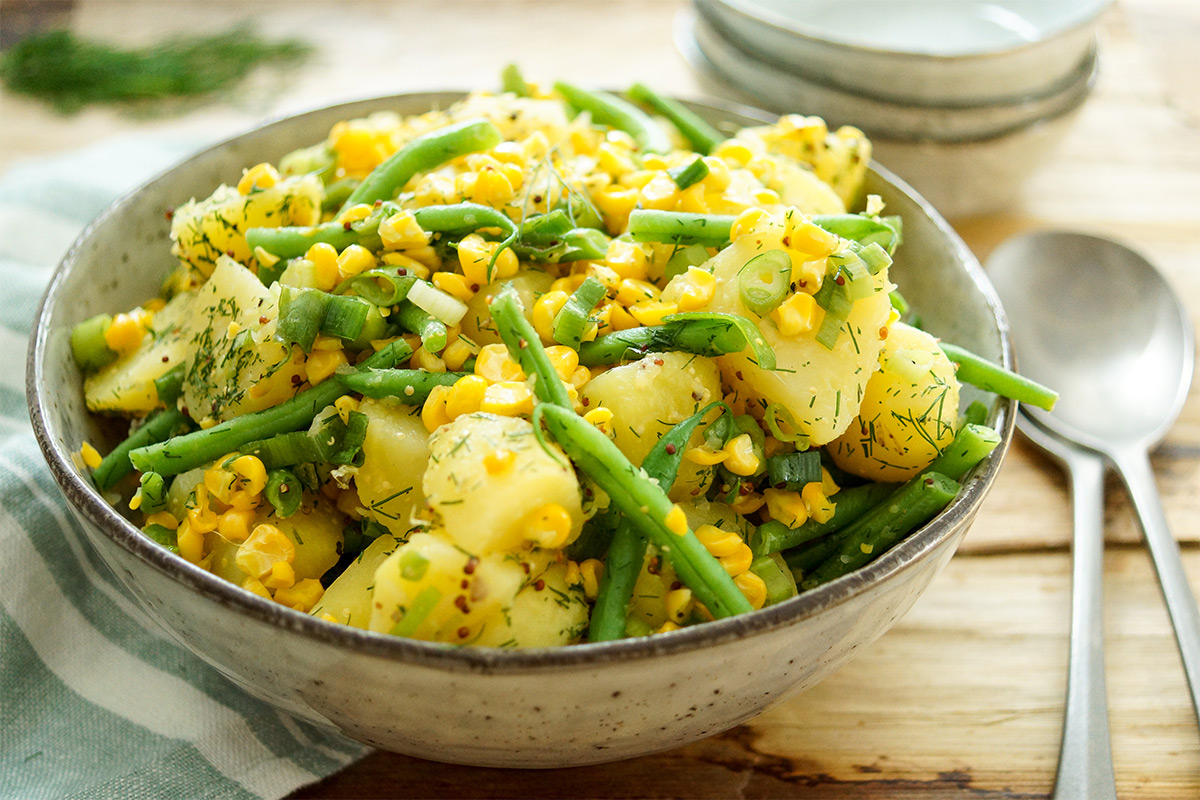 This roasted corn and potato salad with green beans is the perfect thing for a late summer grill party. It pretty much goes with anything else you might serve at a BBQ, is easily transportable and can easily be made ahead of time. Late summer is a great time to take advantage of fresh corn. And roasting corn is so worthwhile. If you have an outdoor grill you can do this on the BBQ and then remove the kernels, or for city dwellers sans BBQ, you can use the oven to roast the kernels of corn. This brings out the natural sweetness of the corn. So good. Together with new potatoes and still-in-season green beans, this simple salad is tossed with a grainy Dijon vinaigrette and fresh dill, making it a simply and healthy alternative to a mayonnaise-based potato salad. Plus, it will keep your vegan friends happy!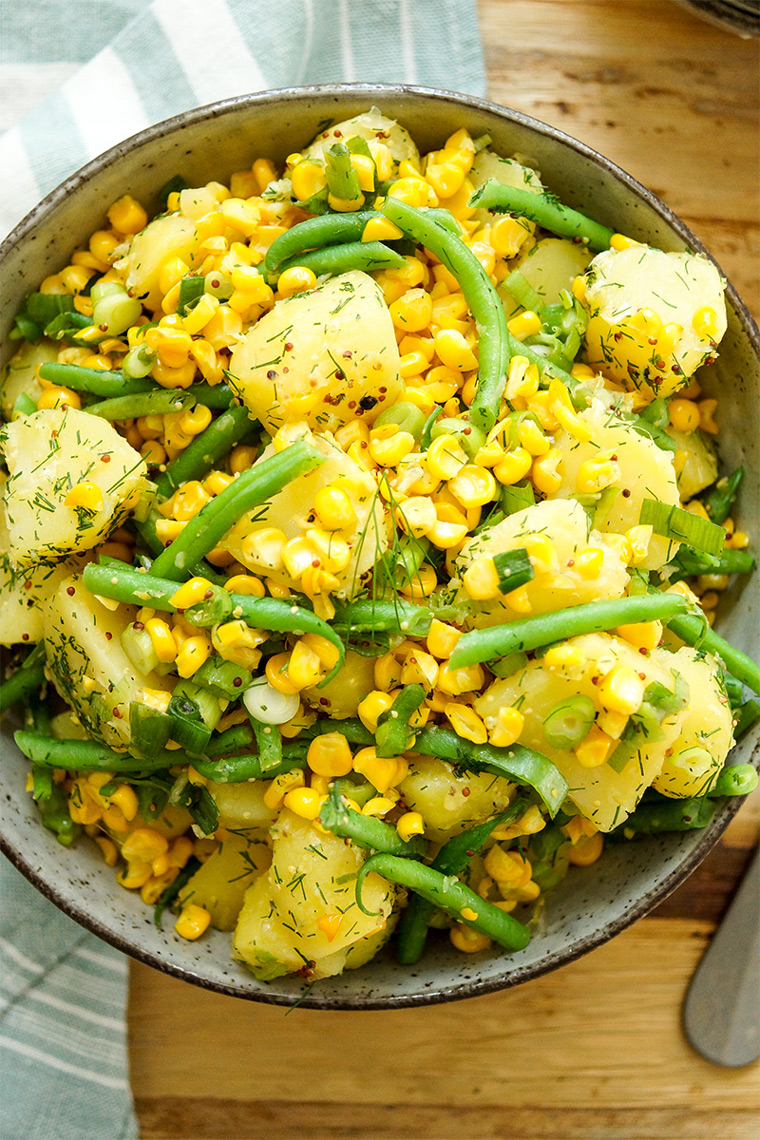 More ways to enjoy a Roasted Corn and Potato Salad
I don't often make potato salads, and when I do it's usually the standard German potato salad, since this is the one the kids like best. So potato salads usually come out of requests or necessity — as in, I need a portable salad that holds up well. The result is usually a pasta salad or a potato salad. Pasta salads are always winners, and they taste great the next day. Some potato salads too. And maybe you have some Roasted Corn and Potato Salad leftovers… Perfect. Serve it for breakfast the next morning with some eggs, and a spicy salsa. Or enjoy it as is, but maybe throw in some cherry tomatoes in there or better yet, avocado because it's so yum. okay, I love avocado. You could put it on a shoe and I would eat it!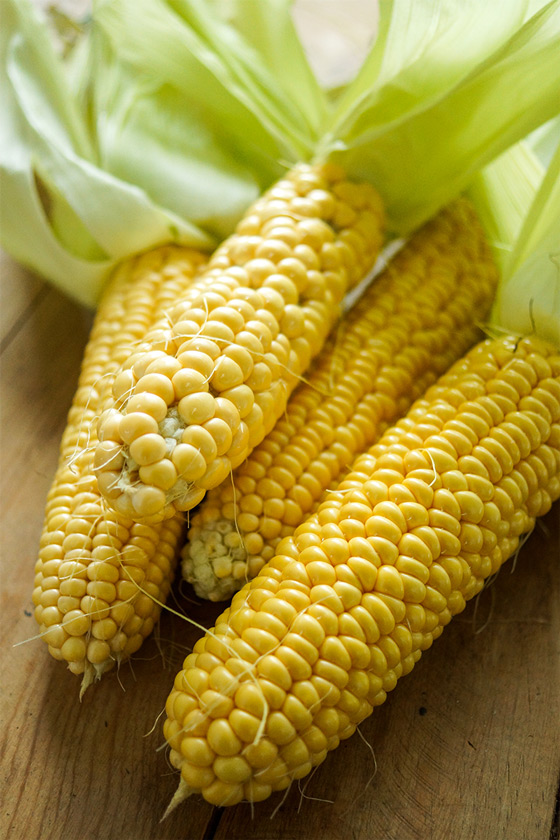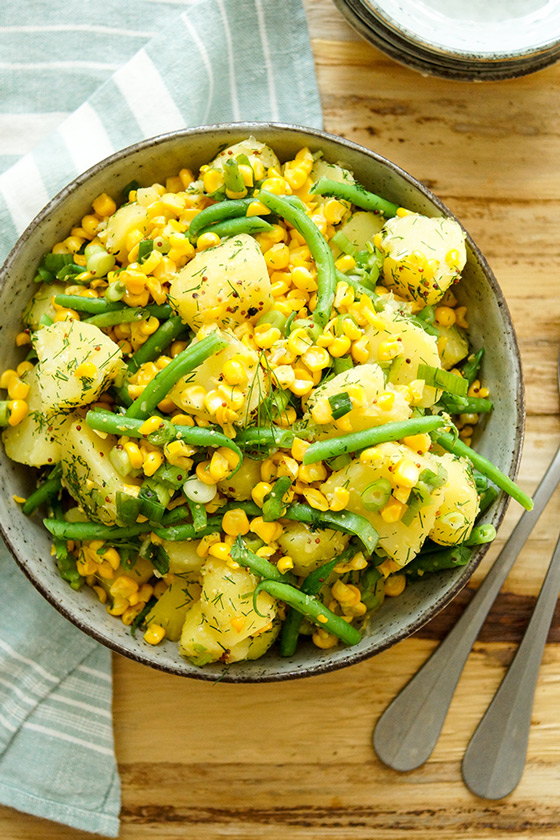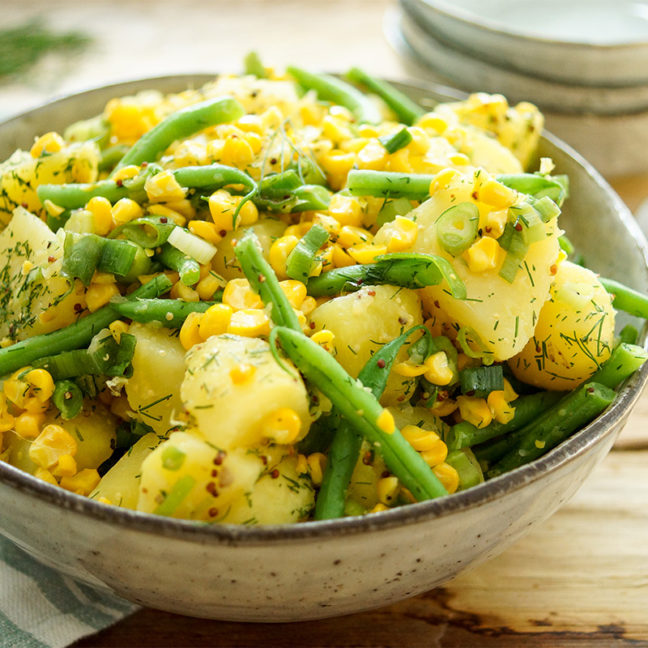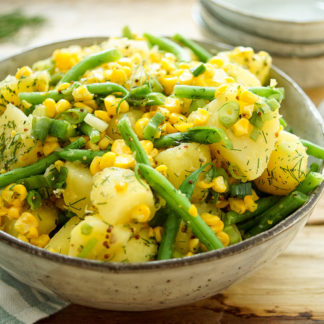 Roasted Corn and Potato Salad with Green Beans
A simple and healthy recipe for a roasted corn and potato salad with green beans and fresh dill. Choose young new potatoes with a thin skin to save yourself the extra effort (and time!) of having to peel the potatoes. Naturally vegan and gluten-free.
Ingredients
4

fresh husks of corn,

husked

3

tablespoons

extra-virgin olive oil

1

kg

small new potatoes,

scrubbed clean

2

teaspoons

grainy Dijon mustard

4

tablespoons

white balsamic vinegar

1/2

teaspoon

sea salt

freshly ground pepper,

to taste

4

green onions,

thinly sliced

150

g

green beans,

trimmed and halved

2

tablespoons

freshly chopped dill
Method
Preheat the oven to 400°F / 200°C and line a baking sheet with parchment paper.

Prepare the corn. Husk the ears of corn, removing the husks and silk (to get rid of the persistent silk, try rubbing the corn with a kitchen towel). Cut the kernels off each ear. See notes below for tips.

In a medium bowl, toss the corn with 2 tablespoons olive oil, season with salt and pepper and spread evenly on the prepared baking sheet. Place in the preheated oven and roast for 15-20 minutes, until the corn is a golden colour and the edges just start to crisp. Remove from the oven and transfer to a large bowl.

Meanwhile, in a large pot, cover the unpeeled potatoes with cold, salted water. Bring to a boil, reduce heat to a simmer. Cook potatoes until tender when pierced with a sharp knife, about 15-18 minutes, depending on size. Drain, let steam evaporate, cool slightly, then, using a paring knife, peel while still warm. Half or quarter the peeled potatoes into the bowl with the corn.

In a small bowl whisk together the mustard, vinegar, salt and pepper. Pour over the potatoes and corn, add the green onions and toss to combine. Set aside to cool. This gives the potatoes time to absorb the flavour.

Meanwhile, blanch the green beans in a large saucepan of boiling salted water until crisp-tender, for about 2 minutes (or to desired degree of doneness). Drain and cool under cold running water (or plunge into an ice bath). Shake out the excess water and transfer to the bowl with the cooled potatoes and corn.

Add the chopped dill and the remaining tablespoon of olive oil. Toss to coat. Season with more salt and pepper, if desired, serve and enjoy!
Notes
If you don't have white balsamic on hand, you can use a good-quality white wine vinegar, or organic unfiltered apple cider vinegar for this recipe.
I chose to peel the potatoes, but if you are using small red-skinned new potatoes or other types of small, waxy and thin-skinned potatoes, you could leave their skin on.
I find the easiest way to cut the kernels off he husk is to use a Bundt pan. Stand the corn in the middle of a Bundt pan, holding it upright with a firm grip. Take a sharp knife and slice down the cob, removing the kernels (cut as close to the husk as possible without removing any of the husk). Rotate the corn and repeat until you've removed all the kernels into the bowl. Voila!
I actually use the water from the potatoes to blanch the beans. Just scoop out the potatoes with a slotted spoon and then add the beans to the already boiling water.
Adapted from Canadian Living Magazine.
Did you try this recipe?
Then tag @ellerepublic on Instagram and hashtag it #ellerepublic
How did you like it?
Please let me know how this buckwheat bread recipe turned out for you! I would love to hear how you liked it. Simply rate it with the stars above ⭐or leave me a comment and rate it below.
Did you make any changes to this recipe?
If you have tips for other readers, let me know! It helps me and other readers so much. Sharing is Caring :-).
This post contains affiliate links. If you decide to make a purchase through my link, Amazon will pay me a commission for it. This doesn't cost you anything additional and the price remains the same. More about advertisements on Elle Republic.