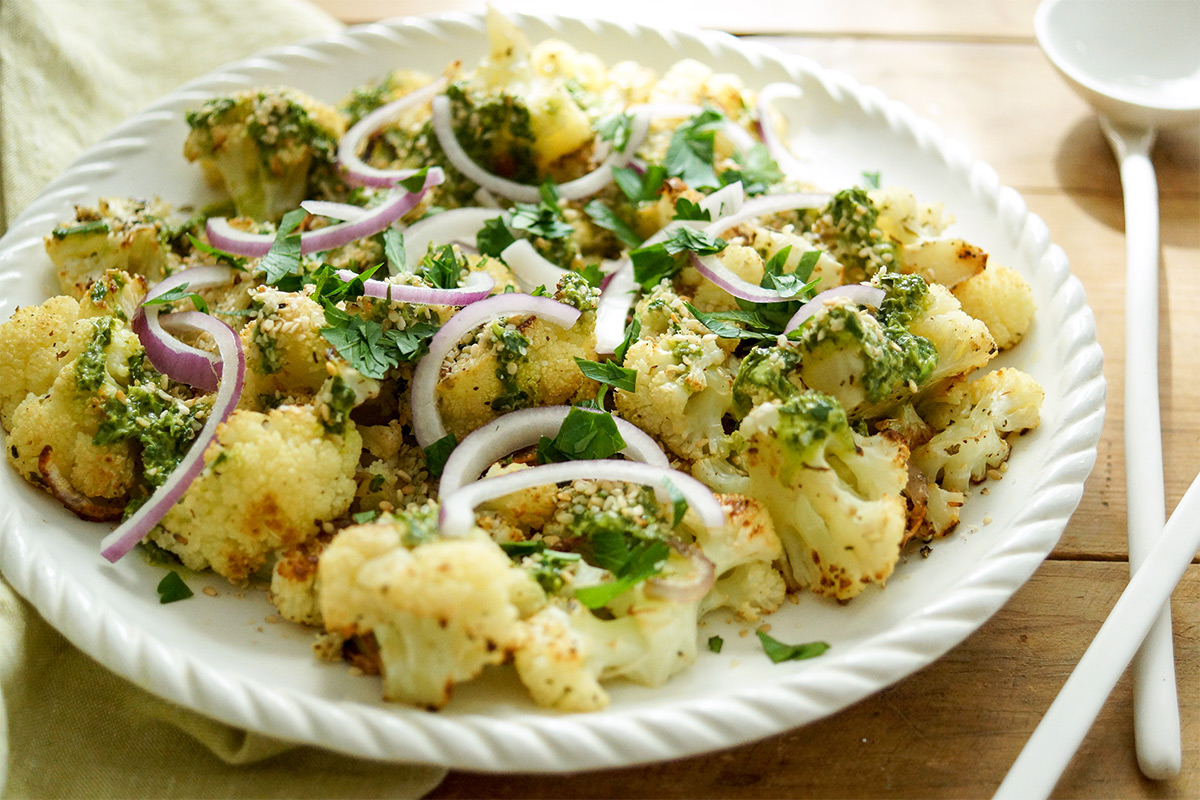 Seriously delicious. Every time I roast cauliflower I am again completely surprised at how awesome it tastes. And I must say it is particularly good with the flavor of sesame seeds. Which is why I really love it tossed in a salad with a tahini dressing. This time, I went for a za'atar roasted cauliflower. And if you don't already know, za'atar actually contains sesame seeds. That's where the awesomeness starts! Add sumac and thyme, and you've got a tasty mix! So yeah, so za'atar roasted cauliflower, that's only the beginning. I also threw in some red onion to the mix. Half caramelized in the oven with the cauliflower and the rest fresh, sweet onions, scattered over top. Then there is the dressing – a lemon-parsley dressing to keep things fresh and tangy. And now the topper – more sesame seed awesomeness. Gomasio. Oh yeah.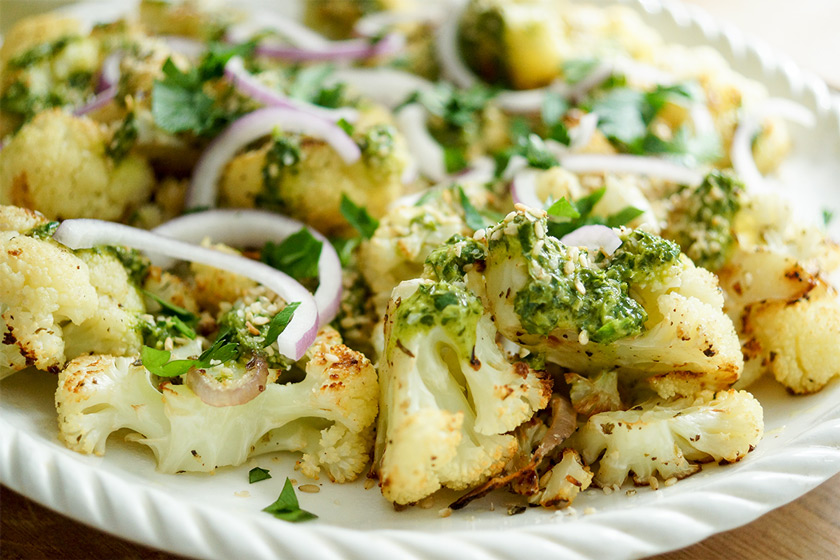 Gomasio – a great way to add flavor and extra nutrients
The inspiration for this recipe comes from my friend Ines, who is a self-proclaimed salad and vegetable lover just like me. And she's also the one who introduced me to something called gamasio. Goma means sesame and sio means salt. And what it exactly is, is a mixture of roasted sesame seeds, ground together just enough to break up the seeds, then mixed together with a little sea salt.
Gomasio is a great way to add flavor to dishes, especially for those wanting to cut down on salt. And not only is it a great way to reduce sodium, but it also boosts the nutritional value with a little extra calcium, magnesium, iron, protein, and fiber. Of course you can buy it ready-made, but it's super easy to make yourself. Plus its fresh and there' no risk of forgetting to read the list of ingredients and getting a store-bought version with added sugar. Yep, it's out there.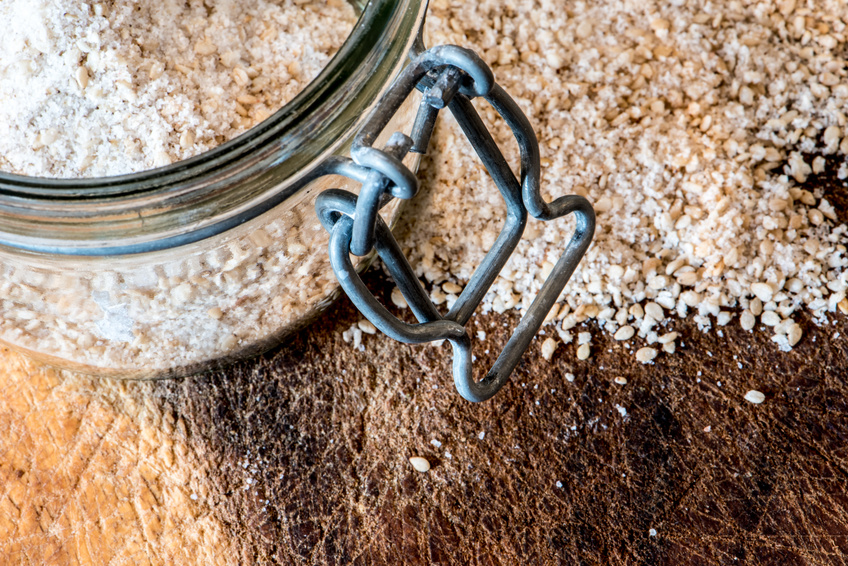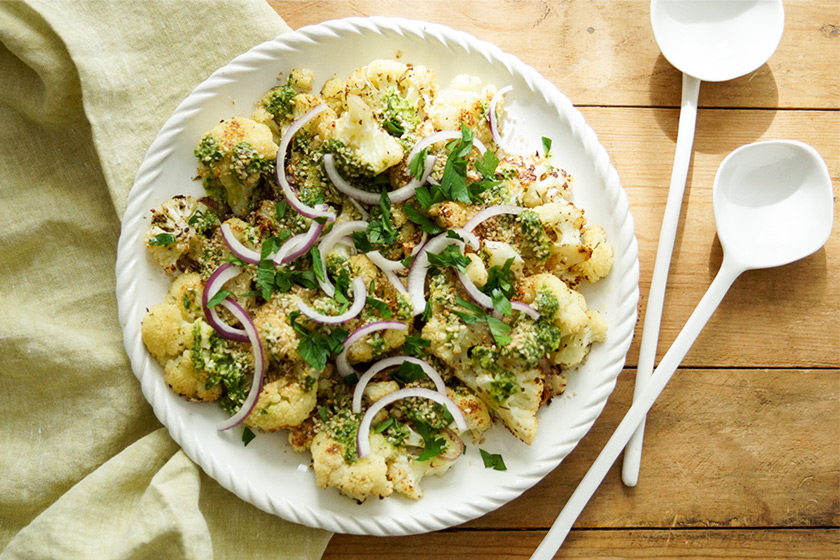 Za'atar roasted cauliflower – so yummy you'll want more
Lesson learned with this roasted cauliflower recipe – double it. I seriously could have eaten the whole plate myself. And since this really only is a side dish, it means there's a whole lot of sharing that needs to happen here. I know it may seem weird to devour a whole head of cauliflower to yourself, but you might just manage ¾ of one. It shrinks when it roasts!
Which means there's not a whole lot of sharing left to be had. Unless of course you are serving it with something as equally yummy as a main. Take your favorite lentil dish, or chicken dish and you may be able to be able to make the sacrifice. Or just be happy that you doubled it and have some leftovers to enjoy later.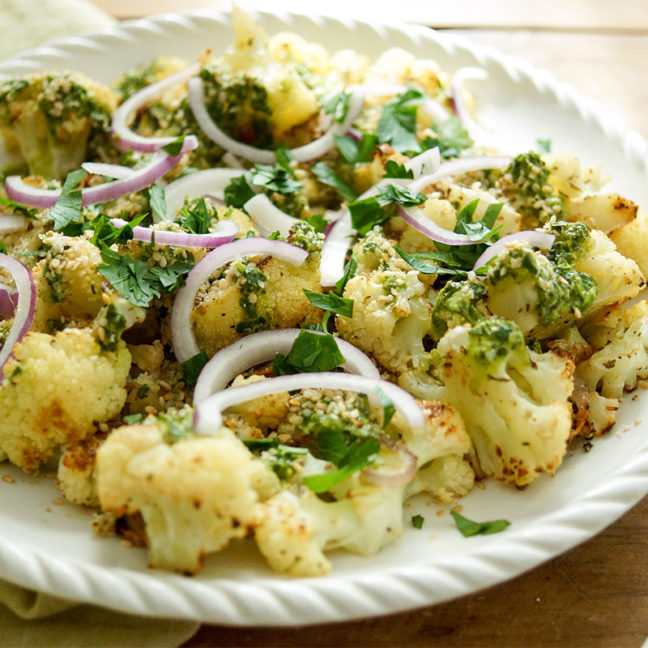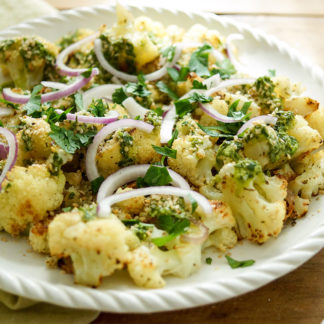 Za'atar Roasted Cauliflower with Lemon-Parsley Dressing
A delicious side dish recipe made with za'atar roasted cauliflower and red onion, with a refreshing parsley-lemon dressing. A sprinkling of Gomasio adds extra flavor and nutrients. Serves 4 as a side.
Ingredients
For the roasted cauliflower:
1

large head cauliflower,

cut into florets

2

tablespoons

or more extra-virgin olive oil

pinch

of sea salt and freshly ground pepper

1

teaspoons

za'atar spice

1

small to medium red onion,

cut in half and sliced thinly

1

tablespoon

sesame seeds,

roasted and lightly ground (see notes below)
For the dressing:
1

small bunch fresh flat-leaf parsley leaves,

coarsely chopped

2

tablespoons

extra-virgin olive oil

2

tablespoons

freshly squeezed lemon juice
Method
Preheat oven to 425°F/220°C. Toss cauliflower with olive oil (until well coasted) on a rimmed baking sheet lined with parchment paper; season with salt and pepper. Scatter with HALF the onion and sprinkle with za'atar. Roast, tossing occasionally, until tender and golden brown, about 25-30 minutes.

Meanwhile, prepare the roasted sesame seeds. Place the seeds in a dry skillet and toast on low heat, stirring often, until golden and fragrant (if they start popping, immediately remove them from the heat). Allow the seeds to cool for 5-10 minutes, then place them in a small electric grinder with a small pinch of salt and pulse a few times until most of the seeds are cracked open (alternatively use a mortar and pestle). The seeds should only be cracked open, and not ground into a flour; the aim is to have some of the texture of the seeds remain.

Now prepare the dressing. Using a food processor or immersion blender, mix together the parsley, lemon juice, and olive oil until very finely chopped; season with salt and pepper.

Transfer the roasted cauliflower to a serving plate and sprinkle with the remaining red onions. Drizzle the dressing over the cauliflower and sprinkle with the toasted sesame seed mixture (gomasio).

Serve warm or at room temperature. Enjoy!
Notes
Feel free to make a larger portion of "gomasio". It's great for sprinkling on vegetables, salads or soups. To do so, toast 1 cup and. Toast, grind and sprinkle with 1/2 tablespoon sea salt.
If you decide to double this recipe, then I would suggest rotating the baking sheets half way through the cooking time.
Did you try this recipe?
Then tag @ellerepublic on Instagram and hashtag it #ellerepublic
How did you like it?
Please let me know how this buckwheat bread recipe turned out for you! I would love to hear how you liked it. Simply rate it with the stars above ⭐or leave me a comment and rate it below.
Did you make any changes to this recipe?
If you have tips for other readers, let me know! It helps me and other readers so much. Sharing is Caring :-).
This post contains affiliate links. If you decide to make a purchase through my link, Amazon will pay me a commission for it. This doesn't cost you anything additional and the price remains the same. More about advertisements on Elle Republic.