Print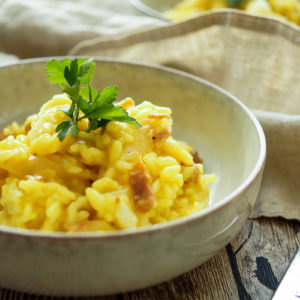 Saffron-Salsify Risotto (Schwarzwurzel-Risotto)
A simple and creamy saffron-salsify risotto recipe made with black salsify and Prosciutto di Parma that gets its vivid color from saffron. Hearty, fragrant and delicious.
500

g

black salsify (Schwarzwurzel),

washed, peeled and stalks sliced thinly on a sharp angle (once peeled, soak in water and lemon juice – see note below)

750

ml

chicken broth

250

ml

water

1

fat pinch saffron threads

1 1/2

tablespoons

extra-virgin olive oil

80

g

Prosciutto di Parma,

chopped

2

shallots,

finely chopped

2-3

large cloves garlic,

finely chopped

1 1/4

cups

arborio risotto rice

(250 g)

sea salt and freshly ground pepper,

to taste

3/4

cup

dry white wine

(185 ml)

1

tablespoon

butter

30

g

freshly grated parmesan cheese

(about 1/3 cup)

flat-leaf parsley,

to garnish (optional)
In a medium saucepan, bring the broth, water, and saffron to a simmer over medium. Reduce the heat to low and cover.

In a wide skillet or a wide saucepan, heat the olive oil, over medium to medium-high. Add the prosciutto and cook, stirring often, 2 to 3 minutes. Add the shallots, garlic and thinly sliced salsify (Schwarzwurzel). Cook, stirring often, until the shallot softens, about 3-4 minutes.

Add the rice; stir 1 minute and season with salt and pepper. Add the wine and stir until almost evaporated, 1-2 minutes.

Add the broth mixture, about 1 cup (250 ml) at a time, stirring between additions, until almost absorbed. This should take about 18-20 minutes for al dente risotto. Slowly adding hot broth to arborio rice helps release the starch, giving this saffron-salsify risotto a silky, creamy texture.

To finish, stir in the butter, then the cheese and season with salt and pepper, if desired.

Serve immediately and enjoy!
Salsify turns brown quickly after peeling. To prevent browning, transfer the peeled stalk immediately to a bowl of cold water with 2 teaspoons lemon juice. I do this with the entire root, and then slice them when ready to use. You can also slice the stalks right away and soak them in lemon-water.
For this saffron-salsify risotto recipe, I like my vegetables a little al dente, so I slice them in about 2-2,5 cm pieces, if you prefer your vegetables quite soft, then slice the salsify even thinner, so that it cooks a little faster. Keep in mind though, I have been told not overcook it otherwise you could end up with a stringy mush. Is this true? Ever experienced this?