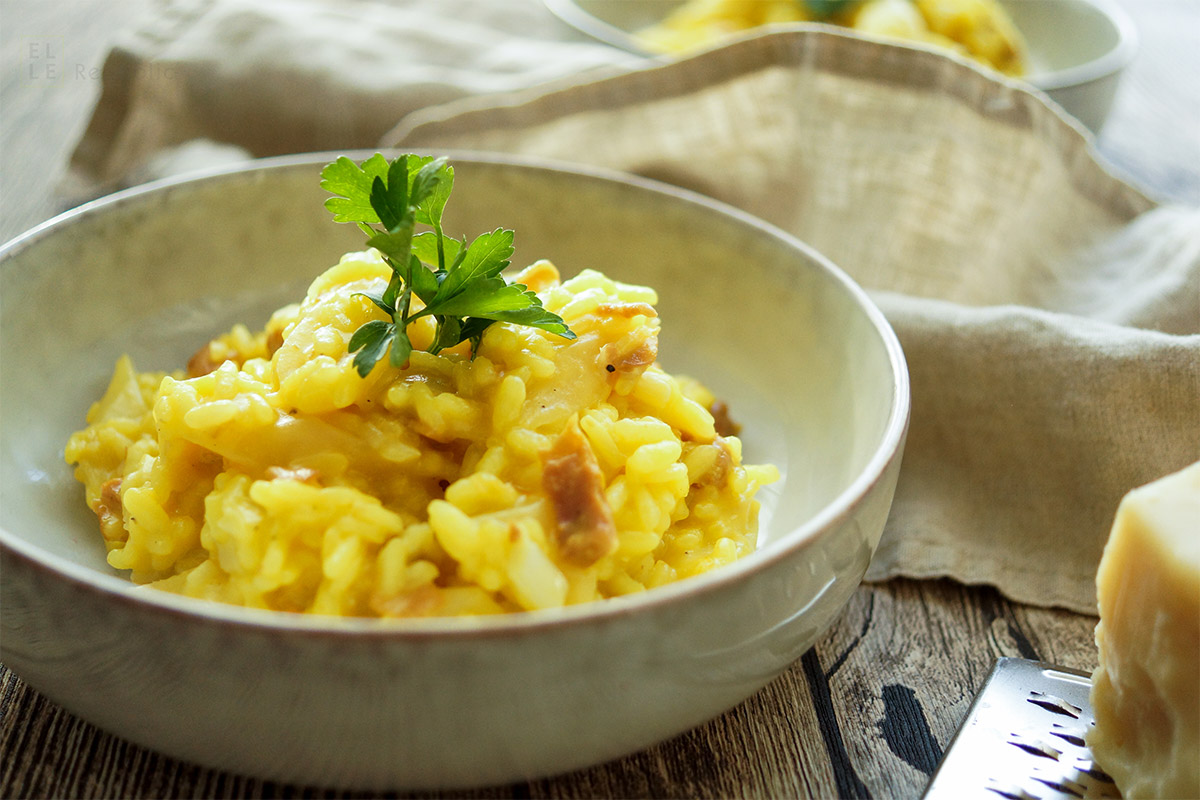 Bored with the same old winter vegetables? Well, let me introduce you to a very memorable winter risotto, which for me, is made with a new vegetable. A saffron-salsify risotto. Salsify what? Yeah, I too was also among those people who didn't know what salsify is, let alone what to do with it! I had never ever seen it in Canada. But due to it's "popularity" (okay, popular is a relative term here) in Germany and other countries here on the continent, it made its way to my list of "must-try vegetables"… going on a number of years now. So I finally gave it a try. And guess what? As I have been told many times, it really is winter's gift, one that is a little like white asparagus. Delicious.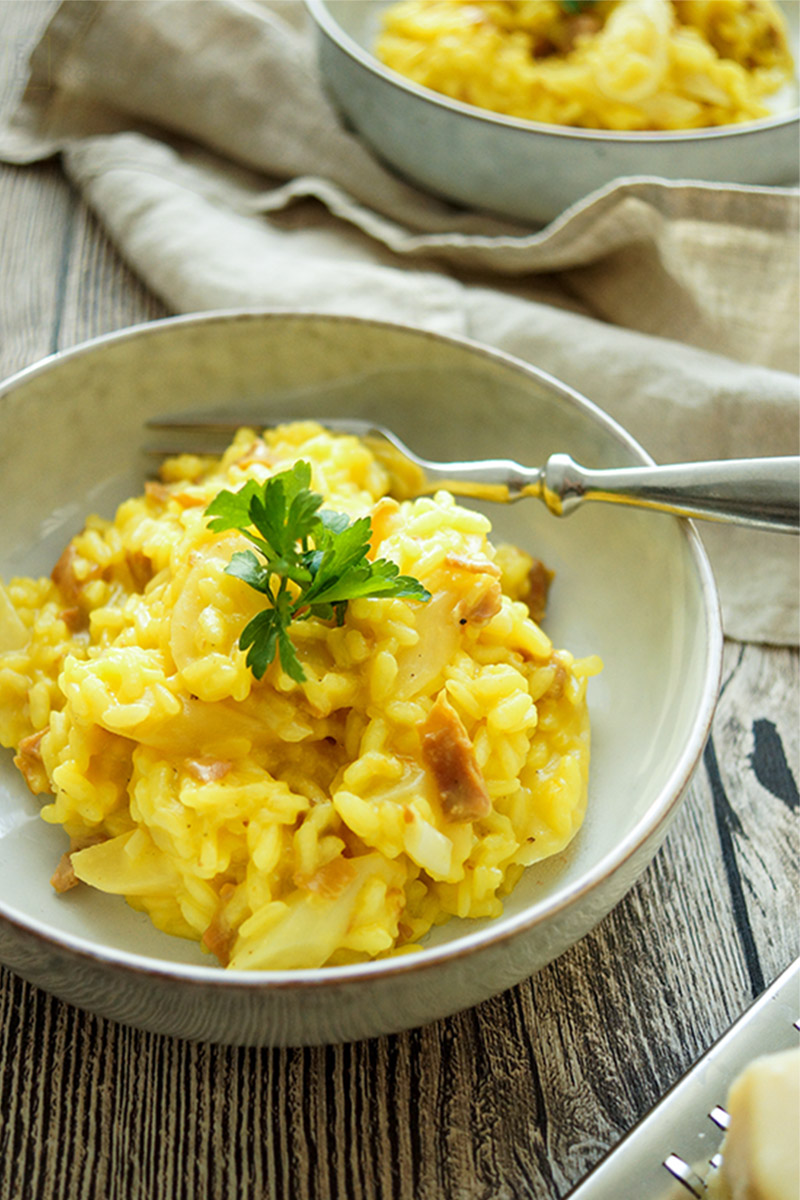 Salsify – does it taste like oysters, asparagus or artichoke?
Granted, salsify doesn't look very appealing, but I finally picked some up at my local farmer's market. Yes, it looks like a bunch of old sticks, but actually when you wash off all the dirt and peel away it's dark bark-like skin (plus there are a little bit of sticky fluids, like sap, to watch out for), you'll find a creamy slighty sweet flesh. A flesh that is sometimes described as tasting like a combination of oysters, asparagus, and artichoke. Or a cross between artichoke and celeriac (celery root). Even others will say it's taste faintly resembles that of an oyster and nothing more. Whereas, I would say it resembles that flavor of white asparagus mixed with sweet parsnip. Opinions are widely divided! Have you tried salsify? What do you think?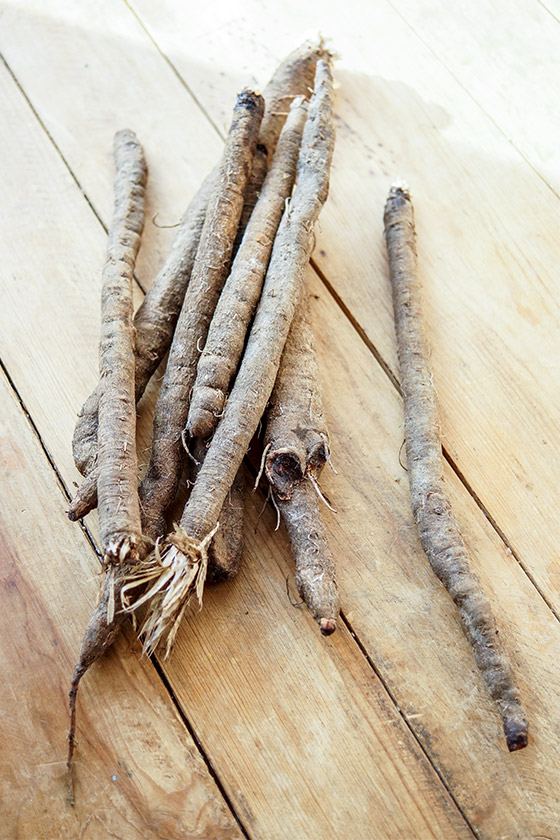 A simple super delicious saffron-salsify risotto recipe
This recipe found me because a) I have been craving risotto lately (actually rice in general — what a weird craving, I thought people crave chocolate or things like that) b) these sticks called salsify have been staring at me ever since I brought them home, reminding me to shorten my "must-try vegetables list" c) all those rumours of salsify tasting like asparagus inspired me to make a wintery risotto that resembles a spring asparagus risotto. And Adding speckles of prosciutto and saffron was me getting fancy. And I tell you, this risotto tasted fancy. Loved it.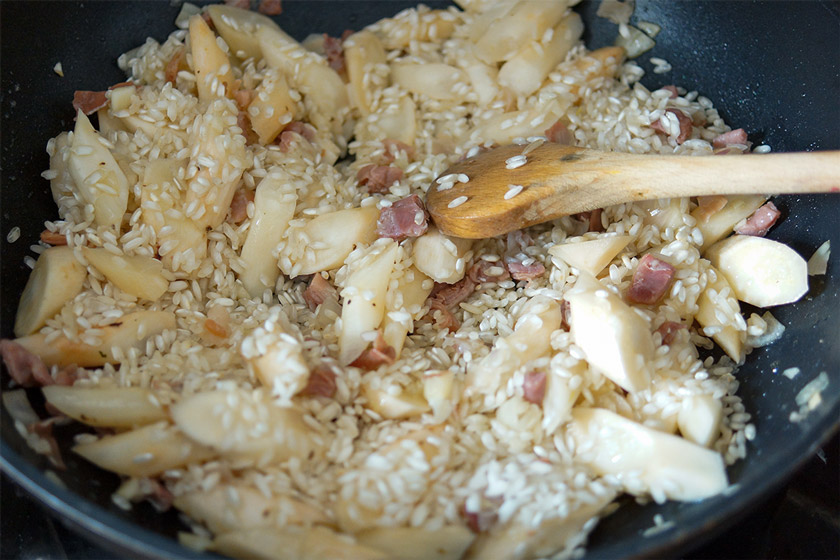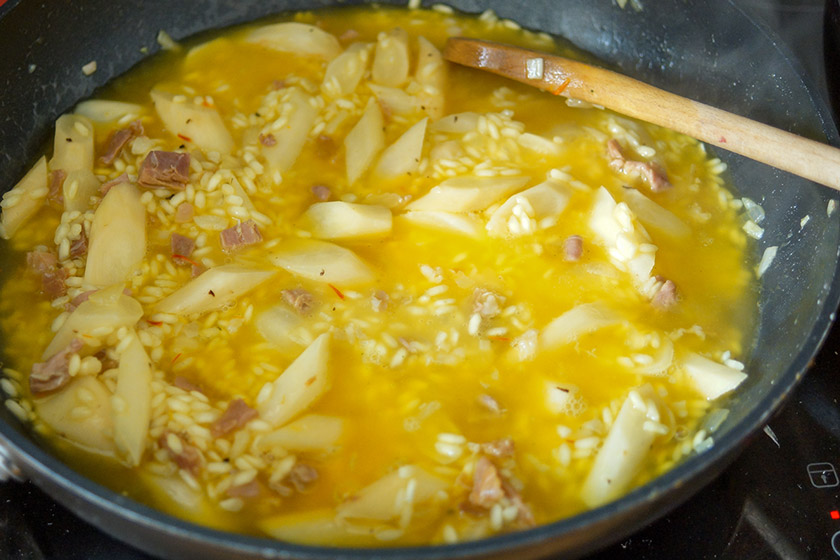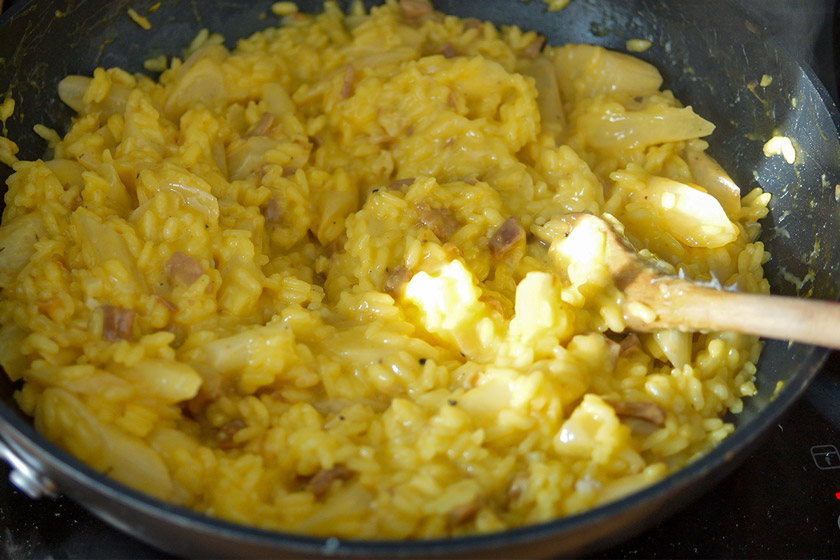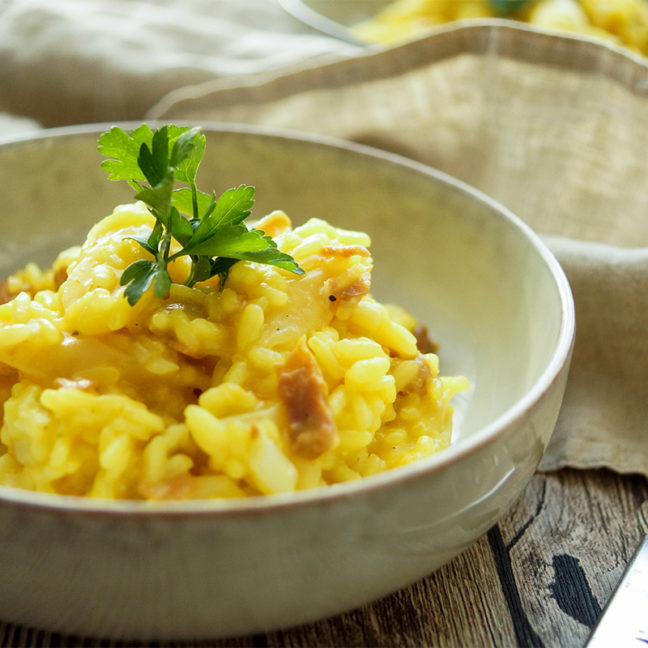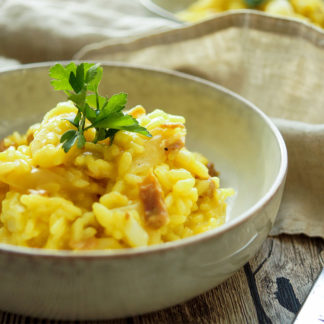 Saffron-Salsify Risotto (Schwarzwurzel-Risotto)
A simple and creamy saffron-salsify risotto recipe made with black salsify and Prosciutto di Parma that gets its vivid color from saffron. Hearty, fragrant and delicious.
Ingredients
500

g

black salsify (Schwarzwurzel),

washed, peeled and stalks sliced thinly on a sharp angle (once peeled, soak in water and lemon juice – see note below)

750

ml

chicken broth

250

ml

water

1

fat pinch saffron threads

1 1/2

tablespoons

extra-virgin olive oil

80

g

Prosciutto di Parma,

chopped

2

shallots,

finely chopped

2-3

large cloves garlic,

finely chopped

1 1/4

cups

arborio risotto rice

(250 g)

sea salt and freshly ground pepper,

to taste

3/4

cup

dry white wine

(185 ml)

1

tablespoon

butter

30

g

freshly grated parmesan cheese

(about 1/3 cup)

flat-leaf parsley,

to garnish (optional)
Method
In a medium saucepan, bring the broth, water, and saffron to a simmer over medium. Reduce the heat to low and cover.

In a wide skillet or a wide saucepan, heat the olive oil, over medium to medium-high. Add the prosciutto and cook, stirring often, 2 to 3 minutes. Add the shallots, garlic and thinly sliced salsify (Schwarzwurzel). Cook, stirring often, until the shallot softens, about 3-4 minutes.

Add the rice; stir 1 minute and season with salt and pepper. Add the wine and stir until almost evaporated, 1-2 minutes.

Add the broth mixture, about 1 cup (250 ml) at a time, stirring between additions, until almost absorbed. This should take about 18-20 minutes for al dente risotto. Slowly adding hot broth to arborio rice helps release the starch, giving this saffron-salsify risotto a silky, creamy texture.

To finish, stir in the butter, then the cheese and season with salt and pepper, if desired.

Serve immediately and enjoy!
Notes
Salsify turns brown quickly after peeling. To prevent browning, transfer the peeled stalk immediately to a bowl of cold water with 2 teaspoons lemon juice. I do this with the entire root, and then slice them when ready to use. You can also slice the stalks right away and soak them in lemon-water.
For this saffron-salsify risotto recipe, I like my vegetables a little al dente, so I slice them in about 2-2,5 cm pieces, if you prefer your vegetables quite soft, then slice the salsify even thinner, so that it cooks a little faster. Keep in mind though, I have been told not overcook it otherwise you could end up with a stringy mush. Is this true? Ever experienced this?
Did you try this recipe?
Then tag @ellerepublic on Instagram and hashtag it #ellerepublic
How did you like it?
Please let me know how this Saffron-Salsify Risotto recipe turned out for you! I would love to hear how you liked it. Simply rate it with the stars above ⭐or leave me a comment and rate it below.
Did you make any changes to this recipe?
If you have tips for other readers, let me know! It helps me and other readers so much. Sharing is Caring :-).