Simple indulgences. These banana bread muffins are perfectly sweet, moist and are bursting with rich banana flavor. They were exactly the thing to satisfy my favorite Schwabe and his boys. Especially on one of those cold and chilly winter days where nobody wants to head outdoors but is ridiculously bored sitting indoors. Puzzles, board games, poker and a whole bunch of snacking. As one does when bored, right? So I thought it was time to share this gem. This recipe makes a great snack for kids or anyone with a little bit of a sweet tooth who still wants to enjoy something on the healthier side.
Banana loaded banana bread muffins
The inspiration for this recipe was two-fold. To create a sweet and healthy snack and to use up a whole whack of ripe bananas. Walking back from our local farmers' market, a young fellow from Food Sharing Hamburg approached us with a crate of ripe bananas and the cutest, smallest clementines I have ever seen. He was looking to offload the remains, so we of course said yes, and accepted a bunch of bananas and some of those cute little oranges. And anyone who knows me, knows I ONLY eat green bananas, which meant some baking had to happen this past weekend. So time to share this gem.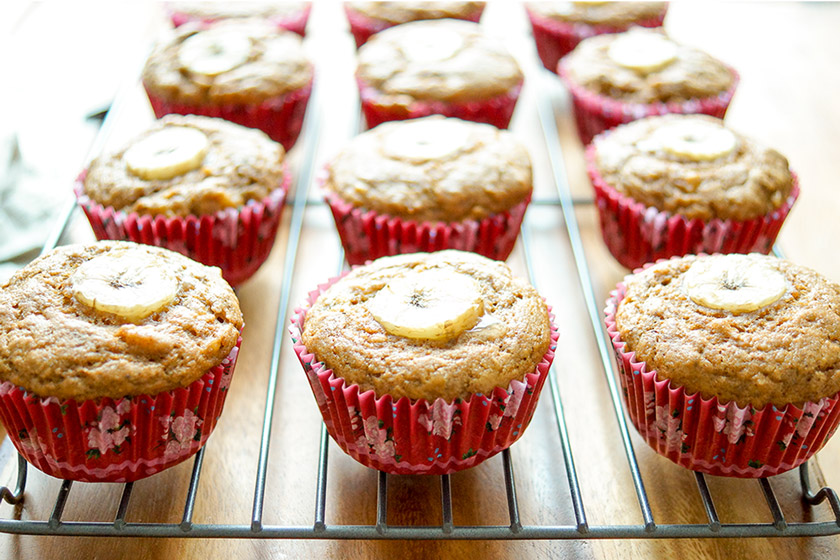 Sweet spotted bananas are the best choice
The best bananas to use for banana bread are over-ripe ones. You know those with that banana-y aroma that are spotted all over (or at least half browned), and the banana inside is soft and might even being browning in some places. These are the ultra sweet bananas you want to use to create a moist and soft banana bread muffin. I also added a little mascabado sugar to this recipe to give it a lovely soft caramel flavor. Feel free to reduce the amount of sugar if you want to tone down the sweetness.
Muffins made with spelt flour
I love baking with spelt flour. It's something of a wonder grain and makes incredible baked goods. For this recipe I used a mix of white and whole grain spelt (type 630) which is light and a fantastic choice for baking cakes and fluffy cake-like muffins. You don't need a fancy mixer. There is barely any mixing involved. So all you need is a big whisk to mix the batter until it's JUST combined. Unlike wheat, in which the gluten gets stronger as you mix it, the gluten in spelt gets weaker. Meaning it is important not to over mix it when using it in baking.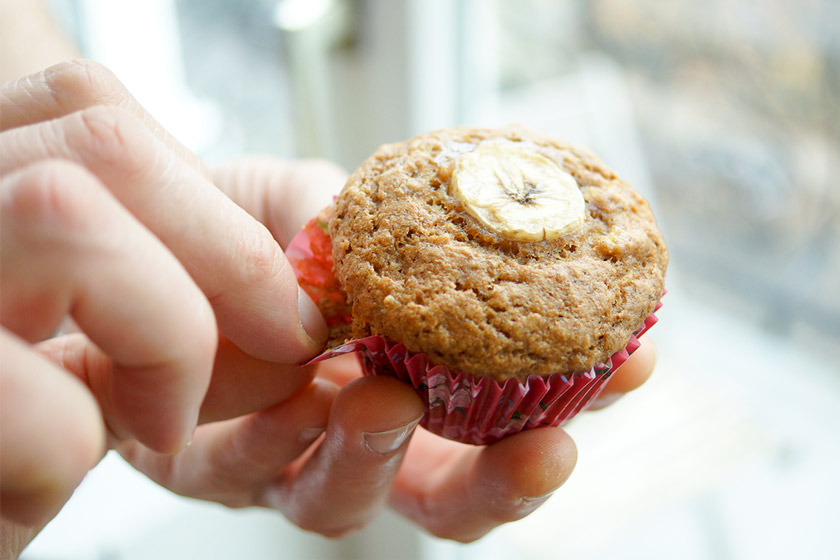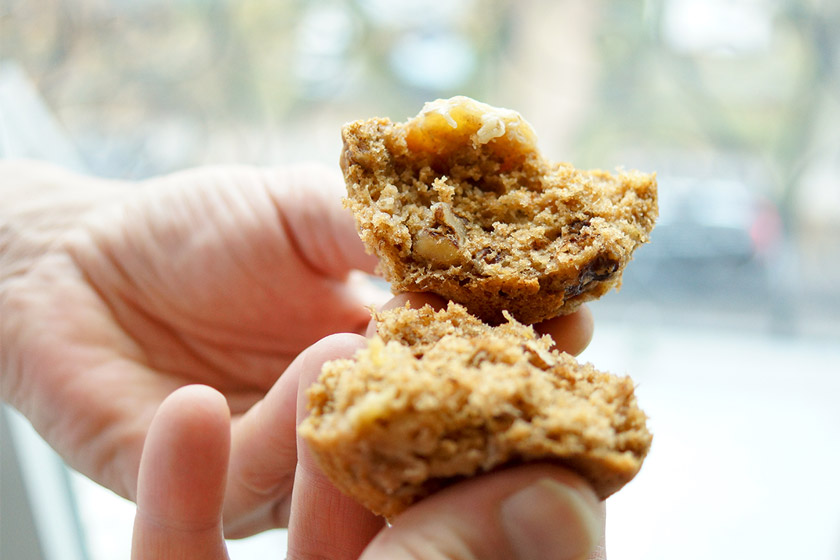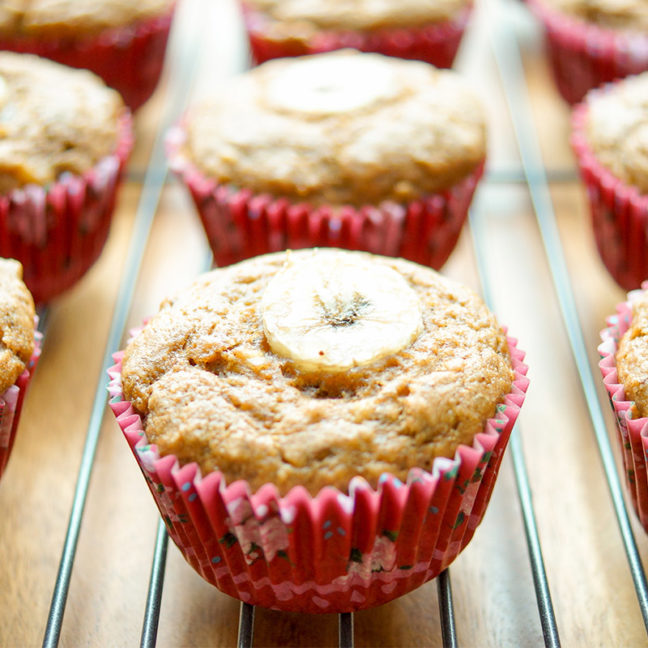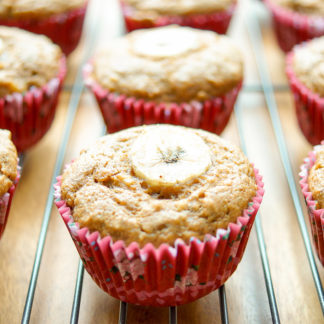 Banana Bread Muffins (Vegan)
A simple recipe for vegan banana bread muffins with no added fat. Make these muffins for breakfast, for snacking, a healthy dessert, or as treats to share with your colleagues :-).
Ingredients
4

medium-sized ripe bananas,

brown and spotted, mashed (350 g peeled weight)

1/2

cup

soft brown sugar

(I recommend GEPA organic mascabado raw cane sugar) (75 g)

2

tablespoons

pure maple syrup

1

cup

white spelt

(type 630) (120 g)

1

cup

whole grain spelt flour

(120 g)

1

teaspoon

baking soda

1/2

teaspoon

baking powder

1

teaspoon

pure vanilla powder

1

teaspoon

cinnamon

1/2

teaspoon

ground nutmeg

1/4

cup

unsweetened almond milk

(60 ml)

squeeze of fresh lemon juice

(about 1/4 teaspoon)

1/2

cup

walnuts

coarsely chopped (optional)
Method
Preheat oven to 350°F / 175°C. Line a 12-hole muffin tin with paper cases or lightly grease the pan with oil and sprinkle with flour (making sure to discard any excess flour from the tin after coating).

In a medium bowl, use a fork to cream together the bananas with the sugar and maple syrup, until smooth and creamy. Set aside.

In a large bowl, whisk together the flours, baking soda, baking powder, vanilla, cinnamon, and nutmeg together.

Add the almond milk and lemon juice to banana mixture. Mix to combine (add walnuts, if using). Pour the banana mixture over the flour mixture, using a large whisk, whisk together until just combined. IMPORTANT: do not overmix!

Divide the batter evenly into 12 muffin cups. Bake for 18-20 minutes until golden brown and a toothpick inserted in the center comes out clean. Cool in the tray for a a few minutes before transferring to a wire rack to cool completely. After completely cooled, store them in an air-tight container at room temperature.

Muffins can be stored in an airtight container for 2-3 days. Otherwise, the best way to store muffins beyond a few days is to freeze them.
Notes
I like to top these muffins with sliced banana which enhances the sweetness and banana flavor. You can also toss in a some chopped nuts, dark chocolate, or even raisins if you like. Enjoy!
Did you try this recipe?
Then tag @ellerepublic on Instagram and hashtag it #ellerepublic
How did you like it?
Please let me know how this Banana Bread Muffins (Vegan) recipe turned out for you! I would love to hear how you liked it. Simply rate it with the stars above ⭐or leave me a comment and rate it below.
Did you make any changes to this recipe?
If you have tips for other readers, let me know! It helps me and other readers so much. Sharing is Caring :-).