Print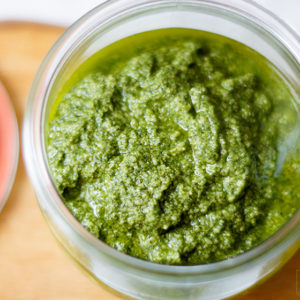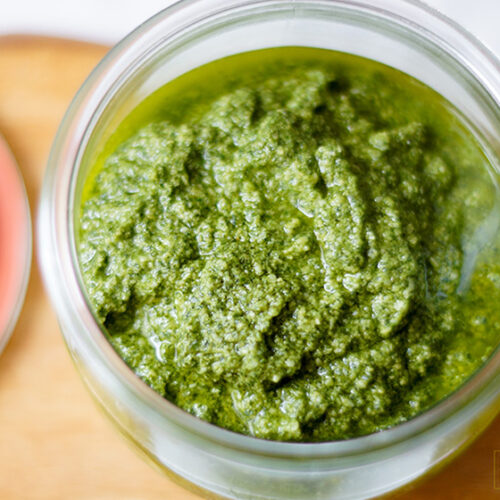 Lemon Balm Pesto
Lemon balm pesto with fresh basil, cashews, tangy lemon, and parmesan (vegan alert: this also tastes great without the cheese!). Totally healthy, easy and delicious.
2

cups

packed lemon balm leaves

2

cups

packed basil leaves

4

cloves

of garlic,

minced

1/2

cup

cashews

(almonds, hazelnuts, walnuts, and pine nuts all work well too) (50 g)

1/4 to 1/2

cup

extra-virgin olive oil

(60-125 ml)

freshly squeezed juice from 1 lemon

(about 4 tablespoons)

1/2

cup

parmesan

(50 g)

salt to taste
Put all the ingredients for the pesto in a food processor and blend until smooth.

No food processor? No problem, I use a handheld mixer for the same results. Or go traditional... when it comes to making pesto, you can't go wrong with a pestle and mortar.
To store:
In the fridge…Transfer the pesto into glass jar(s) and top with a little olive oil to completely cover the surface (this stops the basil from oxidizing and turning brown). Keep in the fridge for up to one week; some argue it'll last up to three.
In the freezer…If doing this, omit the cheese from the recipe and add it after you've defrosted the pesto. Transfer to a freezer friendly container or – TIP -- spoon the pesto into an ice tray, freeze until solid, then remove the pesto "cubes" from the tray and transfer to a plastic freezer bag. Defrost as many cubes as you need at any one time by storing them in the fridge overnight. Voila, so easy!