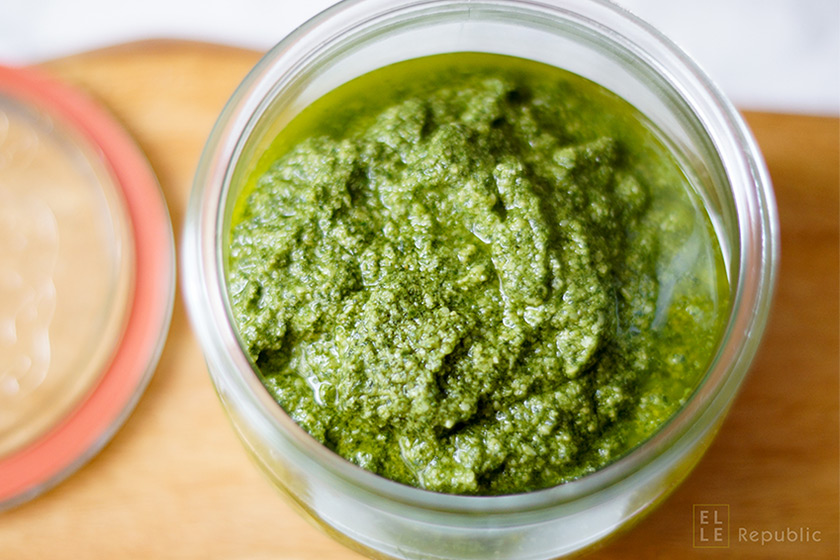 A new favorite: Lemon Balm Pesto! I am always dreaming up ways to incorporate more fresh summer herbs into my diet. Pesto is just the way to do it! This time with fresh lemon balm & basil, cashews, tangy lemon, and parmesan (vegan alert: this also tastes great without the cheese!).
Lemon balm is such a lovely herb. So beautifully fragrant and subtle to the palate, it's the perfect companion for basil in a fresh summer pesto. Lemon balm is closely related to mint, although it smells a lot like lemon, don't expect a lemon burst here. It's not a major player in the kitchen, but definitely has it's place. It's most commonly known as a medicinal plant (and as a fabulous attractant for bees in the garden).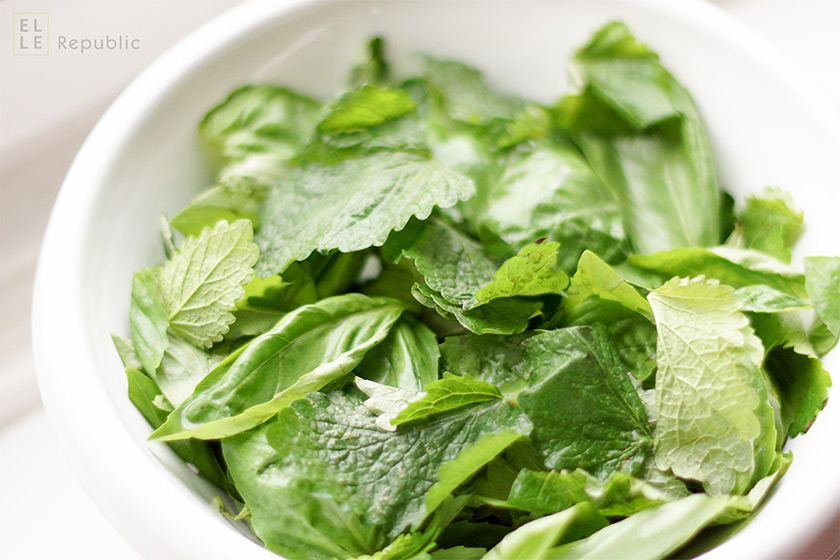 Some of the more familiar uses are (I use "familiar" lightly — I hadn't the foggiest) to help reduce stress and anxiety, promote sleep, improve appetite, and ease pain and discomfort from indigestion. A tea made from lemon balm leaves is also said to soothe menstrual cramps and helps relieve PMS. Just put some fresh leaves in a cup along with some boiling water. It'll have you relaxed and at ease in no time. It's also great served as iced tea with honey. And if you are looking for more ways to make use of those fragrant leaves, just toss a few in your next salad.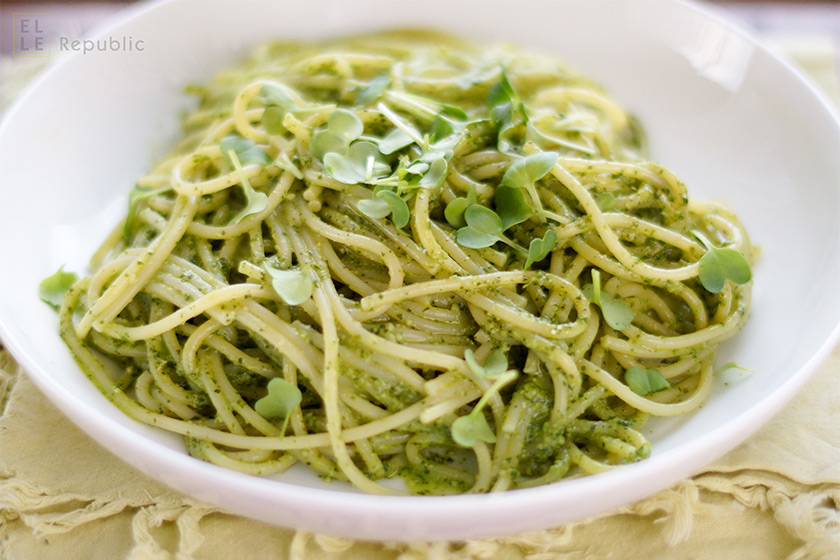 How to use Lemon Balm Pesto
Super versatile, pesto is also totally delicious tossed together with steamed vegetables, spread on grilled fish or chicken, mixed with blanched greens beans or sugar snap peas, as a spread in your favorite panini, on baked potatoes instead of butter, or as a flavor enhancing garnish for soups, stews and risottos… pretty much anywhere you can think of. The possibilities are quite endless, as are the variations of pesto.
For a no nonsense dinner, pesto is of course great on pasta – simply stir everything together until coated (I add a little reserved cooking water from the pasta to moisten it), maybe stir in a few handfuls of baby arugula, then season with salt and pepper, plus maybe a little ground chili or a generous squeeze of lemon. Yum!
For a VEGAN version, just skip the cheese. Also tastes great!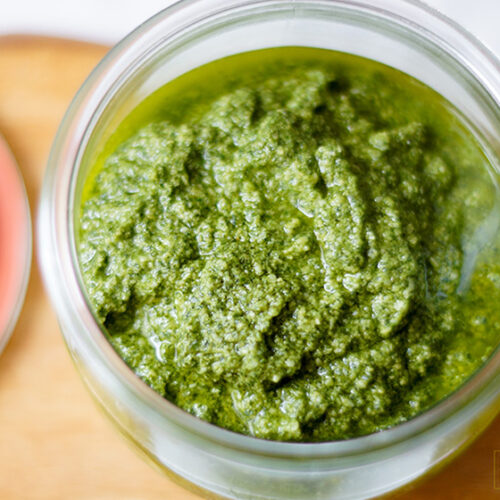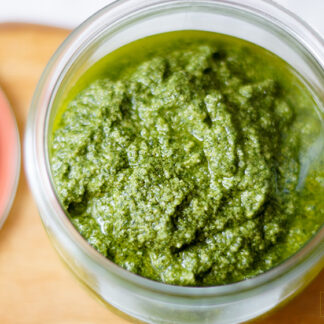 Lemon Balm Pesto
Lemon balm pesto with fresh basil, cashews, tangy lemon, and parmesan (vegan alert: this also tastes great without the cheese!). Totally healthy, easy and delicious.
Ingredients
2

cups

packed lemon balm leaves

2

cups

packed basil leaves

4

cloves

of garlic,

minced

1/2

cup

cashews

(almonds, hazelnuts, walnuts, and pine nuts all work well too) (50 g)

1/4 to 1/2

cup

extra-virgin olive oil

(60-125 ml)

freshly squeezed juice from 1 lemon

(about 4 tablespoons)

1/2

cup

parmesan

(50 g)

salt to taste
Method
Put all the ingredients for the pesto in a food processor and blend until smooth.

No food processor? No problem, I use a handheld mixer for the same results. Or go traditional... when it comes to making pesto, you can't go wrong with a pestle and mortar.
Notes
To store:
In the fridge…Transfer the pesto into glass jar(s) and top with a little olive oil to completely cover the surface (this stops the basil from oxidizing and turning brown). Keep in the fridge for up to one week; some argue it'll last up to three.
In the freezer…If doing this, omit the cheese from the recipe and add it after you've defrosted the pesto. Transfer to a freezer friendly container or – TIP -- spoon the pesto into an ice tray, freeze until solid, then remove the pesto "cubes" from the tray and transfer to a plastic freezer bag. Defrost as many cubes as you need at any one time by storing them in the fridge overnight. Voila, so easy!
Did you try this recipe?
Then tag @ellerepublic on Instagram and hashtag it #ellerepublic
How did you like it?
Please let me know how this Lemon Balm Pesto recipe turned out for you! I would love to hear how you liked it. Simply rate it with the stars above ⭐or leave me a comment and rate it below.
Did you make any changes to this recipe?
If you have tips for other readers, let me know! It helps me and other readers so much. Sharing is Caring :-).