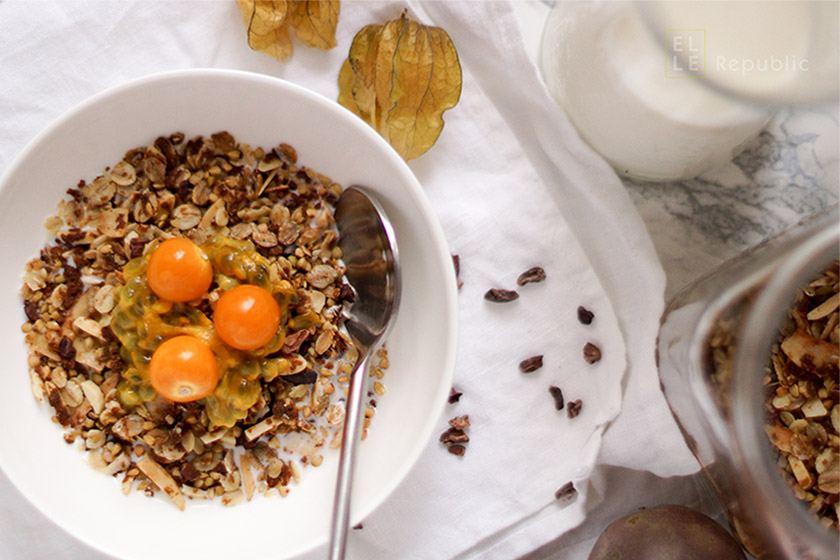 The first thing you should know about buckwheat is that it's gluten free. The second thing you should know about it is that roasted buckwheat is called "kasha". Of course it's not necessary to roast buckwheat, but doing so brings out its wonderful nutty flavor.
Buckwheat in any form is terrific when it's transformed into a delicious breakfast by soaking it overnight or cooked it up like porridge. But don't limit yourself to breakfast; buckwheat's tasty groats are super versatile and can be used in the place of rice for risotto, served in salads, or in this case, for making granola!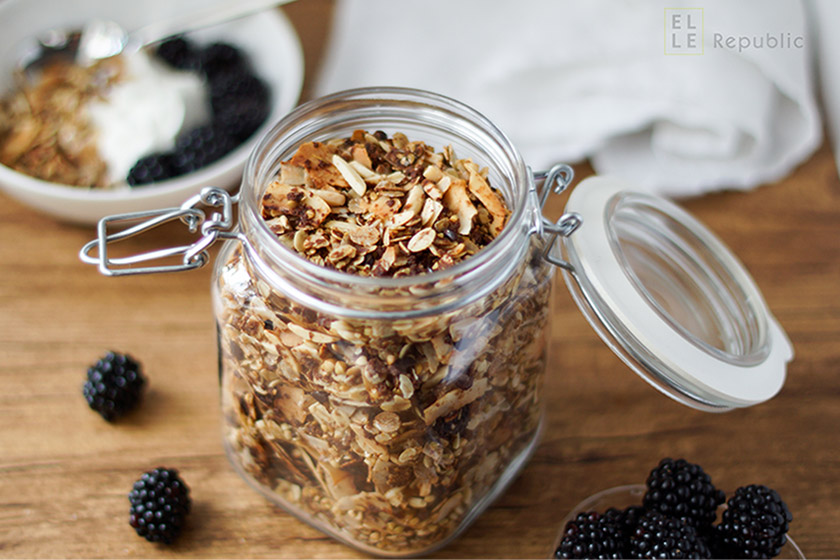 Did you know that this buckwheat granola actually uses a pseudo-grain?
Despite its name, buckwheat is really a seed (or groat) of a flowering plant – and is related to rhubarb. Who knew? Yes, it's a seed just like amaranth, millet and quinoa – making it another fantastic option for anyone following a gluten-free diet.
There is still 4-grain oatmeal in this mix, but it can be replaced with gluten-free if necessary. The best part about adding buckwheat to granola is the texture. It adds a nice crunch. And it's particularly tasty together with coconut flakes, naturally sweet carob and "nature's chocolate chips" — cocoa nibs. It's like eating a treat for breakfast.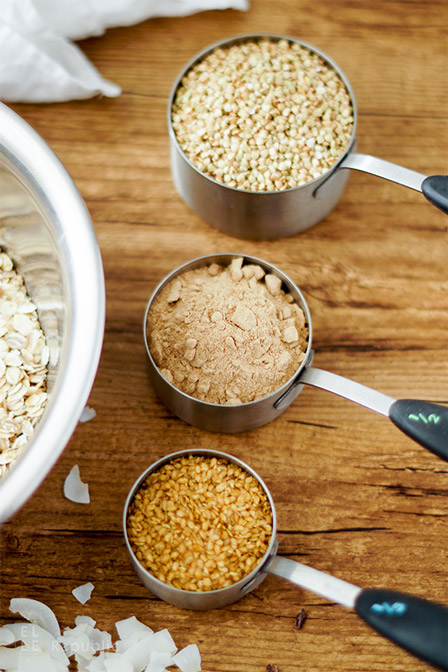 If you are looking for a caffeine free chocolate replacement, then carob is the way to go. It is similar to cocoa powder but is richer in calcium and fiber and has a unique, sweet flavor. Bonus is, it can also be substituted 1:1 for cocoa in recipes.
But since I love crunchy raw cacao nibs in my buckwheat granola, this granola still contains a little bit of stimulating power thanks to theobromine, which offers the positive effects as caffeine, but is about 10 times weaker. But with just a few tablespoons, you can hardly expect to get the jitters. What you can expect from raw cacao nibs is for them to deliver a chocolaty flavor without the sweetness (similar to dark chocolate) and a load of antioxidants. You might just fall in love with these tasty snacks — they are sugar-free and extremely good for you, are energizing and natural mood- boosting AND are awesome added to granola, trail mix, smoothies, and your favorite dessert.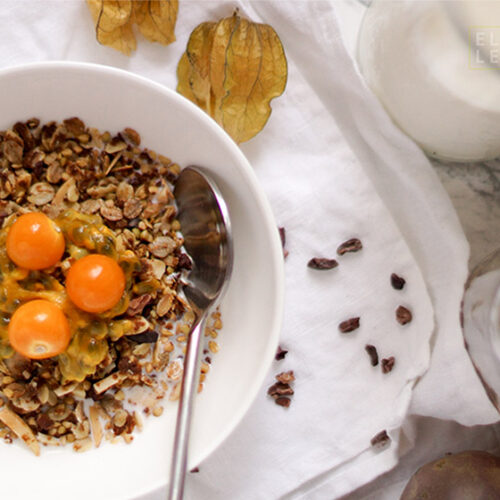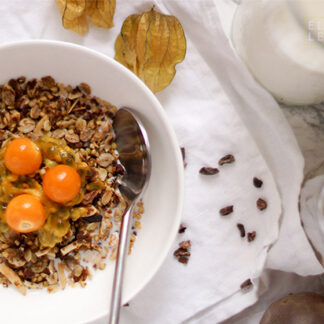 Carob Buckwheat Granola
Toasted buckwheat granola (kasha) with coconut flakes, naturally sweet carob and "nature's chocolate chips" — cocoa nibs. It's like eating a treat for breakfast.
Ingredients
2

cups

rolled oats,

I used 4-grain oatmeal with a mix of oats, buckwheat, rye and spelt (replace with gluten-free if necessary) (200 g)

1

cup

buckwheat,

toasted (kasha) (200 g)

1

cup

coconut flakes

(50 g)

1

cup

slivered almonds

(100 g)

1/4

cup

golden flax seeds

(40 g)

2

tablespoons

coconut palm sugar

(alternatively organic raw cane sugar Mascobado)

5

tablespoons

coconut oil

4

tablespoons

maple syrup

(alternatively use honey)

1

teaspoon

pure vanilla powder

1/2

teaspoon

sea salt

1/2

cup

organic carob powder

(125 ml)

4

tablespoons

raw cocoa nibs
Method
Preheat oven to 350°F / 175°F and line a baking tray with parchment paper.

Kasha is toasted buckwheat. To prepare kasha, heat a large skillet over medium-high heat and toast the dry (unsoaked) buckwheat for 4-5 minutes, or until the groats are browned. Shake or stir constantly.

In a large bowl combine the oats, buckwheat, coconut flakes, flax seeds, sugar and almonds.

In a small saucepan over low-medium heat, melt the coconut oil. Add the maple syrup, vanilla powder, salt and carob powder. Whisk together until smooth.

Pour over the dry ingredients; mix well until combined.

Spread the mixture evenly onto the lined baking sheet and bake for 15 minutes. Remove from oven, give the granola a stir, and place back in oven to bake for another 10-15 more minutes, stirring every 5 minutes until golden and fragrant.

Remove from the oven and let the granola fully cool in the tray. Once cool, stir in the cocoa nibs and store in a glass container.

To serve, create a delicious breakfast parfait or combine with nut/seed milk and whatever fresh fruit is in season. Enjoy!
Notes
Can be stored in an airtight container for 2-3 weeks. But I guarantee it won't last that long! 🙂
Did you try this recipe?
Then tag @ellerepublic on Instagram and hashtag it #ellerepublic
How did you like it?
Please let me know how this buckwheat bread recipe turned out for you! I would love to hear how you liked it. Simply rate it with the stars above ⭐or leave me a comment and rate it below.
Did you make any changes to this recipe?
If you have tips for other readers, let me know! It helps me and other readers so much. Sharing is Caring :-).