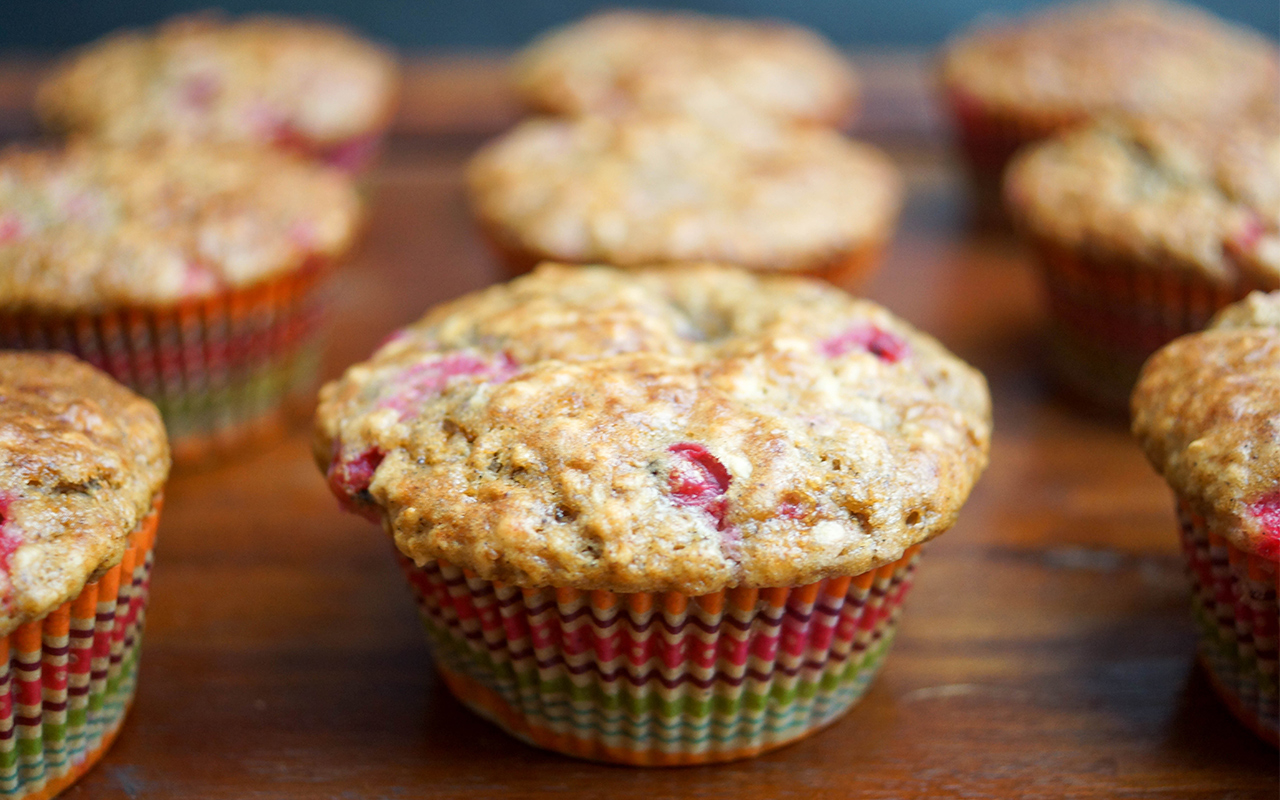 Buttermilk Red Currant Muffins. Because I absolutely love red currants. Native to Asia and Western Europe, these little gems were thought to be among the original foods consumed by the Palaeolithic people. Yes, they've been around forever!
Being a fan of tart fruits and berries, I don't actually recall seeing currants all that often in my years of living Vancouver. Or perhaps I was blind to them. Whatever the case, you can imagine how excited I was when I moved to Hamburg and discovered half a dozen or more massive bushes in my backyard. Okay, short-lived excitement, which led to disappointment pretty quickly. The first year the pigeons devoured them. Yes, I was surprised too. Pigeons and fruit? Those two fat little birds, a pair, were definitely bigger fans of currants than me and pretty at home in my garden. Seriously now. How could they be so glutinous? Really, all the berries? So I tried the plastic crow trick. Apparently, crows scare off pigeons, dumb pigeons that is. Fail. Hmm, fat and smart. Maybe they're fat because they're so damn smart. Next strategy, nets. Ooh what a pain. So instead, I salvaged what I could, when I could, and more often then not, defeatedly dished out my spare change for currants just like everyone else. Was a nice thought though.

Enjoy red currants all year round
The great thing is, currants are abundantly found fresh in summer or frozen year-round. Surprisingly, almost 99% of the total production of currants (black, red, gooseberries, etc.) is cultivated in Europe. So they are easy to find. At least on this continent. So whether, salvaged, store bought or fresh from the farmer's market, I freeze mine for this red currant muffin recipe as they are easier to work with since currants are rather delicate.
To freeze currants and other berries:
Remove the small stems and spread the currants out in one flat layer on a cookie tray and freeze. Once frozen put in freezer bags or containers. When you want to use the fruit, shake the frozen bag to loosen the fruit.
I decided to use buttermilk for this recipe, since I love using buttermilk in baking. It reminds me of delicious buttermilk pancakes! Buttermilk has a terrific tangy, buttery flavor, which adds more depth and improves the texture of baked goods (think fluffy pancakes) and contrary to what it's name implies, it's actually low in fat. Together with refreshingly tart little red currants, these are my new favorite muffins!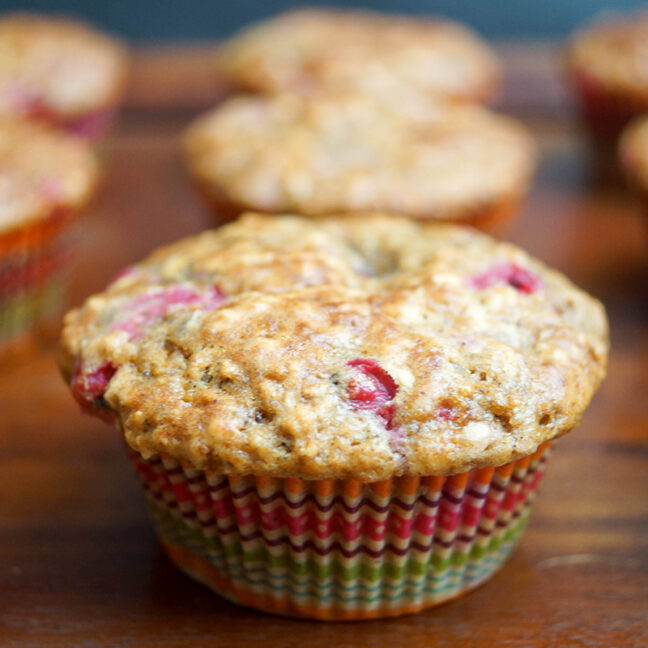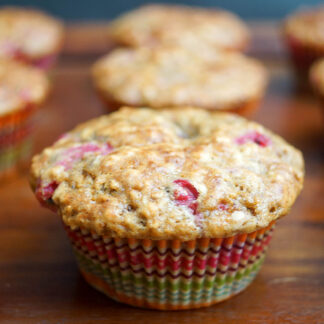 Buttermilk Red Currant Muffins
Buttermilk red currant muffins made with refreshingly tart little red currants, powdered vanilla, rolled oats and fine brown sugar - these are my new favorite muffins!
Ingredients
1 1/2

cups

all-purpose flour

(200 g)

1

cup

rolled oats

fine (80 g)

3/4

cup

soft brown sugar

(100 g) (I recommend GEPA organic raw cane sugar Mascobado)

2

teaspoons

baking powder

1

teaspoon

baking soda

1

teaspoon

vanilla powder

1/2

teaspoon

sea salt

1 1/2

cups

frozen red currants berries

(do not thaw)

4

tablespoons

extra virgin olive oil

1

large egg,

lightly beaten

1

cup

organic buttermilk

(250 ml)
Method
Preheat the oven to 400°F / 200°C.

Line a 12-hole muffin pan with paper cases or lightly grease the pan.

Combine all the dry ingredients in a large bowl.

In a small bowl, whisk together the olive oil, egg and buttermilk. With a rubber spatula fold the wet ingredients into the dry ingredients and stir only until the ingredients are combined. Gently fold in the berries. Do not over-mix.

Spoon the mixture into the prepared pan so that each muffin cup is almost full with batter. Bake for about 20-25 minutes, until a toothpick inserted in the center of a muffin comes out clean.

Turn muffins onto wire rack to cool for about 5 - 10 minutes before removing from pan. Enjoy!
Did you try this recipe?
Then tag @ellerepublic on Instagram and hashtag it #ellerepublic
How did you like it?
Please let me know how this Buttermilk Red Currant Muffins recipe turned out for you! I would love to hear how you liked it. Simply rate it with the stars above ⭐ or leave me a comment and rate it below.
Did you make any changes to this recipe?
If you have tips for other readers, let me know! It helps me and other readers so much. Sharing is Caring :-).