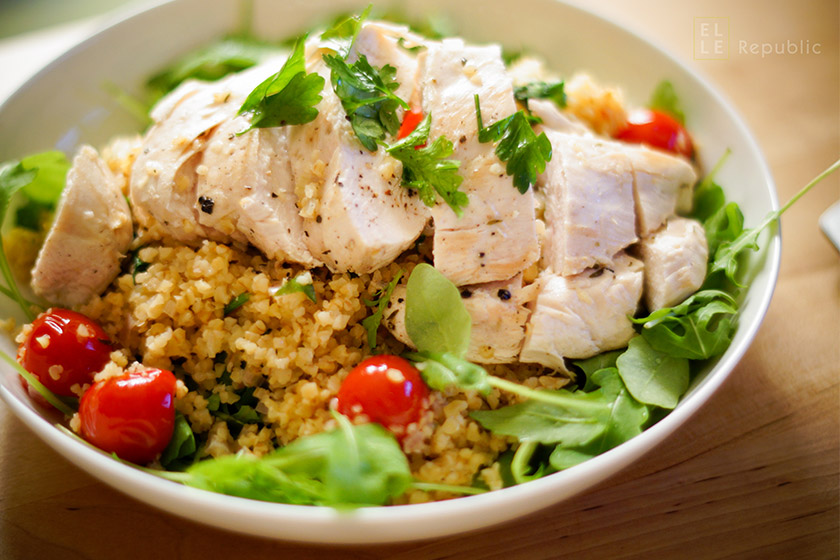 Here is a super simple one-pan dish that's perfect for delivering dinner on a busy weeknight. All that goes into this casserole dish is broth, bulgur, lemon, thyme and some cherry tomatoes, which is topped with seared chicken breasts and baked in the oven. The bulgur cooks in the broth, the chicken finishes cooking, and the resulting dish is, well…simply delicious. The perfect cozy-winter-dinner.
I love bulgur for its flavor and versatility — for the nutty-tasting cracked wheat product it is…even if it has taken second fiddle to quinoa and all the gluten-free grains and pseudo grains out there. These days so many people are shunning wheat.
Why is gluten-free so popular?
The most obvious question would be: Why? How could gluten, which is found in a staple foodstuff for many nations (most definitely Germany), suddenly have become so threatening for so many?
In North America, the fear of gluten has become so evident that, the television show "South Park" devoted an entire episode to the topic, to explore, and very likely mock, our gluten-free obsession. In this episode, South Park became the first entirely gluten-free town in America, with federal agents placing anyone suspected of having been "contaminated" in quarantine, citizens were forced to strip their cupboards of "contaminated" foods, and angry mobs took flamethrowers to wheat fields. Here's a clip:
When I think of mass-produced supermarket variety bread, the kind referred to as "American toast bread" in Germany, well is that really bread? Read the label. It, among much of the bread, is made from wheat that has been milled into white flour, which has plenty of gluten, but has been stripped of its vitamins and nutrients, its fiber, and most of its healthy fat. I'd say reduce their consumption of refined carbohydrates and bread and instead focus on eating balanced, nutritious and wholesome meals. Click here for an amazing and informative article on this topic.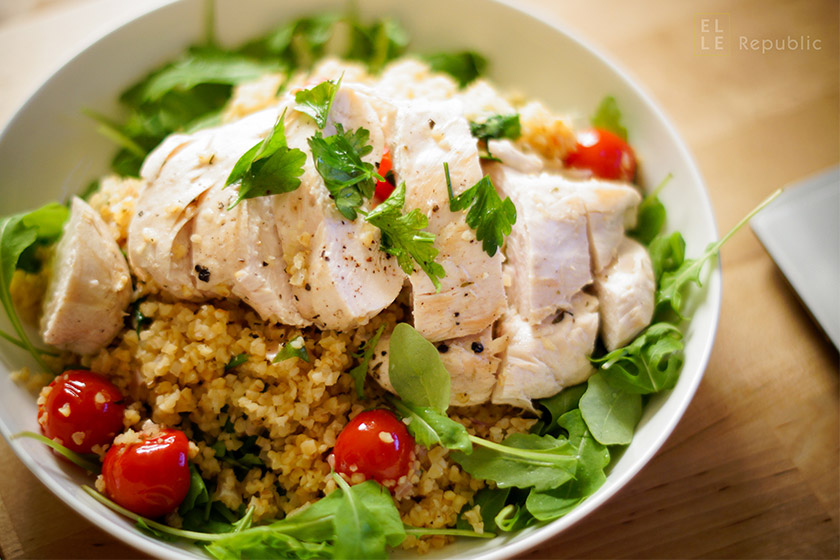 Of course, if following a gluten-free diet makes you feel better (or heaven forbid, you have no choice), and then go for it. Otherwise try giving bulgur a go — it's 100 percent whole wheat and is a good source of fiber, protein, iron and vitamin B-6.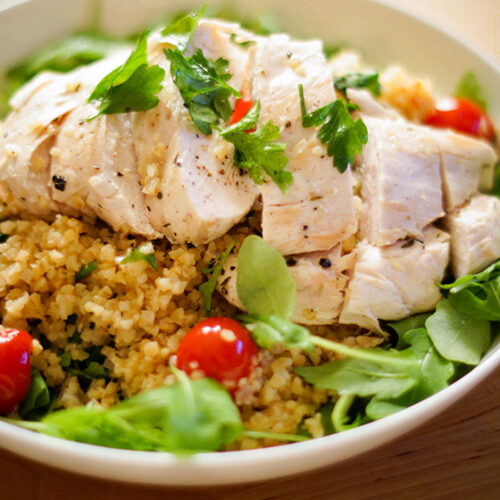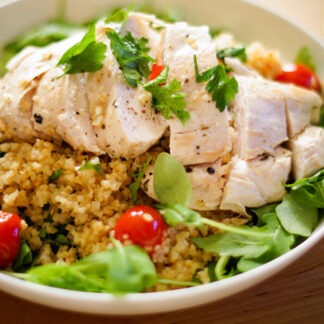 Chicken with Bulgur, Lemon, Herbs and Tomatoes
A simple one-pan wonder for a busy weeknight. A tasty chicken with bulgur casserole dish with lemon, thyme, parsley and cherry tomatoes. Low-fat and healthy.

Ingredients
4

skinless boneless chicken breast halves

(preferably organic, about 125 g each)

2

tablespoons

extra-virgin olive oil

sea salt and freshly ground pepper,

to taste

1 1/2

cups

chicken broth

(750 ml)

1

shallot,

finely chopped

1

cup

uncooked bulgur,

(200 g) (can also be substituted with couscous)

1/2

teaspoon

finely grated lemon zest

(from a organic lemon)

3

tablespoons

freshly squeezed lemon juice

1/4

teaspoon

dried thyme leaves

(alternatively use 1 teaspoon fresh thyme)

250

g

cherry tomatoes

(about 20 in all)

2

tablespoons

finely chopped fresh flat-leaf parsley

(or mint)

4

generous handfuls baby arugula,

to serve (about 100 g)
Method
Preheat oven to 425°F / 220°C.

Sprinkle chicken with pepper and salt.

Using a large skillet, heat the oil over medium-high heat. Add the chicken, and brown for about 3 minutes per side. Transfer to a plate and set aside.

Add the shallot to the pan, and cook stirring until fragrant, about 1 minute. Add the broth and bring the mixture to a simmer. Using a spatula or wooden spoon, scrape any browned bits from the bottom.

Spread the bulgur over the bottom of a glass or ceramic baking dish. Pour the broth mixture over couscous, add the zest, lemon juice, thyme, season with salt and pepper, and stir to combine. Arrange chicken on top of couscous, and add the tomatoes. Cover the dish tightly with aluminum foil and bake in the oven until the chicken is cooked through and the broth has been absorbed, about 20 minutes (depending on the thickness of the breasts).

Transfer the chicken to a plate. Add the fresh herbs to the bulgur, stir well to combine, then fluff with a fork. Line the serving plates with arugula, mound the bulgur mixture on top along with a chicken breast. Season with salt and pepper, if desired and enjoy!
Did you try this recipe?
Then tag @ellerepublic on Instagram and hashtag it #ellerepublic
How did you like it?
Please let me know how this Chicken with Bulgur, Lemon, Herbs and Tomatoes recipe turned out for you! I would love to hear how you liked it. Simply rate it with the stars above ⭐or leave me a comment and rate it below.
Did you make any changes to this recipe?
If you have tips for other readers, let me know! It helps me and other readers so much. Sharing is Caring :-).