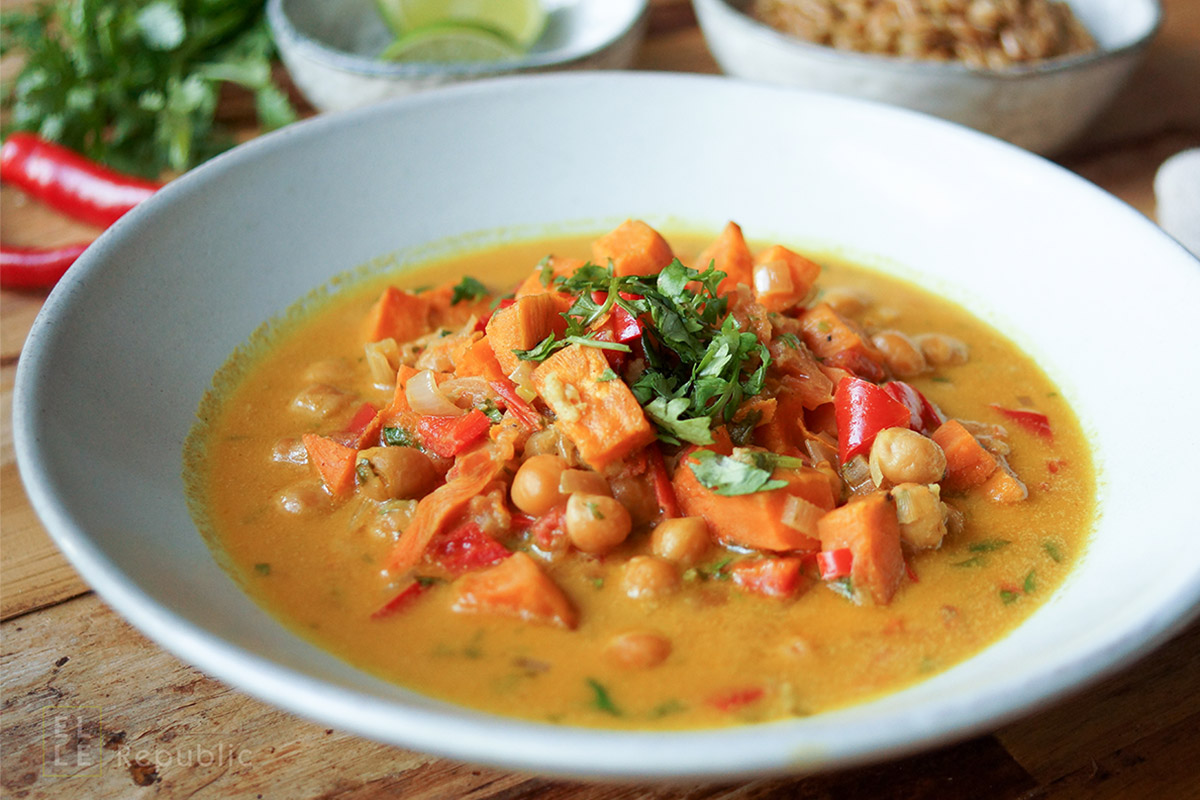 Here's an A M A Z I N G chickpea chili that's actually not as you would expect a typical chili to be. Simple put: it's remarkable! It's full of so many tasty flavors… from fresh red chili, garlic and turmeric to cumin, cinnamon, and paprika, and then if that not enough there's plenty of extra tastiness from honey, tahini and soy sauce. Fresh tomatoes add even more umami effect — like we needed any more! — and all those flavors are bound together into the most perfect chili base ever. Centre stage is one of my all-time favorite combinations: chickpeas and sweet potatoes. Enter lime and cilantro and I'm in food heaven. Did I mention I also used coconut milk? F O O D L O V E. Yes, say goodbye to traditional chili F O R E V E R!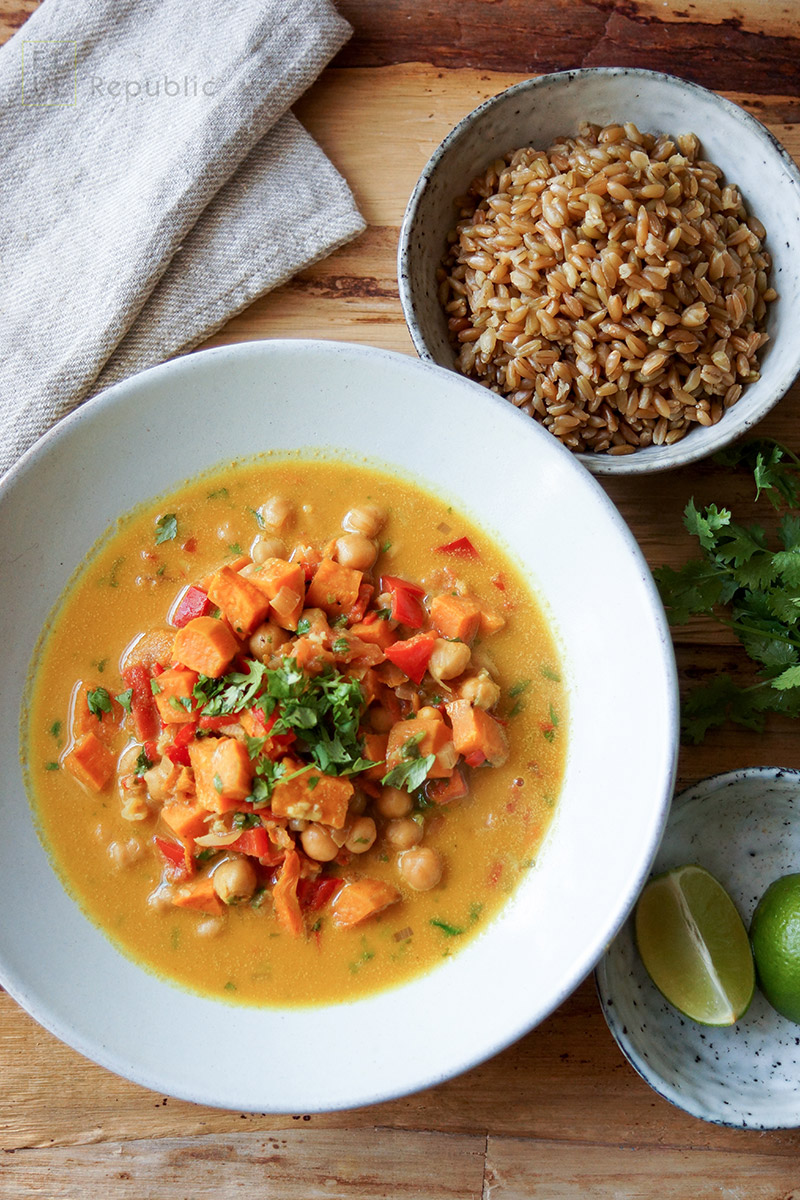 In my recipes I love to use acacia honey for its mild and sweet, floral flavor. I also use Japanese soy sauce (also known as shoyu, literally "soy oil") as I prefer the flavor over Indonesian or Chinese versions. I stick to using an all-purpose soy sauce from Kikkoman since it has a sweeter, less harsh flavor than other versions. If you are using a gluten-free tamari you can expect a stronger flavor due to the high soy bean content, so I would slightly reduce the amount if using it in this recipe.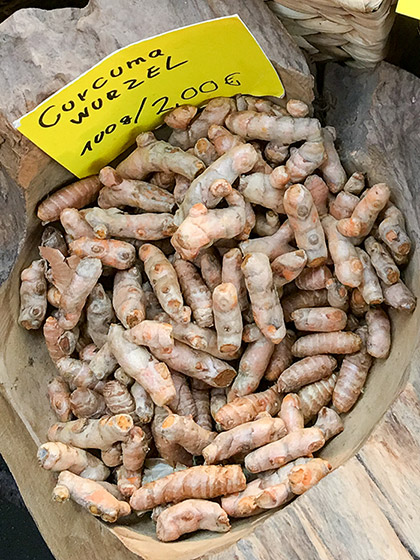 For a livelier taste, I recommend using fresh turmeric, but a word of warning – fresh turmeric stains easily, so unless you want to turn your hands and kitchen yellow, handle with care! If you get it on your clothes all is not lost: lemon juice usually removes the stain. Just squeeze a little on to the affected area and leave for about 15 minutes before putting in the wash.
Speaking of turmeric, I recently read a funny (or not so funny!) article about a woman who decided to give herself a homemade turmeric mask facial treatment — apparently it helps brighten your completion so you can really get a healthy glow. Glow it did. She turned yellow. Bart Simpson yellow. Or in her case Lisa Simpson. Can you imagine? That stuff really stains! So she tried good old lemon juice. Big fail! OMG her poor skin.
The solution. Water and sugar.
So although lemon may work with some stains, if your hands get really stained while you are cooking with turmeric, then just mix a few tablespoons of sugar with some water, and then scrub your hands together. It works magic! A simple and awesome way to remove turmeric stains!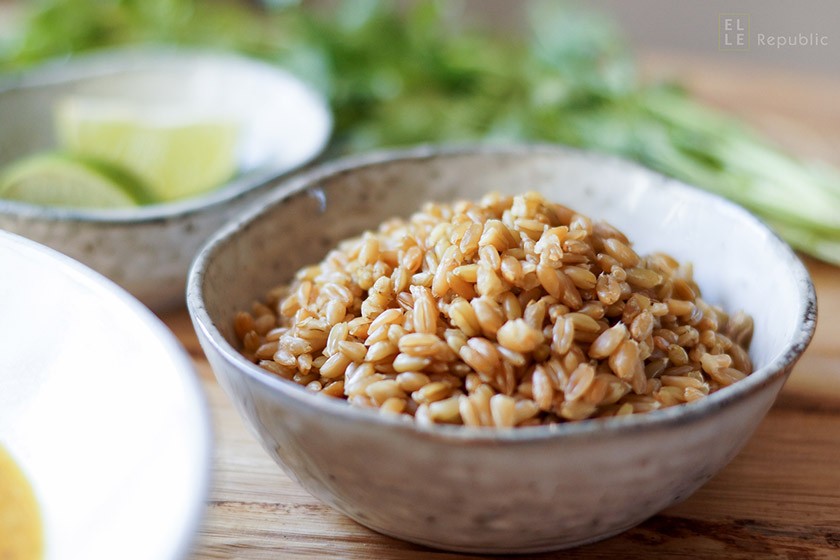 A side note: I serve my chickpea chili with Grünkern (which is spelt grains harvested young, then dried and smoked), but short-grain brown rice or freekeh (similar to Grünkern but made from drum wheat), even pearled barley, are great options too.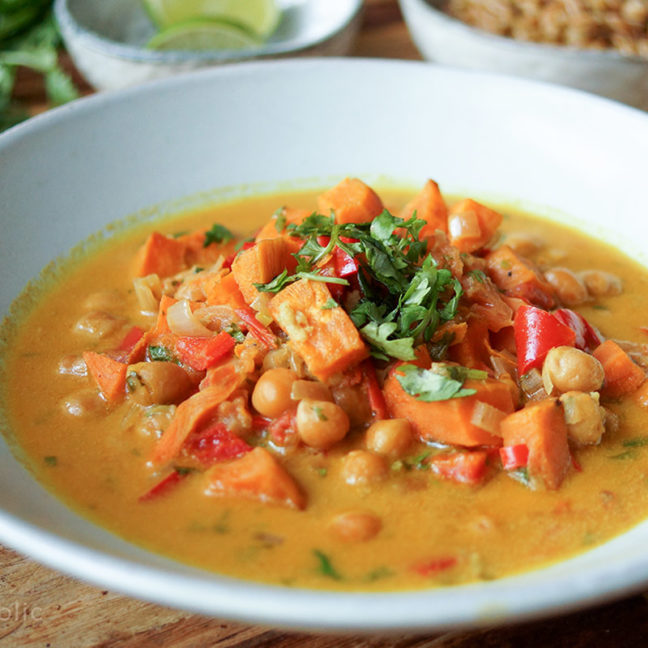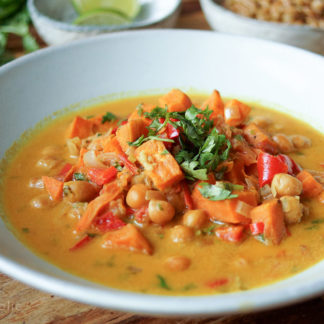 Chickpea Chili with Roasted Sweet Potato
Ingredients
For the sweet potato:
1

large sweet potato,

peeled and chopped into small bite-sized pieces

extra-virgin olive oil,

about 1/2 tablespoon or more

sea salt and freshly ground pepper,

to taste
For the chili:
1

tablespoon

coconut oil

5

small shallots,

finely chopped

I sweet pointed red pepper,

finely chopped

3

small to medium-sized vine-ripened tomatoes,

finely chopped

1

fresh red chili,

finely chopped

1

x 400 g can

organic chickpeas,

drained and rinsed

1 1/2

teaspoons

ground cumin

1

teaspoon

ground turmeric

(or 3 teaspoons fresh grated with a microplane)

1

teaspoon

cinnamon

1

teaspoon

ground paprika

3

cloves

garlic,

minced

3

tablespoons

soy sauce

1

tablespoon

tahini

1

tablespoon

honey

1

x 400 ml can

organic coconut milk

juice of one lime

3

tablespoons

finely chopped fresh cilantro,

plus more for garnish
To serve:
short-grain brown rice or other chewy and nutty grain such as Grünkern,

or freekeh (depending on the choice you'll want to start cooking this as soon as you prep the sweet potatoes)

lime wedges
Method
Preheat oven 450°F/220°C and place the rack in the upper third. Line a baking sheet with parchment paper.

In a medium bowl, toss the sweet potatoes with olive oil until coated, season with salt and pepper. Spread out evenly on the prepared baking sheet.

Bake, stirring halfway through, until golden and cooked through, about 20-25 minutes, depending on size of pieces. Remove from oven and set aside.

NOTE: Once the sweet potatoes have been in the oven for about 10 minutes, start preparing the rest of the dish.

Using a large saucepan or deep skillet, heat the coconut oil over medium heat. Add the shallots and slowly sauté until transparent, about 10 minutes.

Add the chopped red pepper, tomatoes and chili. Sauté 3-4 minutes, stirring occasionally.

Add the chickpeas and spices (cumin, cinnamon, turmeric and paprika); stir well to combine.

Stir in the minced garlic, soy sauce, tahini, honey, coconut milk and sweet potato. Simmer for 5 minutes, stirring occasionally.

Add the lime juice and cilantro; reduce heat to low and simmer for 2 minutes.

Remove from heat, and divide into bowls. Sprinkle with more fresh cilantro and serve with rice and a wedge of lime. Enjoy!
Notes
This dish is more mild than spicy, so for more kick add another fresh chili or serve with Sambal Oelek chili sauce on the side.
This recipe for Chickpea Chili with Roasted Sweet Potato can also be made in advance and heated up again before serving. Tastes just as great!
Did you try this recipe?
Then tag @ellerepublic on Instagram and hashtag it #ellerepublic
How did you like it?
Please let me know how this Chickpea Chili with Roasted Sweet Potato recipe turned out for you! I would love to hear how you liked it. Simply rate it with the stars above ⭐or leave me a comment and rate it below.
Did you make any changes to this recipe?
If you have tips for other readers, let me know! It helps me and other readers so much. Sharing is Caring :-).