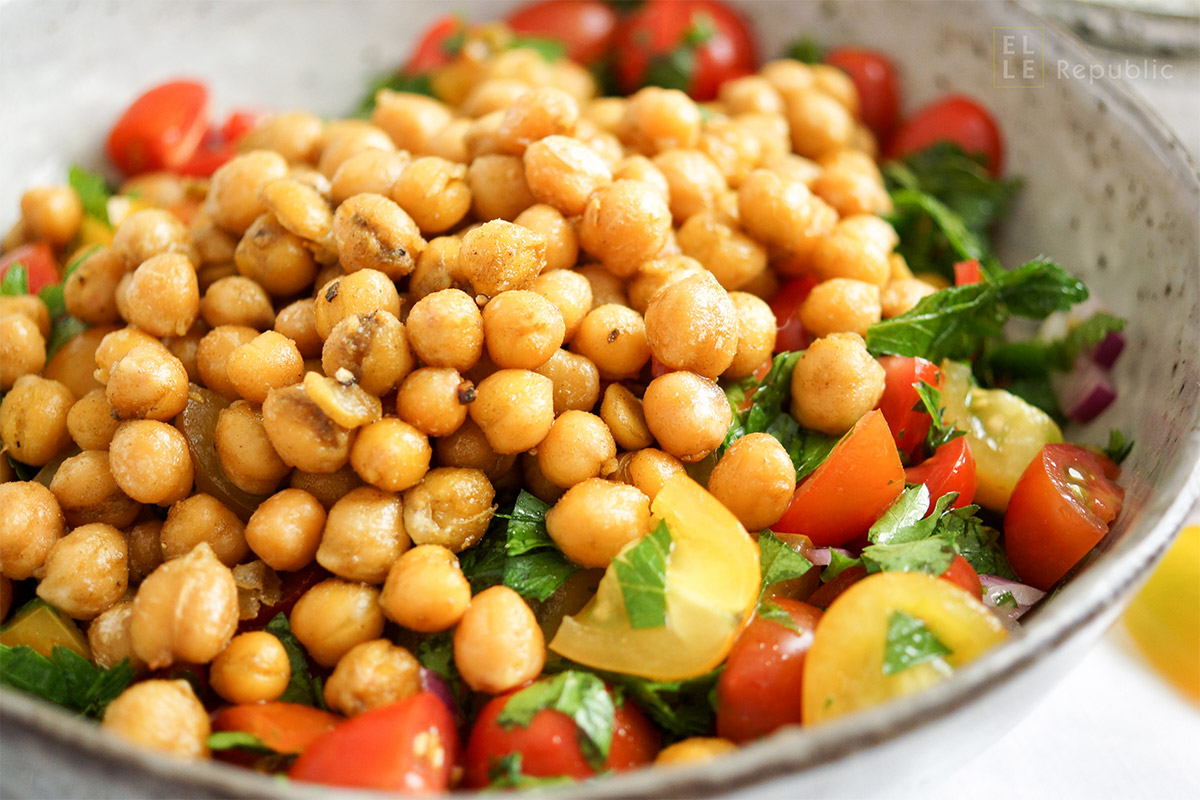 Chickpea tomato salad. Simply in love with it. Fresh summer tomatoes, crisp cumin-coated chickpeas, sweet red onion, and parsley, tossed with just the right amount of olive oil and sunshiny lemon juice has the makings of becoming my absolute favourite summer salad! The best part about it is that you can make this recipe in less than 10 minutes! It's that fast and easy. And it makes for a complete and satisfyingly light meal in itself.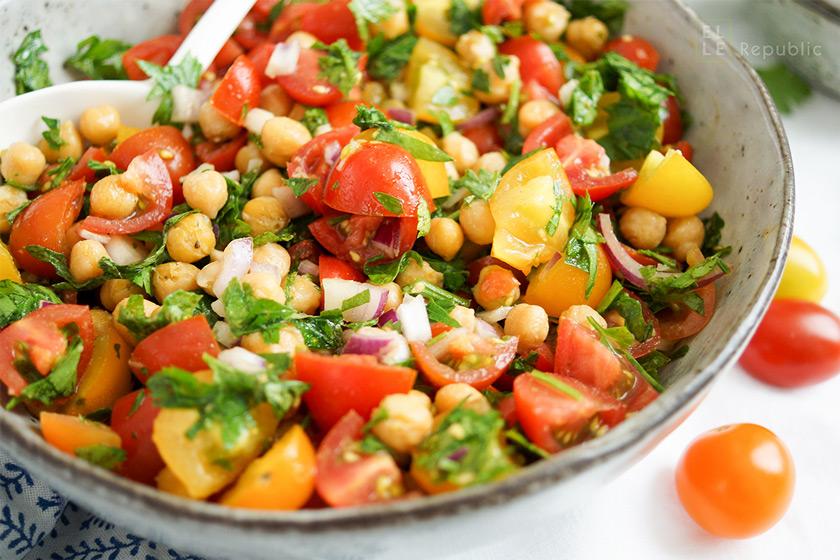 I have to admit I am becoming a little bit obsessed with chickpeas these days. I love their buttery texture and delicious almost nut-like taste. They are the perfect thing to add to a vegetarian, or in this case vegan salad. Chickpeas have lots of fibre which is not only good for your digestion system, but also helps keep you feeling full longer. And for anyone following a vegetarian or vegan diet, they are a great source of plant protein (just 1 cup/164 g delivers 29% of the daily recommended intake).
This chickpea tomato salad showcases loads of natural goodness
Chickpeas are also an important source of the mineral manganese (delivering 85% of daily value in that same cup). Manganese matters since it is essential nutrient to a properly functioning body. It does everything from helping prevent osteoporosis and inflammation, to playing a role in fat and carbohydrate metabolism, to neutralising potentially damaging free radicals and supporting a functioning thyroid, to aiding in vitamin absorption, in particular the B-complex vitamins, that help fight things like depression and anxiety. In case you are curious what other foods are good sources, eating wholegrain brown rice and spinach provide a comparable amount, but the best source is oats with 96% of daily value in just 1/4 cup (25 g).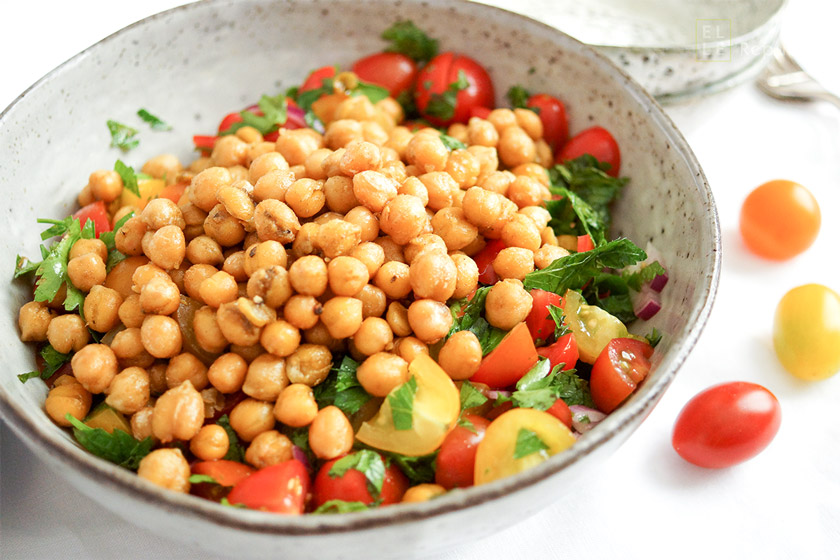 Instead of being dry and crispy like you might expect some oven baked chickpeas to be (do you know the ones in Turkey served as a snack called Leblebi? Well these aren't them). These ones are lightly browned, lightly crisped and tossed in olive oil and a good dose of tasty cumin — something that really works like a dream with the rest of this salad.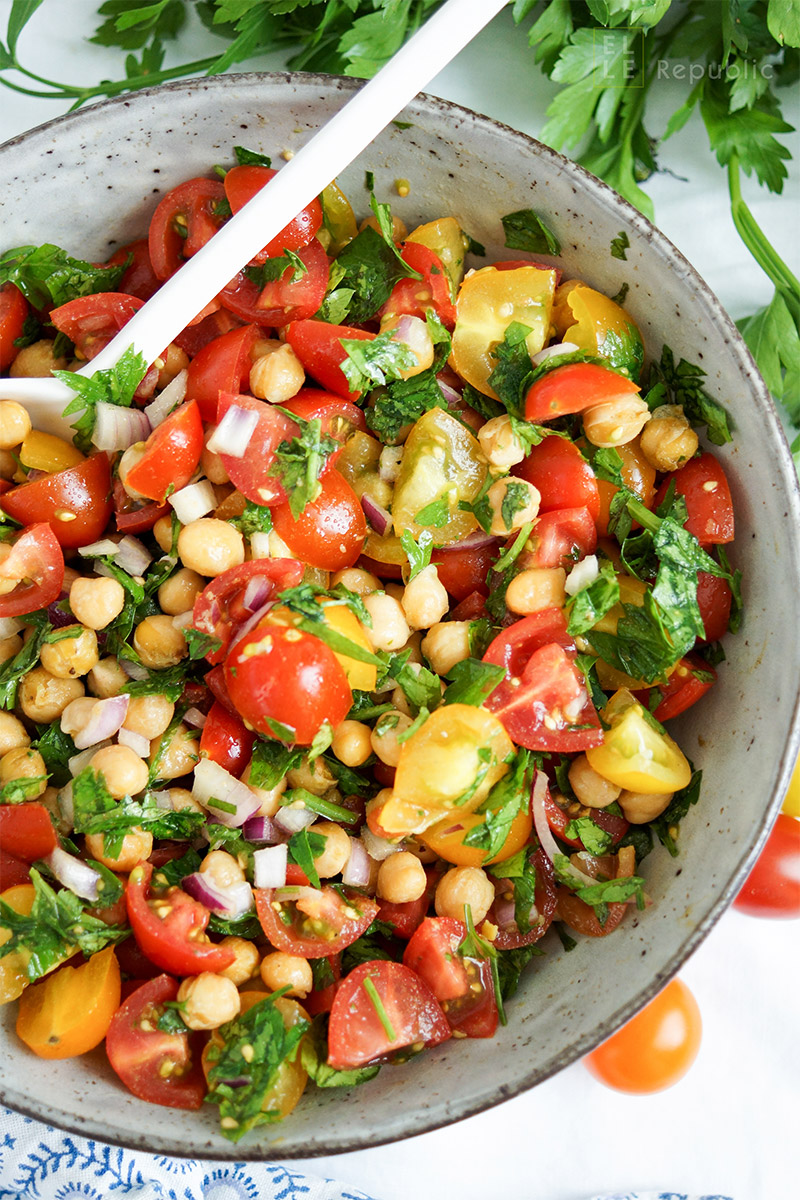 This chickpea tomato salad makes for a fantastic light lunch for two or as an excellent starter for a weeknight meal, feel free to sprinkle with feta cheese, or leave it as is and double it next time you hosting dinner with vegan or gluten-free friends. Even though it's light, it's still hearty enough to stands on its own. Served with ciabatta and perhaps some baba ganoush egpplant dip, you'd have a perfect summer dinner. Not much else can make a glass of chilled rosé better. 😉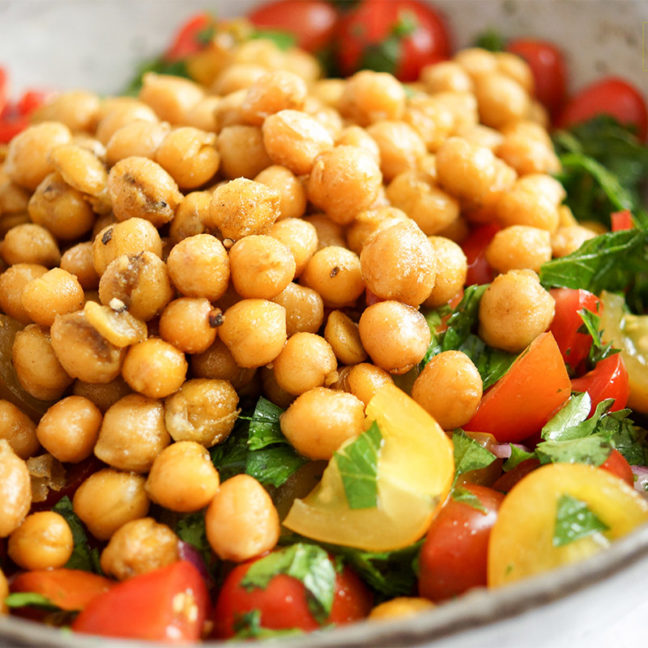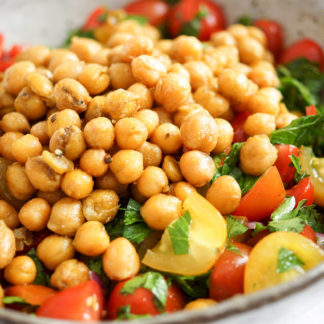 Crispy Chickpea Tomato Salad
A fantastic tasting, quick and easy chickpea tomato salad recipe that is super healthy and suitable for anyone following a vegan or gluten-free diet.
Ingredients
For the salad:
2

tablespoons

extra-virgin olive oil

1

x 400 g can

organic chickpeas,

drained and rinsed

sea salt and freshly ground pepper,

to taste

2

teaspoons

ground cumin

500

g

cherry tomatoes or a mix of heirloom,

quartered

1

small red onion,

finely chopped

1

bunch flat-leaf parsley,

chopped (about 1 cup loosely packed)
For the dressing:
2

tablespoons

extra-virgin olive oil

1

tablespoon

freshly squeezed lemon juice
Method
To crisp the chickpeas: In a large heavy-bottomed skillet, heat the oil over medium-high heat. Add the chickpeas to the pan and spread out evenly. Let cook (WITHOUT stirring!) until lightly browned, about 4 minutes. Stir, season with salt and a little pepper, and spread into an even layer again. Cook for another 2 minutes (again without stirring), then stir and repeat the process until golden-brown and lightly blistered all over. In total, this should only take 7-8 minutes.

Note: if the heat seems to get too hot and they start "popping" too much, then reduce the heat for a couple minutes before increasing again.

Remove the skillet from the heat, add the cumin, and toss until evenly coated.

In a large salad bowl, add the tomatoes, red onion, and parsley. Drizzle with the olive oil and lemon juice. Toss to combine. Add the chickpeas and toss again until well combined. Taste and season with more salt and pepper, if desired. Enjoy!
Notes
This chickpea tomato salad also makes great leftovers. They can be stored in an airtight container in the refrigerator for 2-3 days.
Did you try this recipe?
Then tag @ellerepublic on Instagram and hashtag it #ellerepublic
How did you like it?
Please let me know how this Crispy Chickpea Tomato Salad recipe turned out for you! I would love to hear how you liked it. Simply rate it with the stars above ⭐or leave me a comment and rate it below.
Did you make any changes to this recipe?
If you have tips for other readers, let me know! It helps me and other readers so much. Sharing is Caring :-).