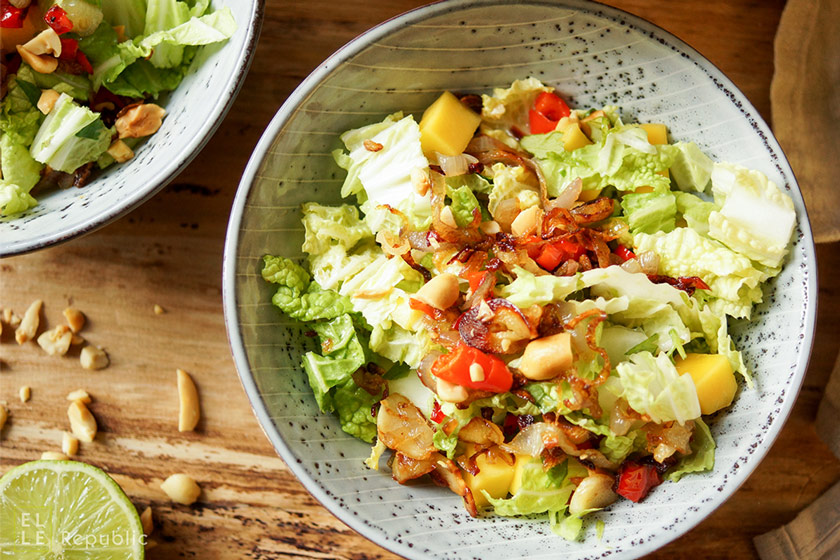 Spring has seemed to wake my taste buds to fresh, assertive and bold flavors. And this coconut-lime cabbage and mango salad is the new flavor sensation of my life! Full of the fresh flavors of mango and cilantro, it's Thai inspired coconut-lime dressing really makes it shine, only to take it to the next level of absolute deliciousness by adding crispy fried garlic, shallots and chili and a sprinkle of chopped roasted peanuts. It's a tasty dish that's packed with flavor, one you can make in a jiffy with only a few simple ingredients.
For this recipe, I chose my current can't-get-enough-of-this-right-now favorite kind of cabbage — Chinese cabbage. It has tender-crunchy, sweet and mild leaves. And since its leaves are so delicate it's a great choice for a raw salad. L-O-V-E it.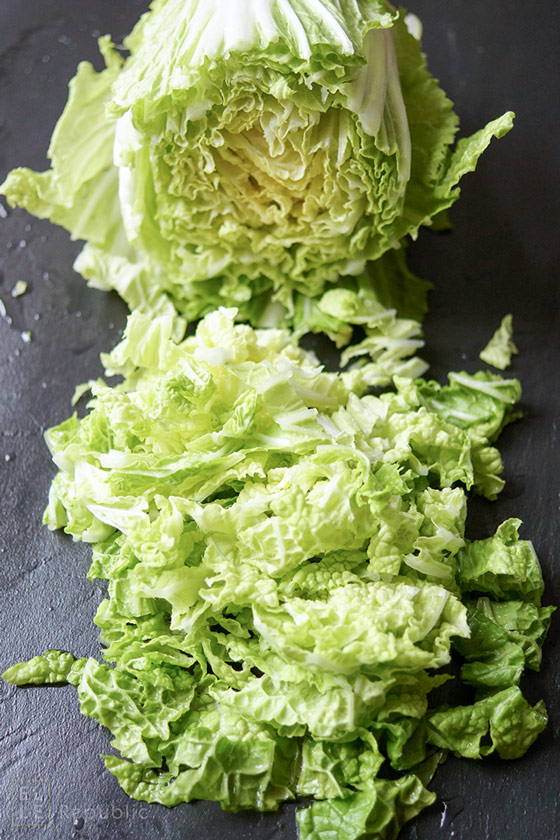 Savoy cabbage would be my second choice. If you opt for savoy, it's best to blanch it first. To do so, bring a pot of salted water to a boil, throw in the cabbage and cook for just 30 seconds or so, (but no more than a minute!), drain the cabbage in a colander and immediately cool it by holding the colander under a tap of cold running water (this will stop the cooking process and help it retain it's lovely green color). Give it a whirl in the salad spinner to remove all the water — and there you go — it's ready for the flavor party!
This recipe is open to all sorts of variations. Raw shredded pointed cabbage (Oxheart) is also a great choice for coleslaws and salads like this one. I simply love the combination of mango and cabbage, which inspired me to add it to yet another cabbage salad.
No mangoes? Go ahead and try using orange segments or slices of juicy nectarines. All sorts of cabbage are pretty much available year round so this recipe is one you can count on making any time you like.
This coconut-lime cabbage and mango salad will certainly get your taste buds doing a dance, so I recommend serving it as a side or a starter. We don't want to over excite them, do we?
cht essen.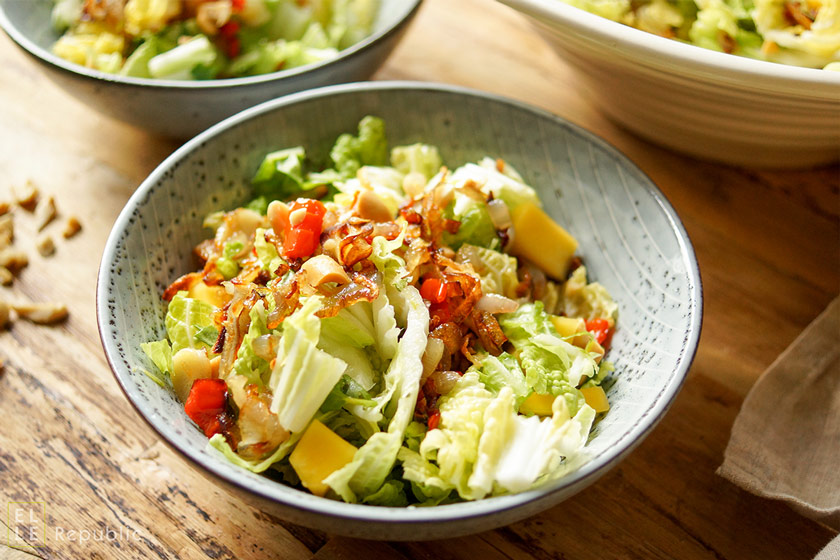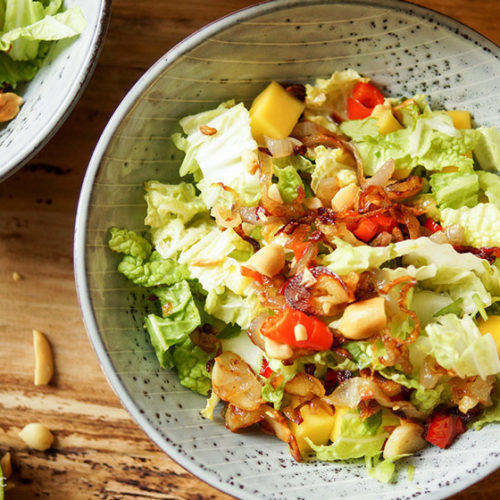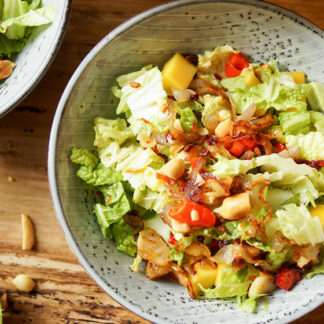 Coconut-Lime Cabbage & Mango Salad
A sensational Thai-inspired recipe for coconut-lime cabbage, mango and cilantro salad with crispy fried garlic, shallots and chili, plus roasted peanuts.
Ingredients
For the salad:
2

tablespoons

coconut oil

2

fresh red chilies,

seeded and sliced thinly

6

cloves

garlic,

finely sliced

6

shallots,

finely sliced

1

small Chinese Napa cabbage,

shredded

1

firm but ripe mango,

peeled and diced or julienned

3

tablespoons

fresh chopped cilantro

2

tablespoons

unsalted roasted peanuts,

coarsely chopped
For the dressing:
2

tablespoons

fish sauce

finely grated rind of 1 lime

2

tablespoons

freshly squeezed lime juice

1/2

cup

coconut milk

(125 ml) (see notes below)
Method
In a large skillet, heat the oil over medium heat. Add the chillies, garlic and shallots and fry until shallots are browned and crisp. About 10 minutes. Set aside.

Meanwhile, in a small bowl, mix together the dressing ingredients until well combined.

In a large serving bowl, add the cabbage, mango and cilantro. Add the dressing and toss to combine. Top the salad with the chili-shallot mixture and sprinkle with the roasted peanuts. Serve and enjoy!
Notes
For canned coconut milk, scoop the layer of thick white cream off the top of a 200 ml can. The remaining milk will amount to the 125 ml needed.
The thick, creamy film that rises to the top is coconut cream. Expect to see this in a quality brand. The more separation and thick cream, the better the product. You can either discard the cream, or save it for your next curry, soup or smoothie. I find adding a little coconut cream to a smoothie is the easiest way to use up leftovers. It adds a slightly sweet flavor (and some good fats) which really compliment summer berries, stone fruits or tropical fruit flavors.
Did you try this recipe?
Then tag @ellerepublic on Instagram and hashtag it #ellerepublic
How did you like it?
Please let me know how this Coconut-Lime Cabbage and Mango Salad recipe turned out for you! I would love to hear how you liked it. Simply rate it with the stars above ⭐or leave me a comment and rate it below.
Did you make any changes to this recipe?
If you have tips for other readers, let me know! It helps me and other readers so much. Sharing is Caring :-).