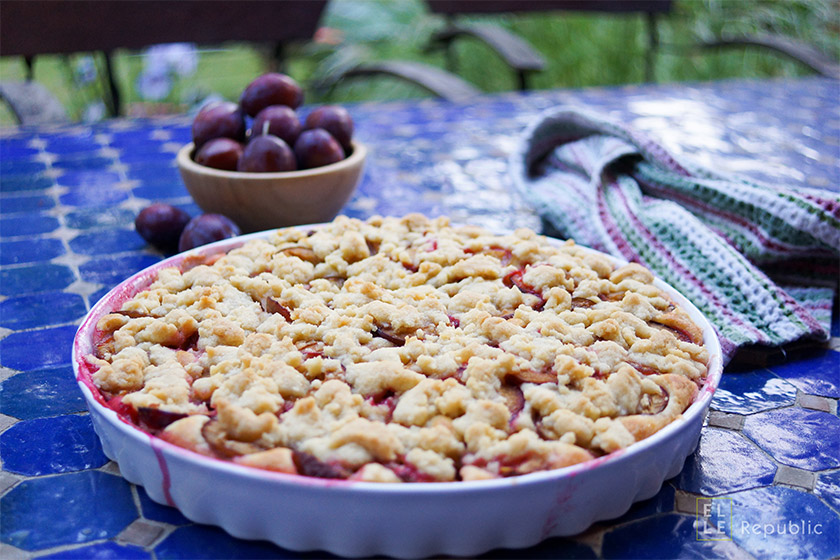 Here in Germany, summer time is plum cake time. As soon as they make their arrival at the farmers' market, arrives also the immediate request from my favorite Schwabe to bake a tradition "Zwetschgenkuchen". Not just any plum cake, but one with a crumbly topping called "Streusel" — in his opinion, very crucial to a good plum cake!
Anyone who knows me, knows that I rarely eat anything sweet, or anything resembling a cake. But admittedly, this particular one made quite the impression and I impressively savored two whole pieces of it. Not because it isn't sweet, but rather it is less sweet. As usual, I use sugar sparingly, if at all. 1) because I have a sugar intolerance 2) the terrible effects of overconsumption 3) and actually, I don't crave it.
German Plum Cake — what a treat!
What is fantastic about this cake is the combination of sweet and sour. That's exactly what I love about it. The plums used in this recipe are called "Zwetschge", a popular European-style plum (also referred to as Italian Prune Plum or Empress Plum). They are small, dense and have a dark blueish or purple skin and are perfect for baking as they hold their form really well. I have come to know Germany as the land of cakes. A country with a weekly ritual of coffee and cake. That's right on Sunday, you may just receive an invite. Yes, let's eat cake!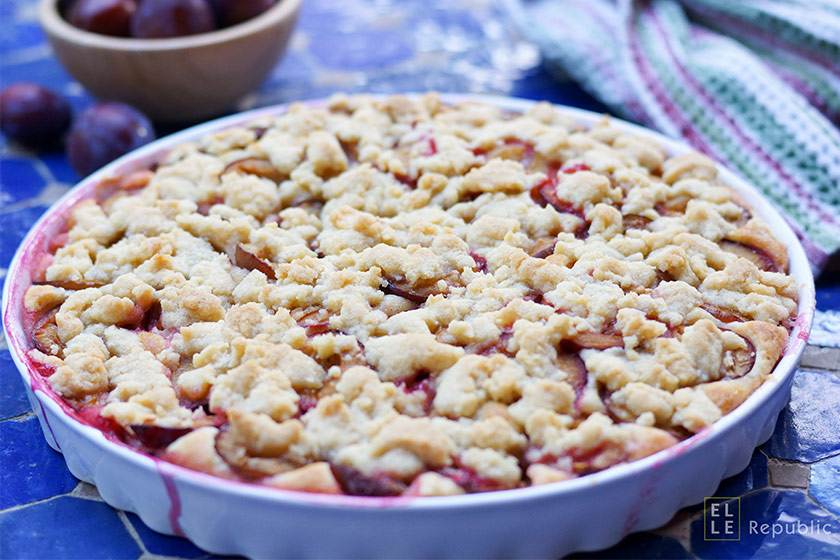 This summer, we are spending a couple weeks in a lovely house with a terrace and large garden in Kleinmachnow near Berlin. Kleinmachnow may sound foreign, but actually the villages around here are a pretty popular spots for wealthy Berliners escaping the city buzz (and rappers like Bushido I am told). There is so much to offer here, making it a wonderful destination for a family with kids. There is the attractiveness of the beautiful Wannsee, loads of nature for biking and jogging, and it's still only short ride into the center of Berlin. Not to mention, Berlin seems to be at least 5 degree warmer in summer than Hamburg.
So as I stumbled across these purple beauties at the local farmers' market…actually my favorite Schwabe once again pointed them out…yes, I will bake a cake. But what is nicer than to write out a recipe in an idyllic garden with the sounds of a woodpecker in the tree and a couple cheeping chickens from the neighbors garden. Naturally, as I sit here enjoying yet another piece of German plum cake. 🙂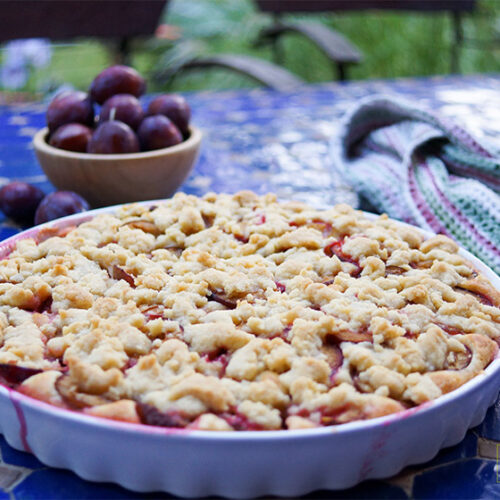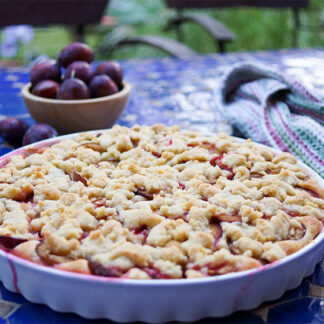 German Plum Cake (Zwetschgenkuchen)
A tradition German plum cake, called "Zwetschgenkuchen". Not just any plum cake, but one with a crumbly topping called "Streusel" made with crème fraîche and vanilla.
Ingredients
1 1/2

cups

pastry flour

(type 450) (180 g)

1 1/2

teaspoons

baking powder

1/4

teaspoon

salt

6

tablespoons

unsalted butter,

brought to room temperature

1/4

cup

organic cane sugar

(50 g)

2

large eggs

1

teaspoon

pure powdered vanilla,

or seeds of one vanilla bean

1

x 150 g container

crème fraîche

24

small plums,

halved and pitted (about 0.5 kg)
For the streusel topping:
1/2

cup

pastry flour

(type 405) (60 g)

4

tablespoons

unsalted butter,

brought to room temperature

1/4

cup

organic cane sugar

(50 g)

1/2

teaspoon

cinnamon,

optional
Method
Preheat oven to 350° F / 180°C. Butter a 29 cm round ovenproof dish or springform pan.

Sift the flour, baking powder and salt into a small bowl.

Using electric mixer, beat 6 tablespoons butter with 1/4 cup sugar in large bowl until well combined. Add the vanilla and beat in the eggs one at a time, for about 4 minutes. Set speed on slow and slowly mix in a third of the flour mixture, then add half the crème fraîche, followed by another third flour, the remaining crème fraîche, and finally the rest of the flour. Do not over mix. Spread batter in the prepared pan.

Arrange the plum halves, cut side up, in a circular pattern on top of the batter.

Mix the streusel topping ingredients together in small bowl until combined. Dot the streusel topping over plums.

Bake the cake until the top is golden and a toothpick inserted into center comes out clean, about 45-50 minutes. Remove from the oven and transfer to a cooling rack. Cool until just warm, about 30 minutes, or to room temperature. Enjoy!
Did you try this recipe?
Then tag @ellerepublic on Instagram and hashtag it #ellerepublic
How did you like it?
Please let me know how this buckwheat bread recipe turned out for you! I would love to hear how you liked it. Simply rate it with the stars above ⭐or leave me a comment and rate it below.
Did you make any changes to this recipe?
If you have tips for other readers, let me know! It helps me and other readers so much. Sharing is Caring :-).