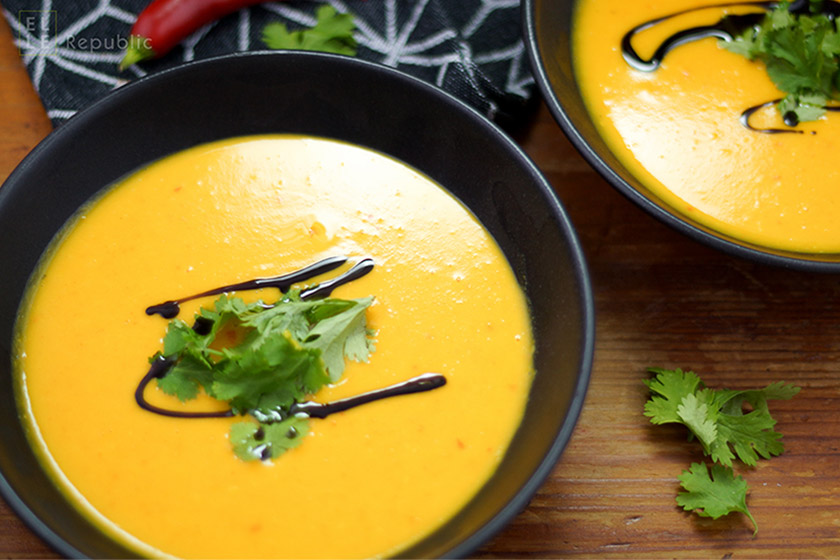 Love them or loathe them, pumpkin and winter squash are a sure sign that fall has arrived. Close relatives, there are hundreds of varieties, and they come in endless shapes, sizes, colors and patterns. One of my absolute favorites is a cute little pumpkin (actually a squash) that goes by the name of "Hokkaido". And guess what? You can eat its skin — making prep an absolute cinch. I'm drooling at the thought of the tasty things I'm going to make with them this fall.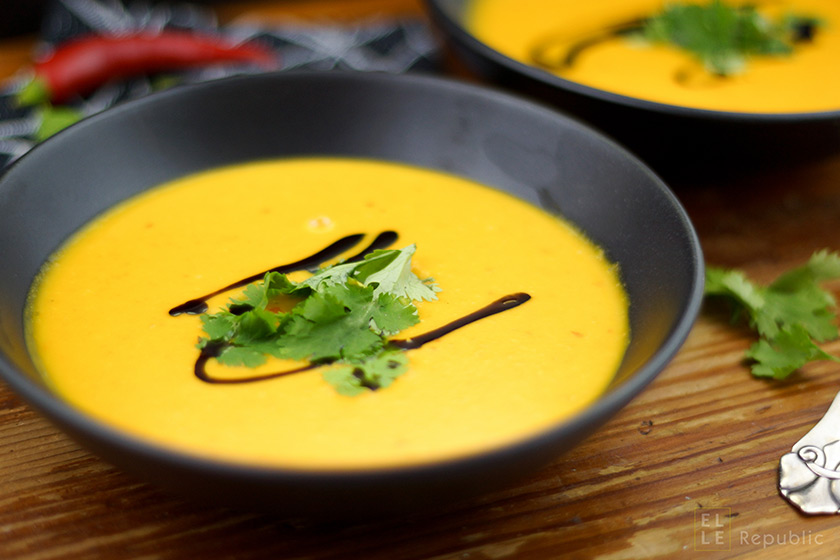 But right now, the best way I can think of putting them use is in a creamy bowl of hokkaido pumpkin soup with ginger, chili with coconut milk. This is the kind of soup your body is probably craving at this time of the year. Warm, comforting, soothing – it's the essence of fall, all in one small unassuming bowl.
Hokkaido Pumpkin, also called Kuri Squash
Hokkaido can be recognized by its reddish-orange teardrop-shape. This Japanese winter squash, also known as Ambercup Squash or Kuri squash. (Kuri means 'chestnut' in Japanese.) comes in sizes ranging from 2 – 5 kg and have a sweet and rich, deep nutty flavor, which to me very much resembles chestnuts. Which by the way, is where the French names comes from: potimarron; a combination of the French word for pumpkin (potiron) and chestnut (marron). Delicious.
In Germany, there is only one word for pumpkin and winter squash, it's "kürbis". I'm pretty sure I only have one word for them too, it's "pumpkin". In my mind, pumpkin and winter squash are pretty much synonymous. Fact is, all pumpkins are squashes, but not all squashes are pumpkins. It's really not that simple, but it's also not that difficult – in short, they all belong to the same family, some edible, some not.
My other favorite "kürbis" is butternut squash. Velvety, with a sweet flavor, it goes well with pretty much anything. If you are partial to it, go ahead and use a small one for this Hokkaido soup recipe. It'll taste luscious. Just make sure you peel it. Enjoy!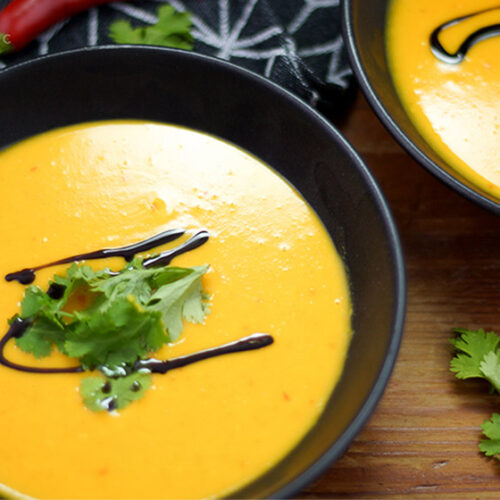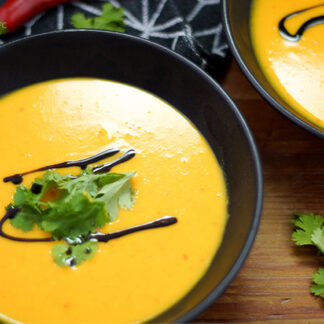 Ginger Chili Hokkaido Pumpkin Soup
Thai inspired winter squash (Ambercup or Kuri) Hokkaido soup with ginger, chili with coconut milk. An easy and healthy, vegan and gluten-free pumpkin soup that is perfect for fall.
Ingredients
1

shallot,

peeled and cut in half

3

cloves

garlic,

peeled

1

fresh red chili,

seeded and cut in half

2

tablespoons

freshly grated ginger

Zest and juice of 2 limes

1

small bunch fresh cilantro,

leaves picked and stems reserved

1

tablespoon

extra-virgin olive oil

3

medium carrots,

peeled and sliced

1

small Hokkaido squash,

seeded, cut into 3-4 cm pieces

3 1/2

cups

chicken broth

875 ml

1

x 400 ml can

organic coconut milk

sea salt and freshly ground pepper,

to taste

garnish with pumpkin seed oil,

alternatively, reserve a little coconut milk, and drizzle on top before serving
Method
Using a mini food processor/chopper, blend the shallot, garlic, chili, ginger, lime zest and cilantro stems until finely minced and paste-like.

In a large saucepan, heat the oil over medium-high heat. Add the paste and cook for 2 minutes, until fragrant. Add the carrots, squash, broth and coconut milk. Cover and bring to a simmer. Reduce heat to low and cook for 20 minutes, or until vegetables are tender.

Using a blender (or handheld immersion blender), work in batches to puree the soup until smooth and creamy. Return the pureed soup to the saucepan and add 2 tablespoons of lime juice, taste and add more lime juice, if desired. Season with salt and pepper. Ladle into soup bowls and garnish with the coriander leaves and a drizzle of pumpkin oil (or coconut milk). Enjoy!
Did you try this recipe?
Then tag @ellerepublic on Instagram and hashtag it #ellerepublic
How did you like it?
Please let me know how this Ginger Chili Hokkaido Pumpkin Soup recipe turned out for you! I would love to hear how you liked it. Simply rate it with the stars above ⭐or leave me a comment and rate it below.
Did you make any changes to this recipe?
If you have tips for other readers, let me know! It helps me and other readers so much. Sharing is Caring :-).