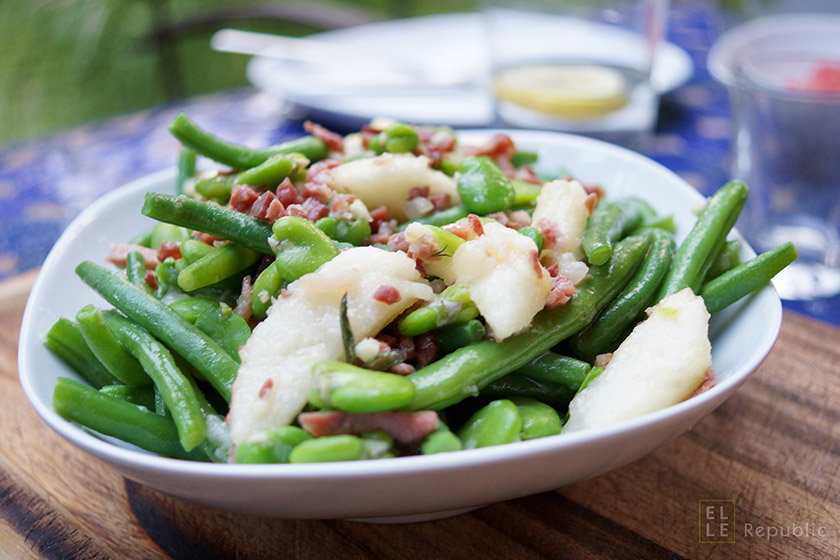 An odd sounding but absolutely delicious dish in Northern Germany is one called "Birnen, Bohnen und Speck" (green beans with pears and bacon). I first was introduced to this delicious number by my friend Ines. It's a regular at her family functions. Intrigued, I had to give it a try. My way of course. Though, I'm not sure there is a right way. I think every family has their own recipe for this dish.
Seasonally, this dish is made anytime from the end of July to September. When beans are freshest. With smoked bacon this dish has that hearty, smoky and succulent flavor that only bacon can deliver, together with delicately sweet pears and fresh beans it's a delicious combination. In this case, I included both market fresh green beans and my summer favorite — fava beans.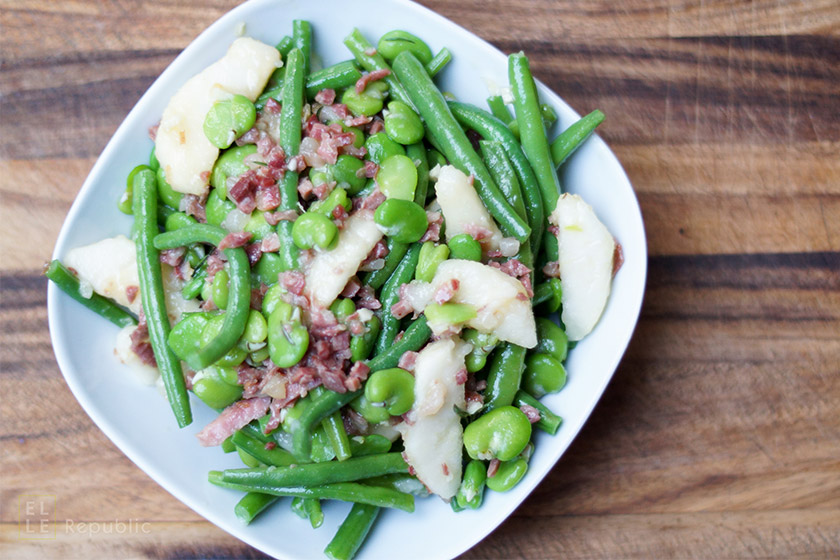 Of course adding fresh fava beans to this dish adds an an extra element — called work. Yes, they are a little labor intensive but worth every second — I think. I'm told they are also available frozen, I have yet to witness this. The extent of my stroll through the frozen aisle only includes grabbing a bag of frozen peas (for the kids) and some frozen berries (I live for them), sometimes a little baby spinach.
So if you aren't up for the challenge — which is hardly a challenge — then either skip the fava beans and add more green beans, or grab yourself a bag from the frozen food section. The main thing here is — the pears, the green beans, the bacon. Ooh, I forgot to mention, in Germany they eat this with steamed potatoes. I opted for a summery couscous salad.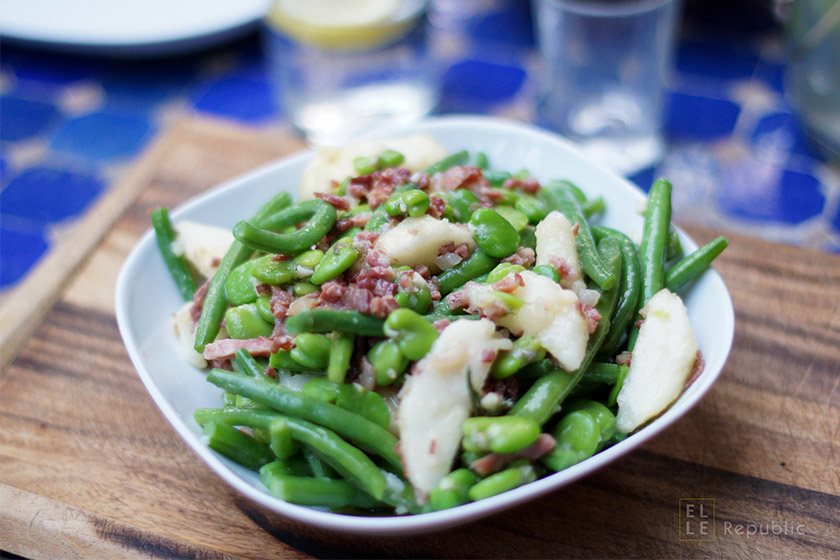 The important thing is the fresh green beans. Young beans. That's the secret to delicious green beans. They only need about 2-3 minutes of blanching to achieve perfectly tasty vibrant green beans. So remember, not all green beans are alike. The longer the bean was on the vine, the tougher it can be. Fresh, young beans should be able to cook up perfectly well in just a few minutes. That is if you are like me and like them to be "crisp-tender". I believe beans — any beans — should remain green and never be overcooked.
So after they have a short bath in boiling water they are doused in an icy bath of water to seal in their bright green color and bring any further cooking to a halt.
Other than preparing the beans, this recipe is super simple to prepare. The beans are first blanched, the bacon sautéed until slightly crispy, then the pears added and further sautéed until soft, the beans added and further cooked until warmed and then tossed with the dressing. Voila. Super simple. Super delicious. Loved it.
PS) be sure to pick up a quality organic smoked bacon from a butcher you trust.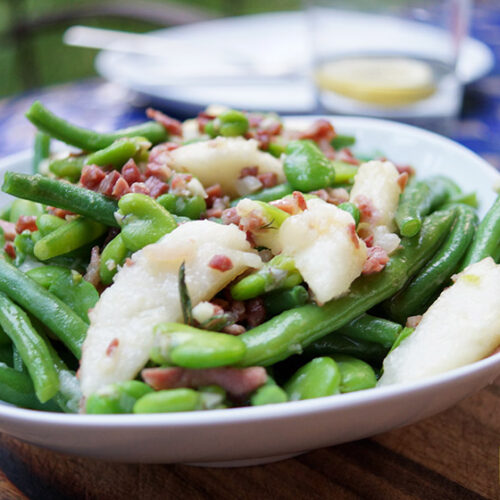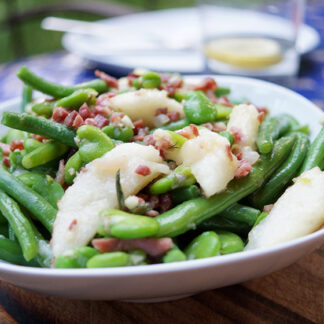 Summer Green Beans with Pears and Bacon
In Northern Germany this recipe for green beans with pears and bacon is called "Birnen, Bohnen und Speck". A unexpectedly delicious summer side dish.
Ingredients
For the beans:
300

g

fresh green beans,

ends trimmed

100

g

shelled fava beans,

from about 1 lb / 500 g pods, or double-peeled frozen, thawed (about 1 cup shelled)

200

g

smoked bacon,

finely chopped (preferably organic)

2

ripe pears,

peeled, cored and sliced thinly

1

tablespoon

chopped fresh savory
For the dressing:
2

tablespoons

high-quality red wine vinegar or sherry vinegar

1

teaspoon

Dijon mustard

1

clove

garlic,

minced

6

tablespoons

extra-virgin olive oil

sea salt and freshly ground pepper,

to taste
Method
Bring a large saucepan of salted water to a boil. Boil the green beans for about 2 minutes (they should be until crisp-tender, rather than fully cooked). Drain the green beans and plunge them directly into a bowl of ice water to stop the cooking. Cool thoroughly then drain well and set aside.

Shell the fava beans and cook in a medium saucepan of boiling salted water until tender, about 3 minutes. Drain and transfer immediately to a bowl of ice water. Allow the beans to cool for several minutes. Tear off a bit of the skin or split the skin with a sharp paring knife and slip off the translucent skin by squeezing gently (the waxy coating will slip right off).

In a small bowl, mix together the dressing ingredients until well combined.

In a large non-stick skillet, fry the diced bacon over medium heat until slightly crisp. Add the pear slices and sauté, stirring occasionally, for 2 minutes. Add the beans and cook for another minute until warmed.

Add the dressing to the skillet and gently toss to combine. Sprinkle with the chopped savory and transfer to a serving bowl. Enjoy warm or at room temperature.
Did you try this recipe?
Then tag @ellerepublic on Instagram and hashtag it #ellerepublic
How did you like it?
Please let me know how this Summer Green Beans with Pears and Bacon recipe turned out for you! I would love to hear how you liked it. Simply rate it with the stars above ⭐or leave me a comment and rate it below.
Did you make any changes to this recipe?
If you have tips for other readers, let me know! It helps me and other readers so much. Sharing is Caring :-).