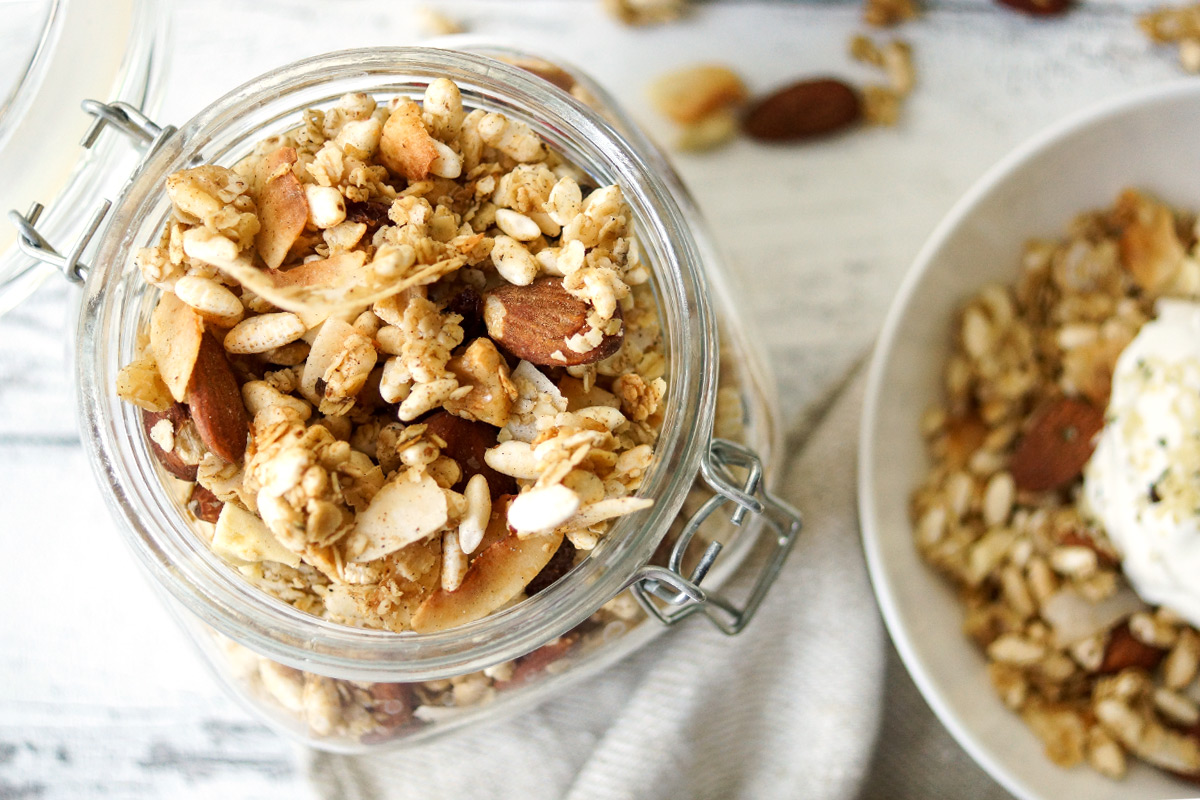 Honey-puff granola, oh yeah. Equal amounts of organic gluten-free oats and puffed brown rice cereal add a "cloud-effect" to a normally quite crunchy granola. And when I say "cloud-effect", I'm talking light and airy. Light and airy together with some good 'ole crunch. Kinda like mixing "honey pops" cereal with something healthy like müsli, but better… and homemade.
Homemade granola rocks. It can be made a hundred different ways. Is super easy and it's the answer to that early morning dilemma "what should I eat for breakfast today?". Toast? Too one-sided. It's just carbs, maybe some whole grains and butter (or some sugary fruit spread). Hmmm. Müsli? Yeah! But pretty standard (yawn). Homemade granola? Yes! It's all natural, not too sweet, and has a fantastic flavor combination that can be adapted any way you like.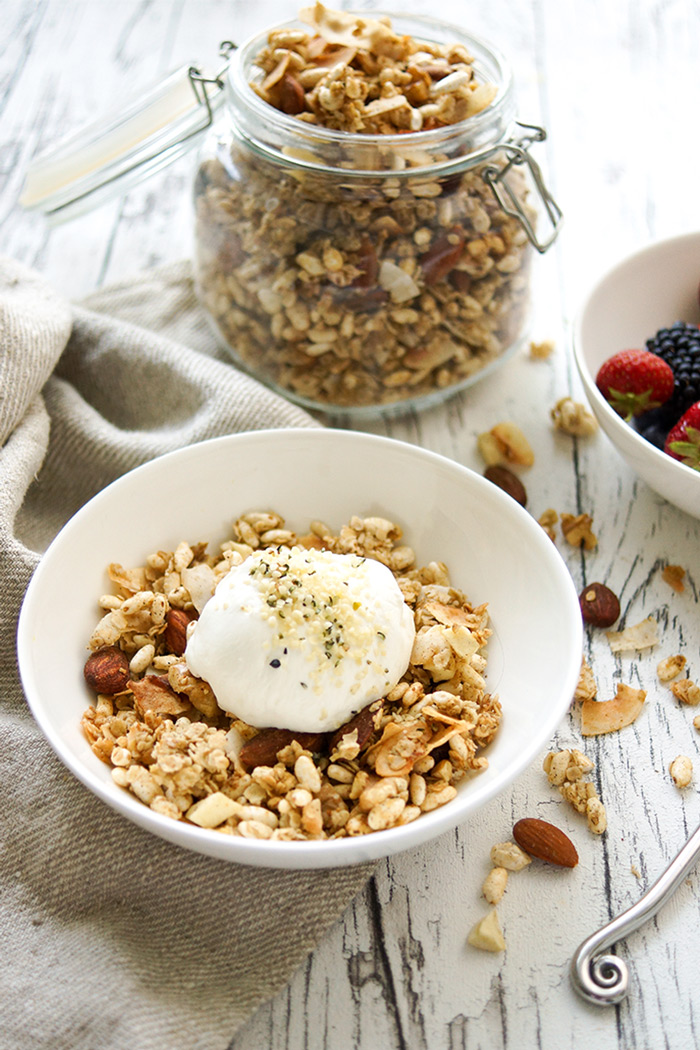 Homemade granola – something you'll make again and again
I've made lots of different variations of granola over the years, but there are a few recipes, that are champions and are made time and time again. One that my favorite Schwabe and I both love, and make often, another that is a very close runner-up and a chocolatey one that's actually not as sinful as it sounds. Other times, I am trying new variations to keep us from ever getting bored of such an awesome breakfast treat – and that brought me to this honey-puff granola. It's sweetened with honey cause I think honey and puffed rice where made for each other. But it could easily be made with maple syrup to please my vegan friends. Then there is some crunch from whole raw almonds and walnuts, some subtle tropical flavors from coconut flakes, and a little natural sweetness from raisins and dried apples. PS) raisin-haters, just add more apple or replace with chopped dates!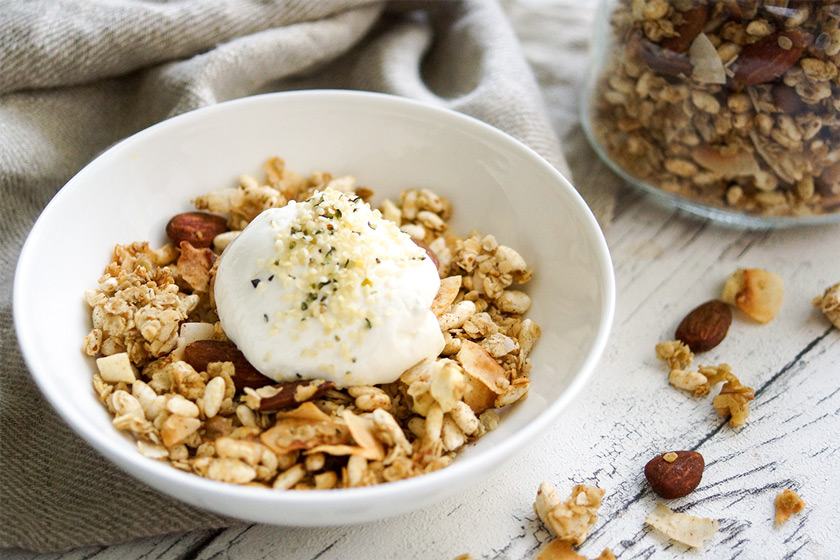 Variations and tips for this homemade Honey-Puffed Rice Granola recipe
Old fashioned oats or fine-cut oats? – I leaned towards fine-cut oats for this Honey-Puffed Rice Granola recipe, but either will do. Or go head and boost the health benefits by using 3-grain or 5-grain flakes. You can also use the gluten-free kind and to save a few pennies, buy your oats in bulk packages.
Puffed cereal – this is key to adding the light overall texture. Puffed brown rice can easily be replaced with any other kind of puffed cereal. Just use in equal amounts to the oats (2 cups of each).
The sweetener – In most my homemade granola recipes I use maple syrup over honey. I'm Canadian after all! I think this recipe called out for honey, and with it, tastes a little sweetener. Maple syrup can be used instead. It's up to you.
Seeds, nuts and dried fruit add ins – be creative, there are so many great combinations! This time, I went for almond, walnut, coconut, apple and raison. Dried apricots or dates are also great additions. Make sure to add fruit at the end, it burns easily. And if possible, choose organic.
The flavorings — Again get creative… try cinnamon, ginger, vanilla, or even cardamom as in this recipe.
Happy granola baking!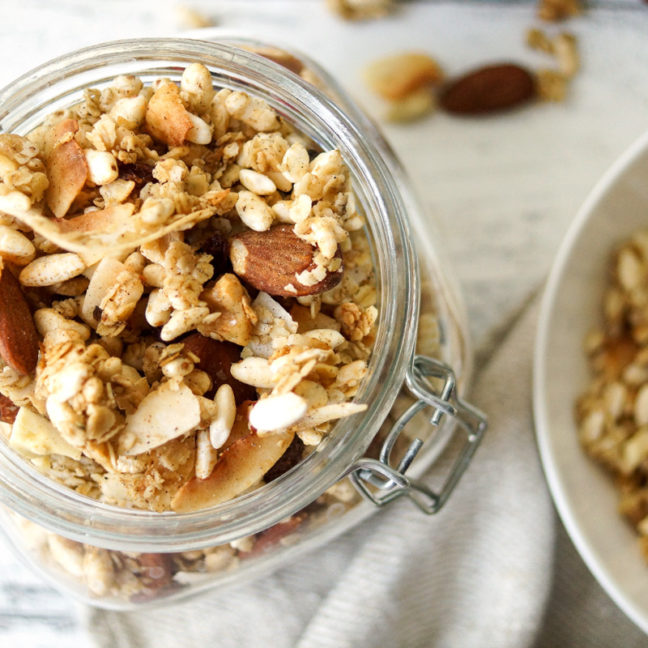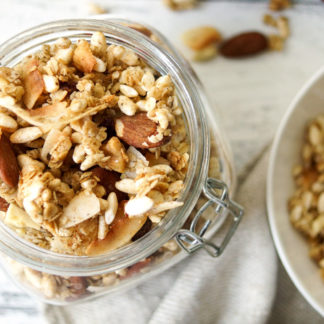 Honey-Puffed Rice Granola with Cardamom
A light and crunchy honey-puffed rice granola recipe with almonds, walnuts, warm spices and dried fruit - a healthy and delicious breakfast!
Ingredients
2

cups

fine-cut oats,

(certified gluten-free if needed) (200 g)

2

cups

puffed brown rice

(60 g)

1

cup

unsweetened coconut flakes

(50 g)

1

cup

whole almonds

(135 g)

1/2

cup

chopped walnuts

1/4

cup

melted coconut oil

(80 g)

1/3

cup

runny honey

(if vegan, use pure maple syrup) (80 ml)

1

teaspoon

cardamom

1/2

teaspoon

vanilla

1/2

teaspoon

cinnamon

generous pinch of salt

25

g

raisins

25

g

dried apple,

chopped
Method
Preheat oven to 325°F / 160°C and line a baking tray with parchment paper.

In a large bowl, mix together the oats, puffed rice, coconut, and nuts.

In a small saucepan over low heat, warm the coconut oil until just melted, add the honey, spices and salt. Whisk together to combine. Pour over the dry ingredients; mix well until evenly coated.

Spread the mixture evenly onto the lined baking sheet and bake for 20 minutes until it starts to turn golden, be sure to give it a little stir near the halfway point. Remove from the oven and set aside to cool in the tray.

Stir in the raisins and chopped apples and let the granola fully cool in the tray before serving or stowing away.

To serve, combine with nut/seed milk or yoghurt and whatever fresh fruit is in season. Enjoy!
Notes
If you don't have cardamom on hand, just skip it and increase the amount of vanilla and cinnamon.
Not everyone loves raisins. Skip and increase the amount of dried apple or replace with chopped dates, or even apricots.
Did you try this recipe?
Then tag @ellerepublic on Instagram and hashtag it #ellerepublic
How did you like it?
Please let me know how this Honey-Puffed Rice Granola with Cardamom recipe turned out for you! I would love to hear how you liked it. Simply rate it with the stars above ⭐or leave me a comment and rate it below.
Did you make any changes to this recipe?
If you have tips for other readers, let me know! It helps me and other readers so much. Sharing is Caring :-).