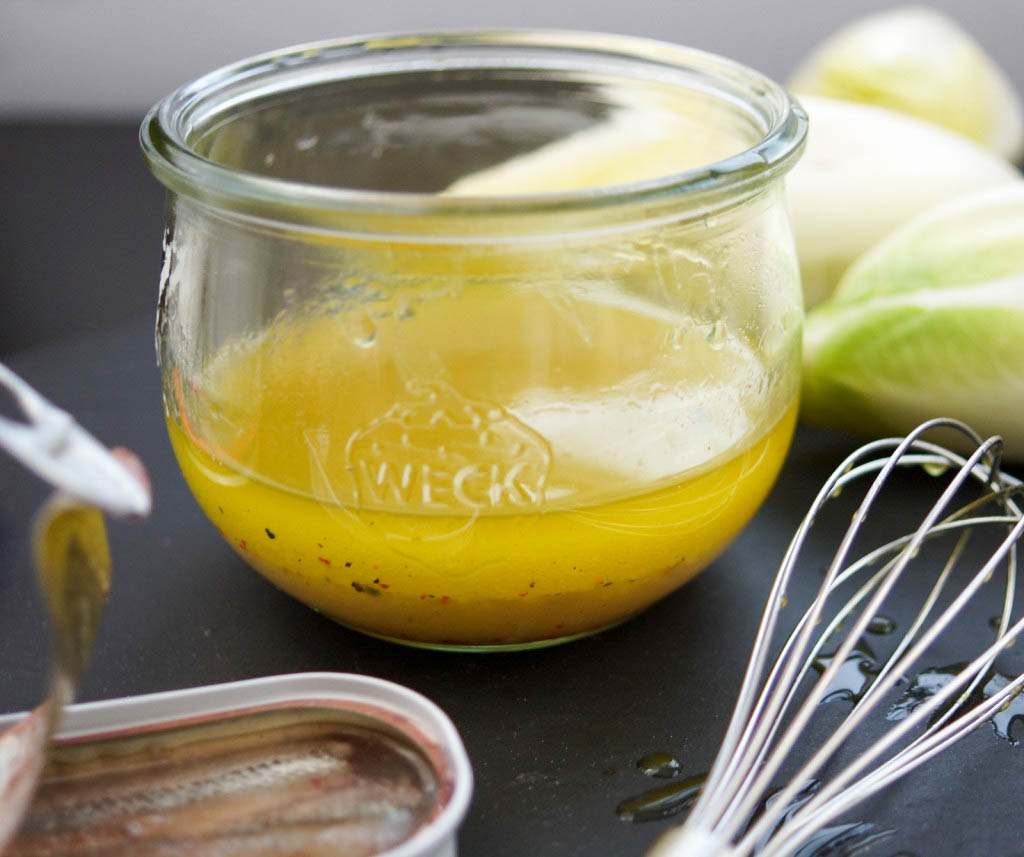 On a recent trip to Aix de Provence, I had an amazing yet simple Provencal style salad consisting of Belgium endives in a lemony anchovy dressing. I know anchovies aren't for everyone but if they are good quality and packed in a decent quality olive oil their taste positively stands out from the rest of the pack. Yes, they are salty, but they shouldn't be too salty. So trying to recreate this dressing myself, I thought best keep it simple. Isn't that the magic of most Mediterranean dishes? This dressing would go so well with so many different salads. Next time I will try adding another dimension to this simple Belgium endive and parley salad and add 1 tablespoon of chopped capers along with a sprinkle of freshly grated parmesan. Or perhaps throw in a handful of frisée using the pale and delicate inner leaves which are crisper and sweeter. Mmm, I can taste it now! Another brilliant option would be to use this dressing for a Niçoise style salad – using sustainable tuna please, which means yellow fin tuna.
Anchovies add flavor factor
Anchovy magic. Surely you've already tasted the mmm-inducing flavor that anchovies contribute to well-loved caesar salad. So what is their power? Well…I have been hearing a lot about umami foods lately. Anchovies are one of them and I guess that's why they are such a great complement to slightly bitter salad leaves. What is umami and why is everyone talking about it? A new taste sensation? The fifth taste element?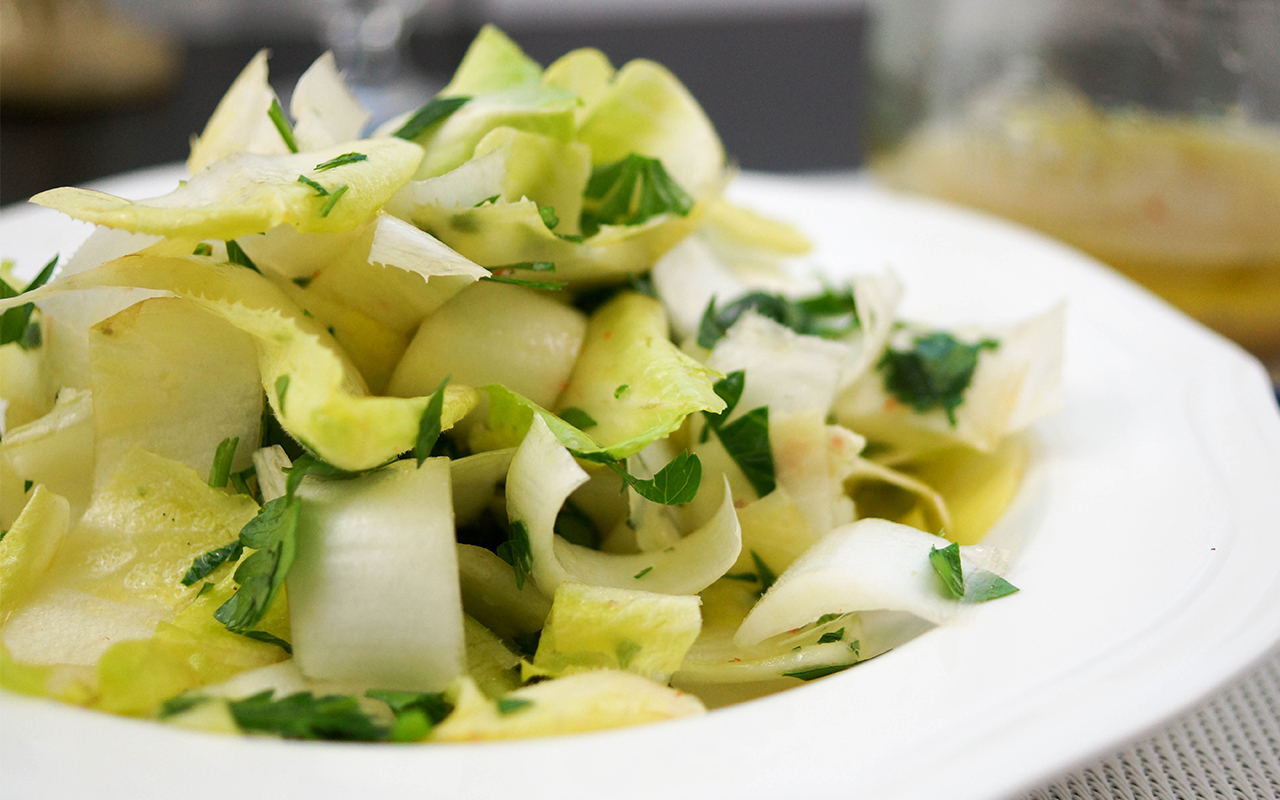 Lemon Anchovy Dressing with umami magic
I used to think it was because various sensations of sweetness, saltiness, sourness, and even bitterness were coming together in perfect harmony and balance. But some time ago I learned that it might not be because of these four tastes at all, but because of another sensation: the fifth element known as umami. First identified by a Japanese scientist a century ago, umami has long been an obscure culinary concept. Hard to describe, it is usually defined as a meaty, savory, satisfying taste.
Umami is a relatively new concept to me, but it has been well known in parts of Asia for almost a century. Identified by Japanese scientist, Kikunae Ikeda, he coined the name umami (pronounced "oo-MA-mee") which is the Japanese term for "deliciousness." Long an obscure culinary concept, it is more and more understood as playing an important role in making food taste delicious. Ikeda, discovered that foods with the umami taste have a high level of glutamate, and guess what? He's the same person who developed and patented the method for making monosodium glutamate (MSG), a processed additive that adds umami taste to food. Something not all of us react well too, so as with other chemical "flavor enhancers", best avoided. Thankfully, there are a number of natural foods that have the umami effect.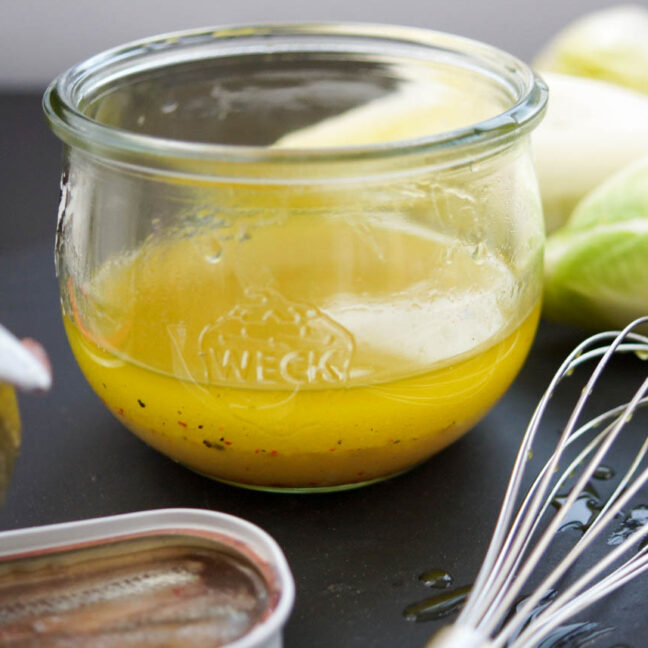 Lemon Anchovy Dressing
Lemon and Anchovy Dressing. Yes. Anchovy magic. Surely you've already tasted the mmm-inducing flavor that anchovies contribute to well-loved caesar salad.
Ingredients
6

tablespoons

freshly squeezed organic lemon juice

4

anchovy filets

packed in oil, drained and finely chopped

8

tablespoons

extra-virgin olive oil

pinch

of red pepper flakes

sea salt and freshly ground pepper,

to taste
Method
Combine ingredients in a small ceramic bowl. Whisk until well combined. Alternatively, use a small jar, put the lid on it and shake well.

Toss gently with greens until coated.
Did you try this recipe?
Then tag @ellerepublic on Instagram and hashtag it #ellerepublic
How did you like it?
Please let me know how this homemade Lemon Anchovy Dressing recipe turned out for you! I would love to hear how you liked it. Simply rate it with the stars above ⭐ or leave me a comment and rate it below.
Did you make any changes to this recipe?
If you have tips for other readers, let me know! It helps me and other readers so much. Sharing is Caring :-).