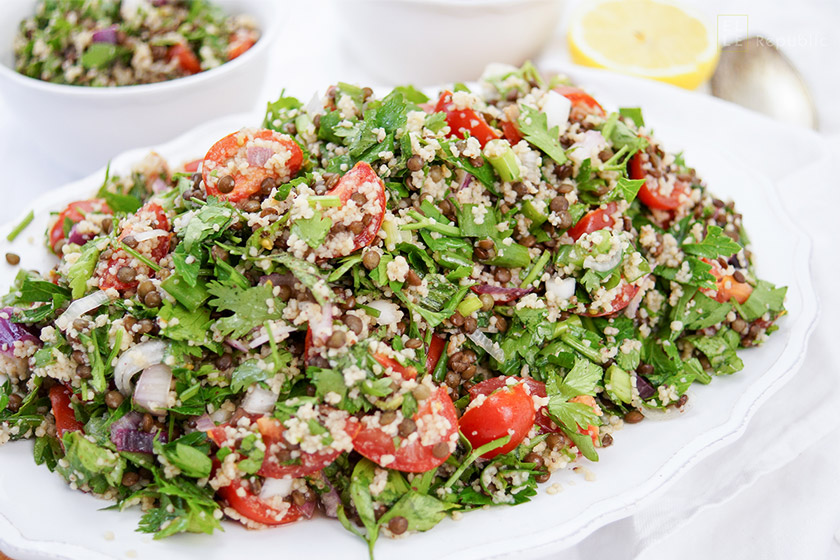 This lemony lentil herb salad simply sings "summer". With fresh herbs in abundance, and summer's sweetest varieties of tomatoes available it's so easy to make simple salads taste great. This one is a simple and tasty mix of fresh parsley, cilantro and mint and bright citrusy flavors from fresh lemon and sumac (a spice dear to my heart – I simply love it). Adding bulgur and lentils to the mix turn a simple herb salad into something a little more satisfying.
My usual weekly visit to the farmers market was a great inspiration for this lentil herb salad. At this time of year I always end up with a large selection of ultra-sweet cherry tomatoes, mini roma tomatoes and a whole lot of other sorts that I don't even know the name of – there are so many varieties of heirloom tomatoes to choose from! This time, I chose an assortment of red ones, but extra color could easily be brought into this salad by adding yellow and orange tomatoes. Speaking of amazing produce, I also picked up some super looking green onions, or rather vivid purple ones. Not to mention a purple pointed cabbage — for Sunday night's coleslaw with this Asian-style dressing.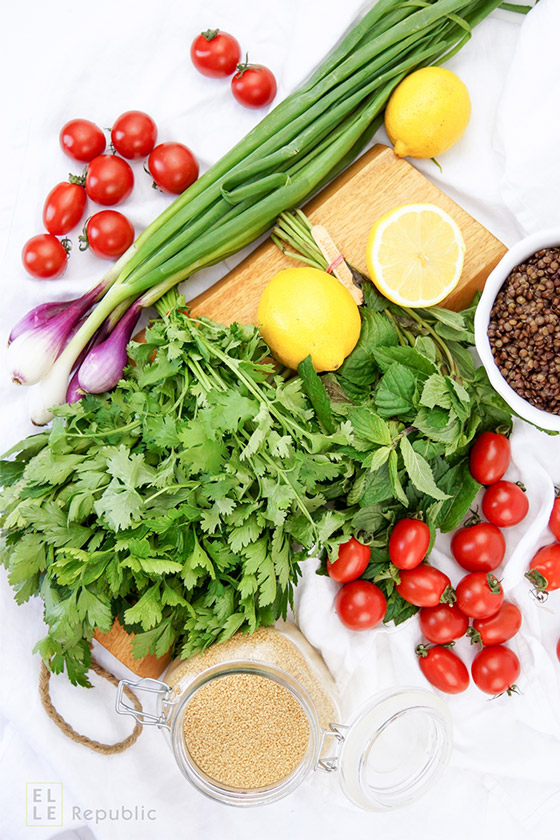 I love summers purple vegetables. We have our fair share here in Germany, but the Italians really have this down. First of all, it starts with their amazing purple asparagus in the spring, and then we've got their violet artichokes, gorgeous Chioggia beets with their contrasting purple-y pink and white rings, then all the ranging shades and shapes of eggplant and finally the, mystical to me, vibrant purple cauliflower, which I am yet to find on one of the markets here in Hamburg. Probably nothing to lose sleep over…the market is overflowing with so many fabulous types of ABSOLUTELY everything this time of year.
Fresh herbs add flavor, texture, and nutritional value to salads
Adding herbs to a salad helps you load up in vital nutrients for a maintaining healthy body. Not only do fresh herbs add flavor and aroma to a salad, but they also add a lot of nutritional value and other benefits that shouldn't be overlooked.
Fresh parsley is packed with vitamin K (153% of DRV in just 1 tablespoon) and loads of vitamin A, C and iron. It's incredibly alkalizing and stimulates your internal organs so they keep working effectively.
Fresh cilantro also has an amazing nutritional profile. It's rich in Vitamins K and C, and is a good source of calcium, potassium and iron. Also noteworthy is its antibacterial compound that has been proven to have salmonella fighting properties, which is also twice more effective than antibiotics.
Mint has its own special benefits. It has an extraordinary high antioxidant capacity and is an effective natural remedy for a number of ailments, from bad breath, to congestion and nausea, to helping relax sore muscles.
On top of all that, all three have detoxifying benefits and share the ability to stimulate the digestive system so that after enjoying a meal you are left feeling more energized and refreshed!
For this type of salad, a little fresh dill is also nice touch. Though, careful not to add too much as it can over dominate.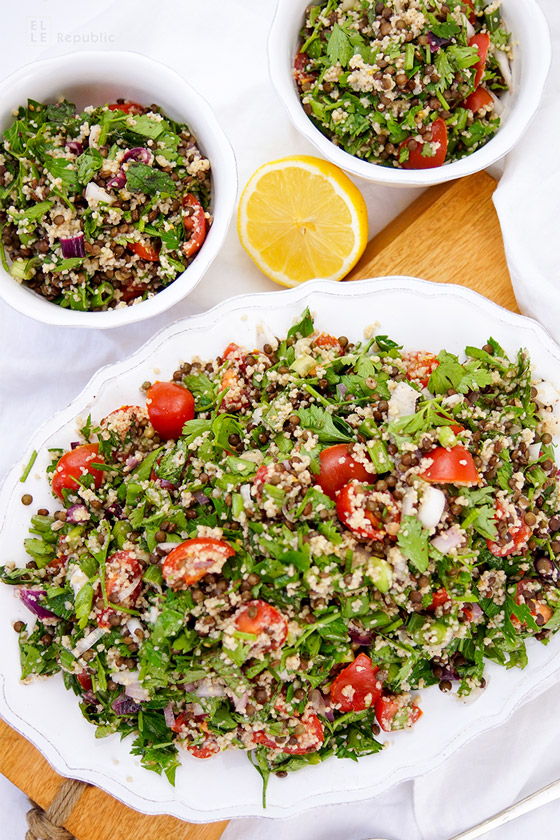 This lentil herb salad is a very simple, super healthy recipe that packs a fair share of plant-based protein, plus its low-fat to boot. Something even vegetarians and vegans can love. I made an extra big batch so that we would have leftovers for lunch, but the recipe can easily be halved to make 2-4 servings.
For a gluten-free version of this salad, use millet or quinoa instead of bulgur.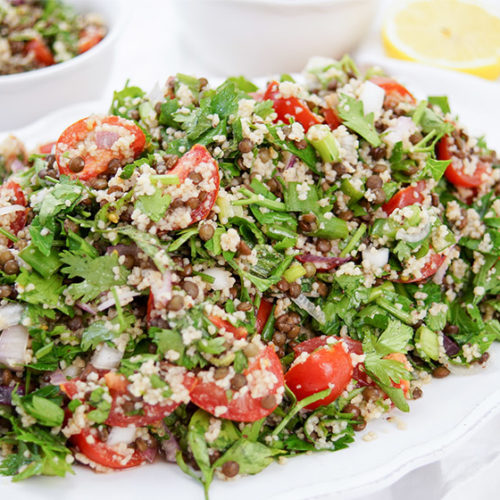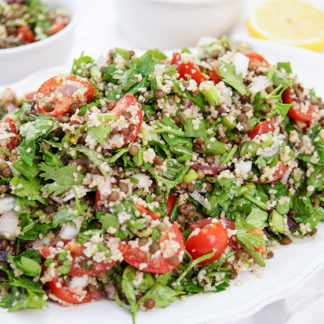 Lemony Lentil Herb Salad with Bulgur
An easy and healthy recipe for a lentil herb salad. It's low-fat and high in plant protein making it perfect for vegetarians and vegans. Plus it's easily made gluten-free, by substituting bulgur for millet, quinoa or buckwheat.
Ingredients
3/4

cup

bulgur

(150 g)

1

cup

French puy lentils

(200 g)

500

g

cherry tomatoes,

halved or quartered

3

small bunches fresh flat-leaf parsley,

chopped

1

small bunch fresh cilantro,

chopped

2-3

tablespoons

freshly chopped mint leaves

1

bunch green onions,

thinly sliced

4

tablespoons

extra-virgin olive oil

juice of 2 lemons

1

tablespoons

sumac

(optional)

sea salt and freshly ground pepper
Method
Cook the lentils according to package instructions. Rinse well in cold water, drain and set aside.

While the lentils are cooking, prepare the bulgur according to package instructions.

In a large salad bowl, add the tomatoes, herbs, onions, olive oil, lemon juice and sumac spice. Season with salt and pepper and toss until fully combined. Add the lentils and bulgur and toss again until fully incorporated. Taste and adjust seasoning, as desired.

This lentil herb salad is great as is or served with a little salty cheese like feta on top. Enjoy!
Notes
Note on cooking lentils: Cook lentils as you would pasta—in an abundance of water. Bring the liquid to a boil, add your lentils, then turn down your heat to a simmer for at least 25-30 minutes, depending on the type. Don't forget to taste them along the way, to make sure you get the consistency you are aiming for.
I used French puy lentils however beluga lentils would also work well in this salad, as both types hold their form well.
Did you try this recipe?
Then tag @ellerepublic on Instagram and hashtag it #ellerepublic
How did you like it?
Please let me know how this buckwheat bread recipe turned out for you! I would love to hear how you liked it. Simply rate it with the stars above ⭐or leave me a comment and rate it below.
Did you make any changes to this recipe?
If you have tips for other readers, let me know! It helps me and other readers so much. Sharing is Caring :-).