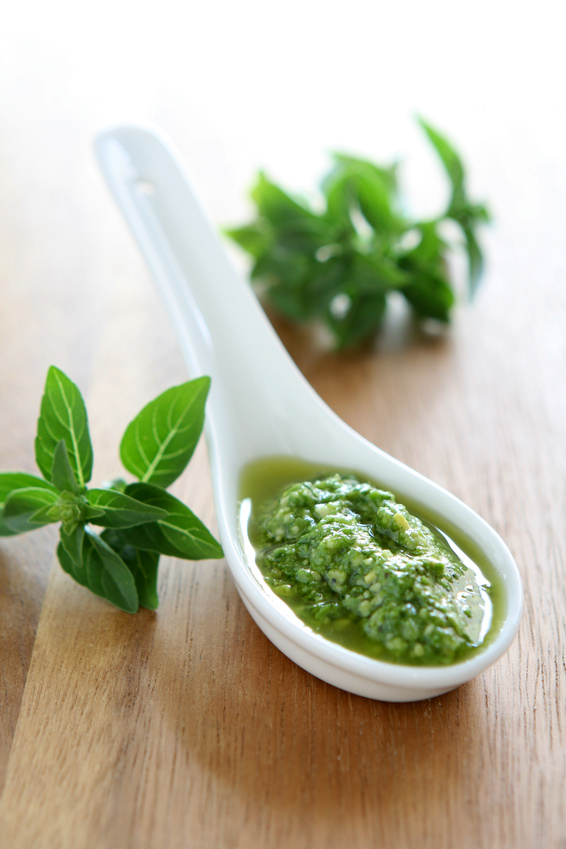 Glorious Pesto. A marvel of simplicity, I love this Italian green gem. Fresh, versatile and more than just a sauce for pasta, it's can be used in any number of kitchen creations. It's truly is a treasure of Mediterranean cuisine!
Since pesto consists of nothing more than a few key ingredients, the quality and variety of what you use really does matter. Select young herbs and young garlic (it's much sweeter and juicier), coarse grained sea salt, and a delicate, buttery tasting Italian olive oil (olive oil made from taggiasca olives is a nice choice). And please don't skimp on the cheese – go for the real deal – aged Parmigiano Reggiano or Pecorino.
Although pesto is usually a basil-based sauce, any mix of your favorite fresh herb will do. Basil, parsley or marjoram are mild and therefore make a good base for adding the stronger flavored herb such as sage or thyme. Probably best to start with a few leaves, then add more as you go along to find the taste you like best.
There are endless ways pesto can prepared and used – I've included three of my favorites. As to how you choose to use them, that's up to you. But in case you are looking for ideas other than as a sauce for pasta or gnocchi, here are a few:
Layered in a baked pasta dish – makes for a great vegetarian lasagna.
Perfect on a panini or sandwich to add new flavor – I love a mix of basil pesto and sun-dried tomato on focaccia with fresh mozzarella (bocconcini), tomatoes and a little baby arugula.
Makes for a great homemade pesto vinaigrette – served over antipasto and salad greens.
Fabulous drizzled over vegetables or roasted potatoes.
Sun-Dried Tomato Pesto
1 cup packed fresh basil (20 g)
1 cup packed fresh flat-leaf parsley leaves (25 g)
2 tablespoons pine nuts
1/4 cup (about 6) oil-packed sun-dried tomatoes
2 tablespoons, or more extra virgin olive oil
4 cloves garlic, finely chopped
sea salt, to taste
Spring Pesto
3-4 bunches chives or wild garlic (150 g)
3 tablespoons ground almonds
3/4 cup freshly grated parmesan (80 g)
about 1/2 cup extra virgin olive oil (100 ml)
sea salt and freshly ground pepper, to taste
Classic Genovese Pesto
3/4 cup pine nuts, roasted (50 g)
4 cups packed fresh basil (80 g)
about 1/2 cup extra virgin olive oil (100 ml)
1 cup pecorino (100 g)
2 garlic cloves, finely chopped
sea salt and freshly ground pepper, to taste
METHOD:
1. Blend all ingredients well until smooth.
2. Keeps for up to five days refrigerated, or store in the freezer for a longer duration.