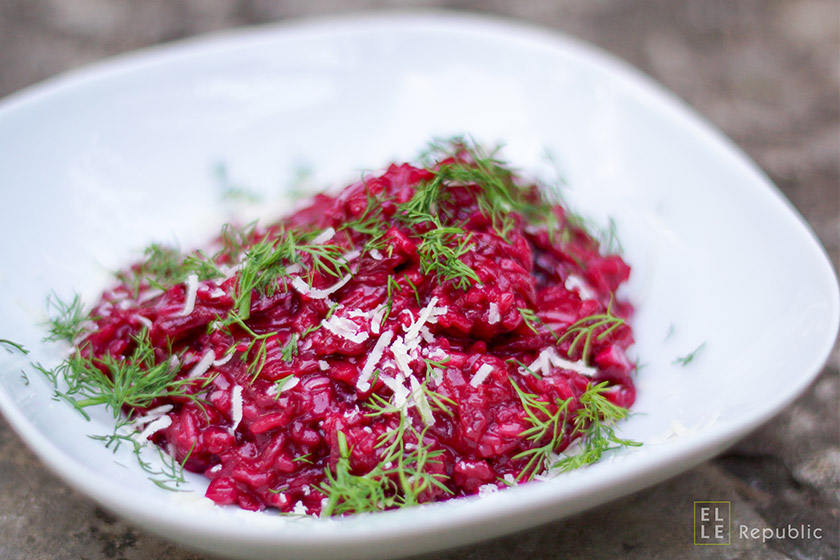 I have a little obsession with beets at the moment. And this little obsession led me to the uncharted world of beet risotto. Something I wish I had explored earlier. This beet risotto is hands down the most decadent of all my risottos. With its vivid color and deep flavors, it's somewhat of a show-off. Not to mention nourishing and incredibly beautiful!
A beet risotto with roasted beets
I adore roasted beets. Roasting them softens their earthy flavor, brings out their wonderful sweetness, and transforms their texture into something smooth and velvety – making them perfect companion in the risotto realm.
If you are planning to roast beets, then make extra. The great thing is, that once roasted, they will keep refrigerated for up to a week. This way you will already have them on hand for whatever you're planning to make. Once the beets have cooled, the skins slip off easily when rubbed with a paper towel. It's that easy!
Though, plan ahead, as roasting beets can take up to 1 1/2 hours. But as I mentioned this can be done in advance. I roasted the beets while we were enjoying our Sunday brunch, which made preparing risotto in the evening a lot less demanding.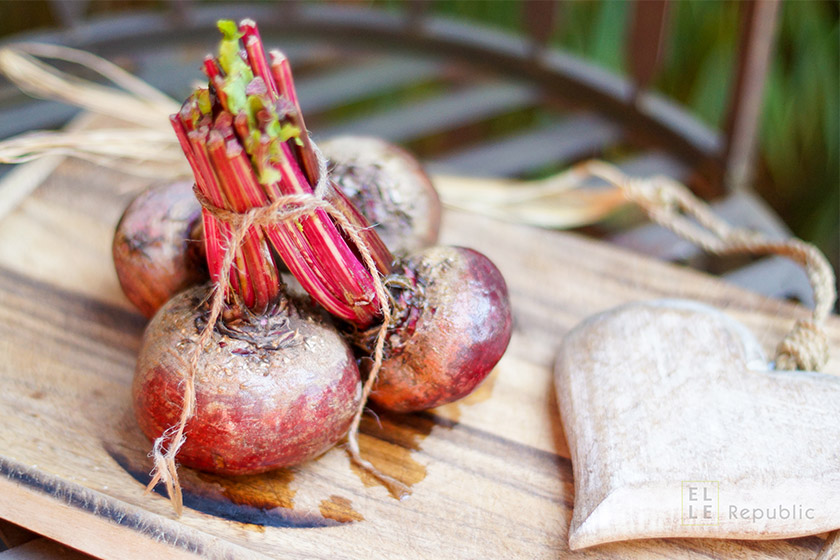 So now that you have stocked up…do you ever wonder what to do with an abundance of roasted beets in the fridge? Well because they are so sweet, they pair well with tart and sharp-tasting foods. Try tossing sliced beets with things like shallots, red onions, orange slices, fresh squeezed lemon juice, balsamic vinegar, or feta cheese. Herbs are also a great addition. I love adding fresh thyme or parsley. Simple and good.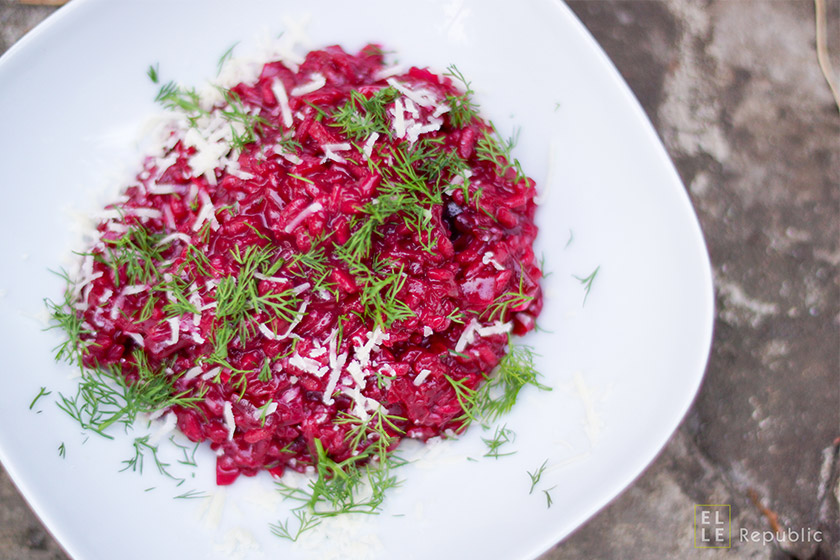 Did you know that beets have an exceptional nutritional value? Especially the greens, so don't toss them. They are wonderfully rich in calcium, iron and vitamins A and C. Select beets with crisp, fresh looking greens with smaller roots; they are tenderer and can be cooked just like spinach – steamed or sautéed! Making them a great side dish!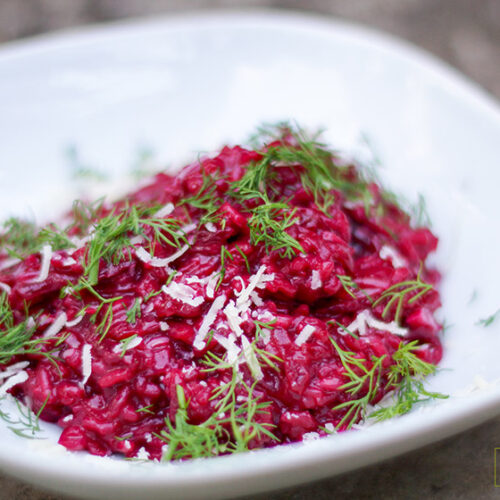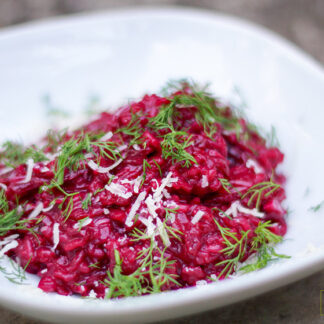 Roasted Beet Risotto
A delicious and healthy roasted beet risotto made with red wine, vegetable broth, lime and dill. Serve with a dollop of Greek yogurt, crumbled blue cheese or a small handful of baby arugula leaves.
Total Time
2
hours
15
minutes
Ingredients
3

medium beets,

preferably all the same size, greens trimmed

2

tablespoons

extra-virgin olive oil

2

tablespoons

butter

3

shallots,

finely chopped

2

garlic cloves,

minced

1 1/2

cups

Arborio risotto rice

(300 g)

1

cup

dry red wine

(250 ml)

3

cups

vegetable broth

(750 ml), heated

Juice of 1/2 lime

sea salt and freshly ground pepper

1

tablespoon

butter

4

tablespoons

finely grated parmesan,

plus more for serving

4

tablespoons

or more finely chopped fresh dill
Extra toppings (optional):
a dollop of Greek yogurt,

crumbled blue cheese or a small handful of baby arugula leaves
Method
Put oven rack in middle position and preheat oven to 425°F / 220°C.

Tightly wrap beets in a double layer of foil and roast on a baking sheet until very tender, 1 1/4 to 1 1/2 hours. Set aside to cool. When beets are cool enough to handle, rub the skin off with paper towels, and trim and discard the stem and root ends. Grate the beets and set aside.

In a saucepan, bring the vegetable broth to a simmer.

In a large, deep skillet, heat the olive oil and butter over medium heat. Add the onion and sauté until softened. Add the garlic to the pan, followed by the rice. Stir to combine. Saute for a minute and then add the wine; simmer until reduced. Once it's almost absorbed, add about a cup of hot broth.

Once absorbed, add another cup of broth and keep stirring. Repeat this step until you have used all the broth and the rice is just about cooked – this takes about 20 minutes. Add the shredded beets and stir to combine. Allow to cook for an additional 5 minutes, stirring, until creamy. Add the lime juice and season with salt and pepper. Taste and adjust the seasoning, if necessary.

Add the parmesan and stir in the butter. Remove from the heat, cover and let stand for 2-3 minutes.

Spoon the risotto into serving bowls and garnish with the remaining parmesan and fresh dill. Enjoy!
Did you try this recipe?
Then tag @ellerepublic on Instagram and hashtag it #ellerepublic
How did you like it?
Please let me know how this Roasted Beet Risotto recipe turned out for you! I would love to hear how you liked it. Simply rate it with the stars above ⭐or leave me a comment and rate it below.
Did you make any changes to this recipe?
If you have tips for other readers, let me know! It helps me and other readers so much. Sharing is Caring :-).