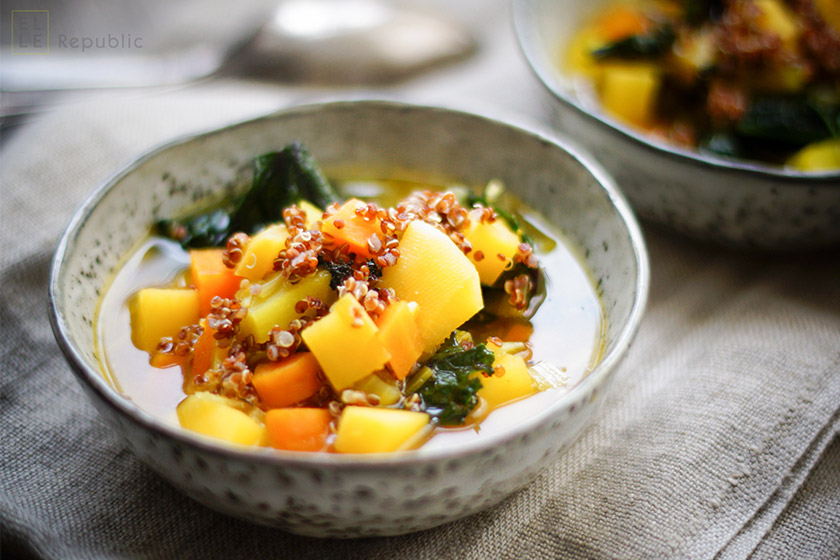 The more I experiment with simple flavors, the more I realize how enjoyable it is to savor the fresh, intense flavors of fresh, locally harvested foods. As with every autumn, I welcome the arrival pumpkins and winter squash – two of my favorite things for fall soups – but I find myself particularly enamored with humble root vegetables. Celeriac, parsnips and parsley root are among my favorites. Then there are the modest rutabagas, the underdogs of the "Gemüse" world, which have only recently climbed to the top of my list.
Mostly as a challenge to myself to overcome the instilled memory (or shall I say childhood trauma?) of my mother's over boiled mashed rutabagas…swimming in butter. With time, I convinced myself that this vegetable actually does have its merits. Often overlooked, rutabaga is particularly good for roasting and adding to soups and stews – and as I have discovered, in the hands of decent cook (or good recipe!), they can taste pretty darn divine.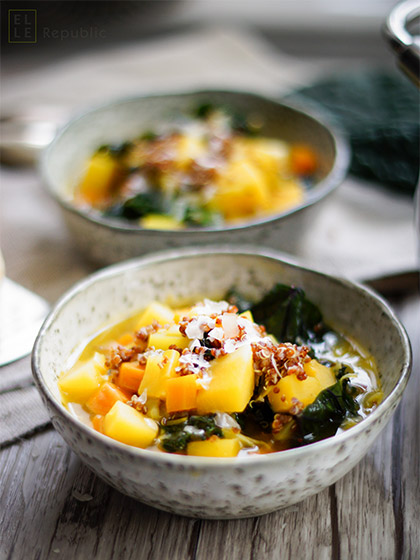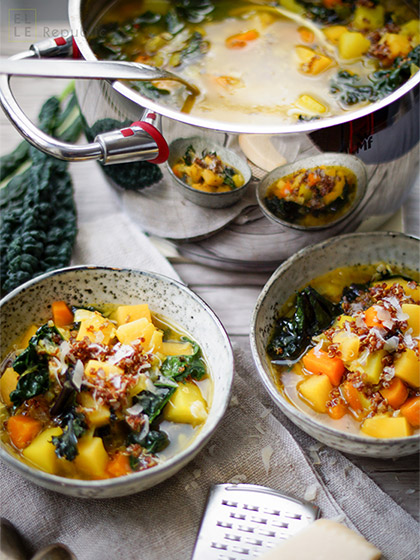 Rutabaga Stew – a tradition in Germany
I have finally embraced these forgotten vegetables and in doing so, I've updated a traditional German recipe, called "Steckrübeneintopf", otherwise known as the not so sexy sounding "Rutabaga Stew". There are many variations of the original – some are with pork belly, some with sausage, mine is vegetarian with a mix of kale varieties, red quinoa and a hint of saffron. Loaded with seasonal and local produce, this stew celebrates eating the right things at the right time, allowing fresh produce take center stage by letting their natural flavors shine though.
Focusing on local and regional produce
Here in Germany we are blessed with a variety of fresh produce available all year round. Many people are surprised to find that there is such a wide variety of crops harvested locally. Once you discover just how much variety is available in every season and every month, you may just discover that eating seasonal and local in the cold weather season isn't as dull as it may first sound. Plus, you are rewarded with high quality produce, at its seasonal best, that's packed with nutrition, and with the added bonus of being at a lower cost. It also means extra flavor – something your taste buds will definitely thank you for!
The Federation of German Fruit and Vegetable Producers has created an informative website that provides comprehensive information about Germany's local produce. They have also initiated a campaign called "Deutschland – Mein Garten" in order to increase consumer awareness and further boost the consumption of local and regional produce. Their website is in German, but of course, as a Hamburg resident, it's something I can definitely stand behind.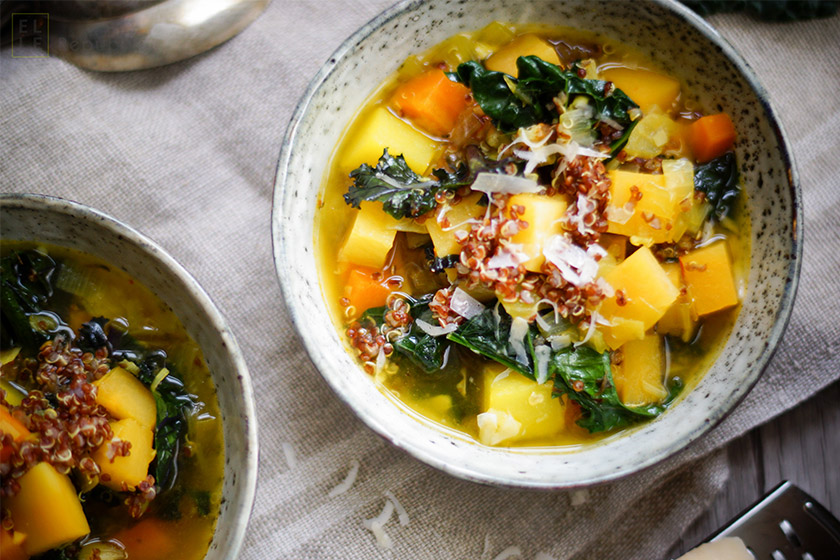 Using seasonal vegetables
So if you are just like me and living in Germany, go ahead and check out their produce guide to find out what's being harvested now. And next time you hit your local supermarket be sure to check out the produce labels for in-season stock that's grown close to home (or take the time on a Saturday morning and visit a farmers' markets near you). 🙂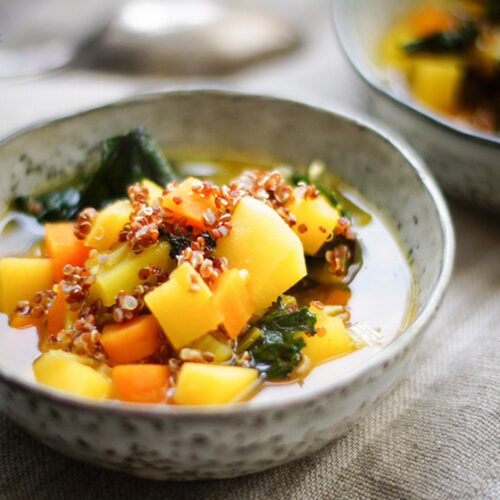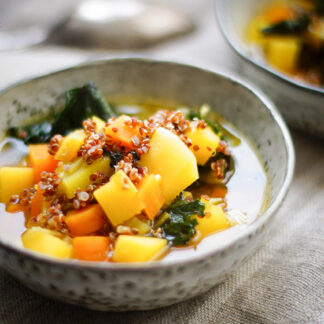 Rutabaga Stew with Quinoa & Saffron
German Steckrübeneintopf, otherwise known as Rutabaga Stew. Mine's a healthy vegetarian version with kale, red quinoa and a hint of saffron. Low-Carb and Low-fat. High in flavor.
Ingredients
3

tablespoons

extra-virgin olive oil

2

small yellow onions,

finely diced

2

small leeks,

chopped (white and light green parts only)

pinch

of saffron threads

3

garlic cloves,

minced

1

rutabaga,

peeled and diced

1

large potato,

peeled and diced

3

medium carrots,

peeled and diced

1

teaspoon

dried thymes

1/4

teaspoon

crushed red pepper flakes

1

bay leaf

6

cups

vegetable broth

(1.5 l)

3

Roma tomatoes,

peeled, seeded and diced

1/2

cup

uncooked red quinoa,

rinsed in cold water (100 g)

1

small bunch *wild kale,

roughly chopped (bottom tough stems discarded)

sea salt and freshly ground pepper,

to taste

freshly chopped flat-leaf parsley,

to garnish (optional)

freshly grated parmesan

to serve
Method
In a large soup pot heat the olive oil over medium heat. Add the onion, leek and saffron, gently cook until softened, about 8-10 minutes. Stir in the garlic, rutabaga, carrot, potato, thyme, and red pepper flakes. Season with 1 1/2 teaspoons salt. Sauté until fragrant. About 2 minutes.

Add the bay leaf and 6 cups of vegetable stock. Bring to a boil, reduce heat to low and simmer for 20-30 minutes, until the vegetables are tender. Stir occasionally and add more stock (or water) if needed.

Meanwhile, cook the quinoa according to the package instructions.

Stir in the kale (or other greens) and season to taste with salt and pepper. Keep on low heat for a few minutes, until the greens have wilted.

Add the quinoa to the hot soup, then ladle into bowls, season with salt and pepper, and garnish with parsley. Top with freshly grated parmesan and enjoy!
Notes
The recipe uses what is called "wild kale" which is sold at farmers' markets in Hamburg. It is simply a mix of Redbor kale, Red Russian kale and Tuscan "Dinosaur" kale and can be substituted with a couple generous handfuls of spinach, collard greens or regular kale, roughly chopped.
Did you try this recipe?
Then tag @ellerepublic on Instagram and hashtag it #ellerepublic
How did you like it?
Please let me know how this Rutabaga Stew with Quinoa & Saffron recipe turned out for you! I would love to hear how you liked it. Simply rate it with the stars above ⭐or leave me a comment and rate it below.
Did you make any changes to this recipe?
If you have tips for other readers, let me know! It helps me and other readers so much. Sharing is Caring :-).