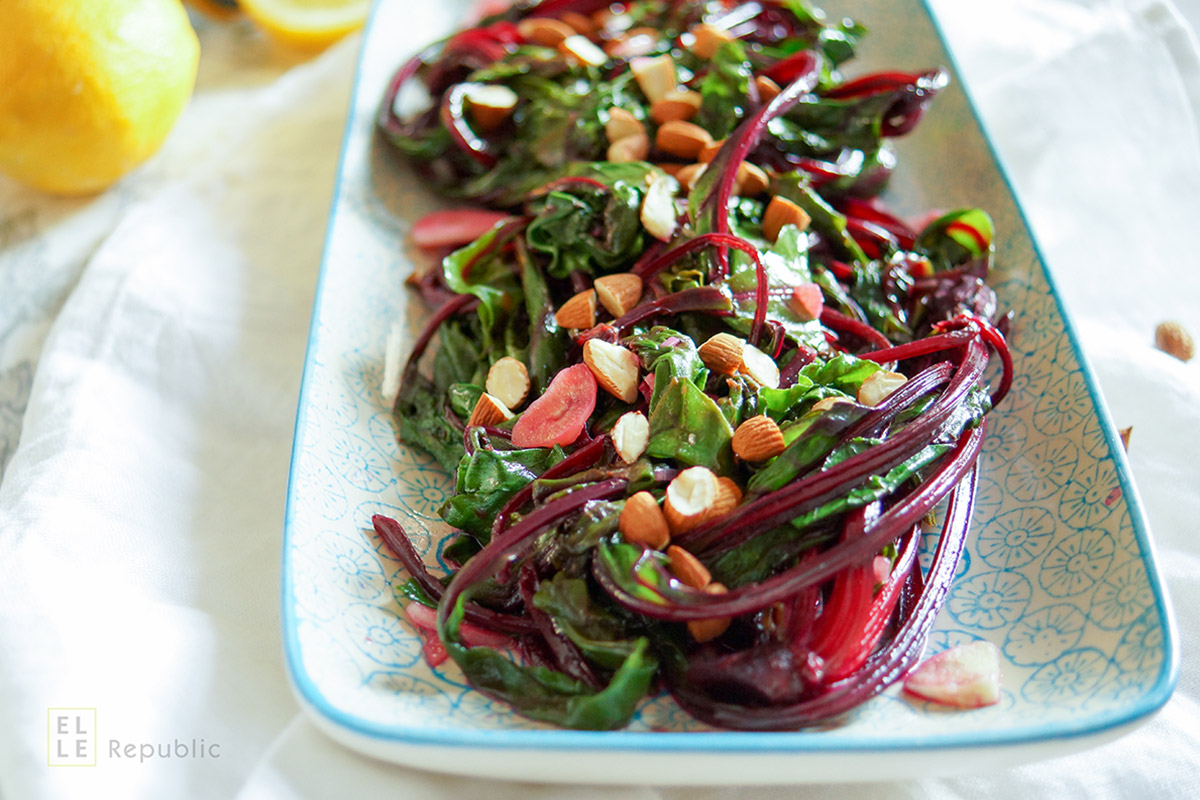 One of the really great things I love about the arrival of spring is all the fresh produce available at the farmers market. In particular, fresh beet greens — especially when they are sautéed with a little garlic, olive oil, a healthy dose of sunshiny lemon juice and crunchy almonds. Yes, next time you see beets with their greens intact buy them! Then you get two vegetables for the price of one (something my favourite Schwabe can appreciate).
Okay, this isn't always true. There are some farmers markets that profit from selling the greens separate from the beets, while there are others who sell them intact. And if you are lucky, you'll stumble across yet another who will let you take the greens for free since there are those of us who ask the vendors to chop off the tops when they buy their beets. Don't they know how yummy the greens are?
Plus they are super healthy. The deliver even more goodness than the beet itself – as a nutritional powerhouse they are particularly high in calcium, iron and vitamins A and C.
And look at them, they're gorgeous!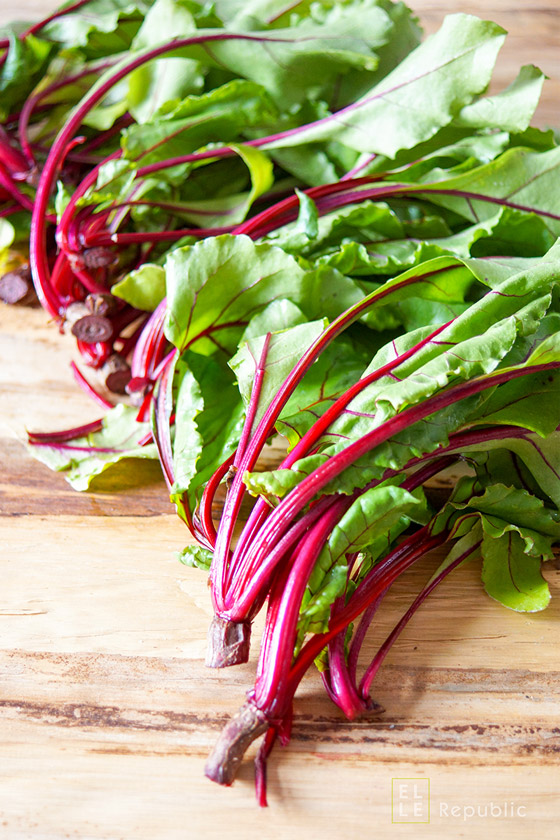 Sautéed beet greens are something that totally brings me back to my childhood. Our garden was full of beets! Which means there were plenty of dinners served with sautéed beet greens and boiled beets. And back then, I preferred the greens — mostly because, as a kid, heavily boiled veggies of any kind were pretty gross! Even worse in the winter when they came from a can. Yes, I did spend the first half of my childhood in the Great White North – population 1200. Our garden meant E V E R Y T H I N G to us!
So this recipe is not only an ode to my childhood memories of beet greens, but also because I recently ate soooo many greens (and roasted beets) during my spring Greek yoga holiday. I tell you, this recipe makes for a great brunch side dish. You can enjoy it warm or at room temperature. We had it three times with our breakfast and since we bought our greens intact with the actual beets, just imagine how many days we drank beet juice and ate roasted beets. Yes, healthy, healthy! But a word of warning: don't be alarmed if you are one of the few who experience the unusual effect of "beeturia" (a red colouration to the urine, after ingesting beets). Only 10-14% of the population experience this. So if you do too, well…welcome to the club!

Beet greens are super versatile. If the greens are really fresh and young, they are great in a salad. You can also blanch them and serve them as a simple side, or add them to anything from stews to pasta to risotto, to omelettes, tarts and quiches (which by the way is a super delish combo: quiche with roasted beet, beet greens, and goat cheese). PS) you can even juice them or add them to your smoothie. 🙂
Yes, spring and early summer is definitely the time to dive in and try the greens from fresh regional beets. Even the more mature leaves can be enjoyed cooked (just be sure to look for sturdy, unwilted greens). I almost always use the stems as well, but for more mature beet greens you may want to trim the stems or cut them into 2-3cm segments and sauté them a little before you add the greens.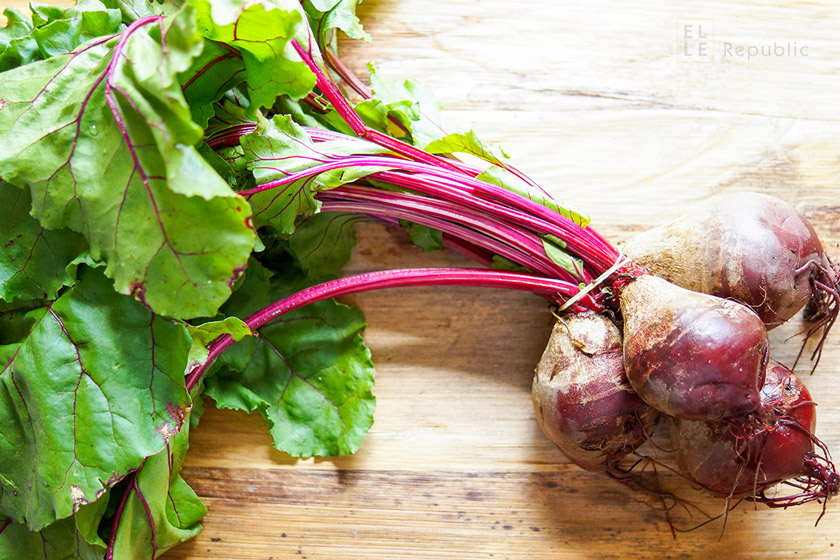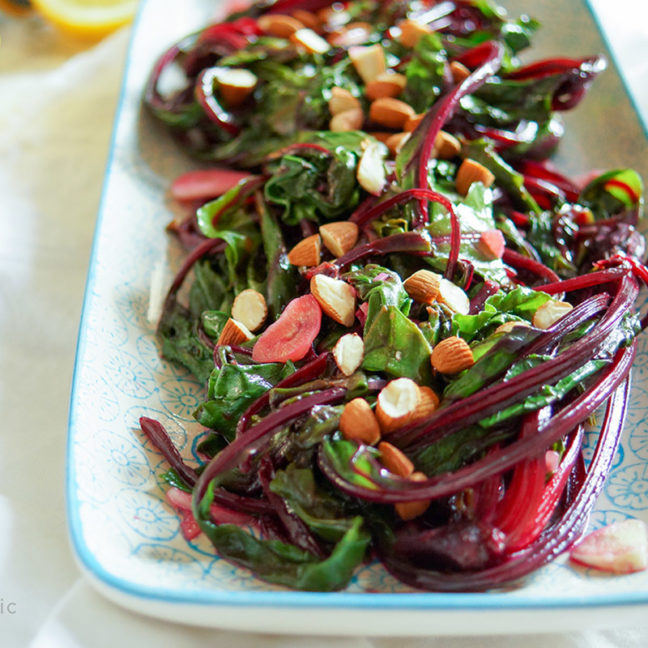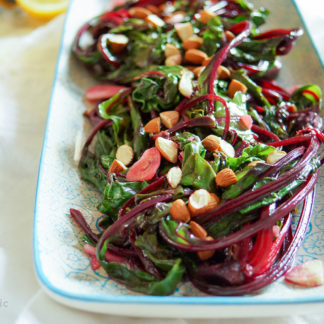 Sautéed Beet Greens with Garlic, Lemon & Almonds
A simple and quick recipe for sautéed beet greens with garlic, olive oil, fresh lemon juice and crunchy almonds. A healthy side dish for brunch or dinner.
Ingredients
1 1/2

tablespoons

extra-virgin olive oil

2-3

cloves

garlic,

thinly sliced

450-500

g

beet greens

(about 3 very generous handfuls)

sea salt and freshly ground pepper,

to taste

juice from 1 lemon

handful almonds,

coarsely chopped and lightly toasted
Method
In a large deep skillet or wok, heat the oil over medium heat. Add the garlic and sauté for 1 minute.

Add the beet greens, cover and cook for 2-3 minutes, flip the greens over, continue to cook, covered, stirring occasionally, until wilted, about 8-10 minutes. Season with salt and pepper and remove from heat.

Transfer to a serving plate, drizzle with lemon juice and sprinkle with almonds. Serve warm or at room temperature. Enjoy!
Notes
Beets greens like spinach shrink up quite a bit, so you'll needs lots!
Did you try this recipe?
Then tag @ellerepublic on Instagram and hashtag it #ellerepublic
How did you like it?
Please let me know how this buckwheat bread recipe turned out for you! I would love to hear how you liked it. Simply rate it with the stars above ⭐or leave me a comment and rate it below.
Did you make any changes to this recipe?
If you have tips for other readers, let me know! It helps me and other readers so much. Sharing is Caring :-).