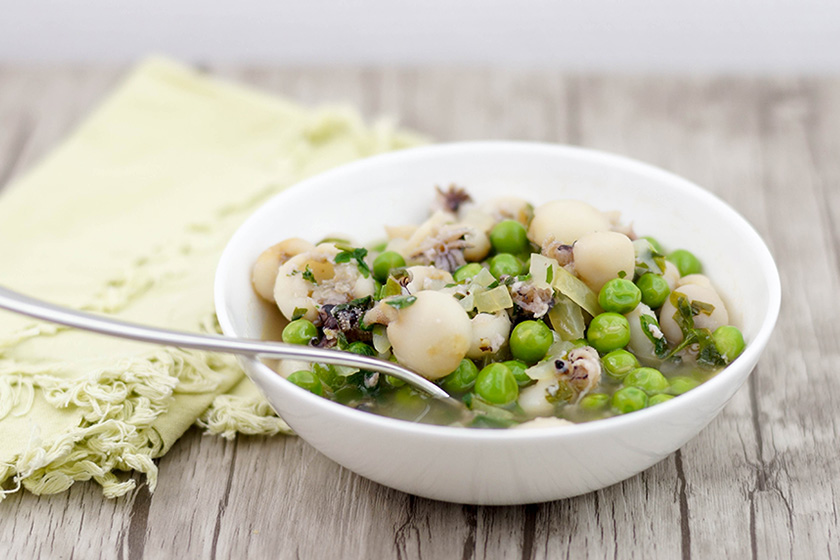 Have you ever tried cuttlefish? Well, imagine if you could cross an octopus and squid, that pretty much what you can expect it to taste like. If you love either of them, you'll love cuttlefish.
Cuttlefish is something I only became acquainted with when I moved to Europe. Thanks mostly to my favorite Schwabe who likes to prepare it from time to time and was kind enough to explain to me early on what "Sepia" actually is. I had no idea what I was missing! Yes, I had seen it often enough displayed on the menus of Italian restaurants but had never a clue what it actually was. I've been enjoying it at a little bistro down the road ever since — a happening little spot called Lentini, they serve it grilled with salad – heavenly.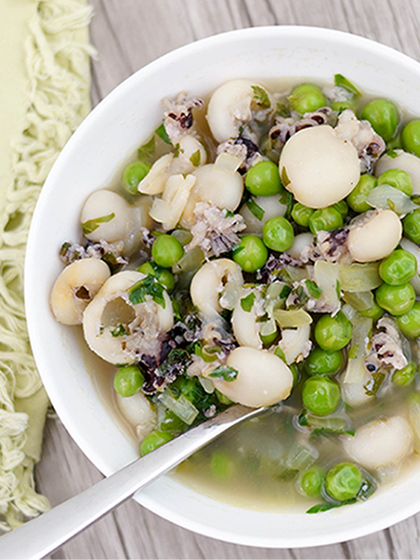 Grilled, Stuffed and Stewed Cuttlefish — a Mediterranean treat
Native to the Mediterranean Sea and the northeast Atlantic Ocean (North Sea and Baltic Sea) it's no wonder its popular seafood choice in Italy, Spain and throughout the Mediterranean countries. You'll find it grilled, stuffed, or braised as in this popular second course served throughout Italy — Seppie con Piselli – which is fresh cuttlefish rings cooked in a broth with peas, tomatoes, white wine and onion. . And yes, as strange as it may seem, cuttlefish and peas are actually made for each other. Sweet and briny pair perfectly.
In our place, this is one of those dishes that's always possible for an impromptu meal. You will most always find a bag of frozen peas, another of cuttlefish and yet another of escargot (love) in our freezer. So this is our Sunday night variation of the roman classic, using baby cuttlefish sans the tomato. If you don't find cuttlefish, you can substitute with squid.
With "simplicity is best" in mind, this very tasty dish is best served with a fresh loaf of bread, along with a crisp white wine, rose or pilsner.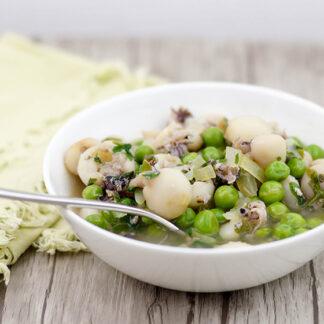 Stewed Cuttlefish With Peas (Seppie con Piselli)
A popular second course served throughout Italy, cuttlefish and peas are actually made for each other. Sweet and briny pair perfectly. An easy recipe that's healthy too!
Ingredients
3

tablespoon

extra-virgin olive oil

5

cloves

garlic,

sliced

large bunch flat-leaf parsley,

chopped

2/3

cup

dry white wine

(160 ml)

water,

boiled, enough to cover

1

kg

whole cleaned baby cuttlefish (Sepia),

frozen (thawed)

1

cup

peas,

frozen (150 g) (or more if you want)

1

medium onion,

chopped

freshly ground pepper,

to taste
Method
In a large saucepan, heat the olive oil over medium-low heat. Add the garlic and half of the chopped the parsley, sauté until fragrant; about 2 minutes. Increase the heat to medium, add the wine and cook until reduced. Add the cuttlefish and enough water to adequately cover.

Reduce heat to medium-low and simmer, covered, for 30 minutes, stirring occasionally (add more water if necessary).

Add the peas and onions, cover and continue to simmer until the peas are cooked, about 5 minutes.

NOTE: Fresh peas can also be used for the recipe, however allow 15-20 minutes longer to cook the peas.

Sprinkle with the remaining parsley and season with pepper, to taste. Serve immediately and enjoy!
Did you try this recipe?
Then tag @ellerepublic on Instagram and hashtag it #ellerepublic
How did you like it?
Please let me know how this Stewed Cuttlefish With Peas (Seppie con Piselli) recipe turned out for you! I would love to hear how you liked it. Simply rate it with the stars above ⭐or leave me a comment and rate it below.
Did you make any changes to this recipe?
If you have tips for other readers, let me know! It helps me and other readers so much. Sharing is Caring :-).