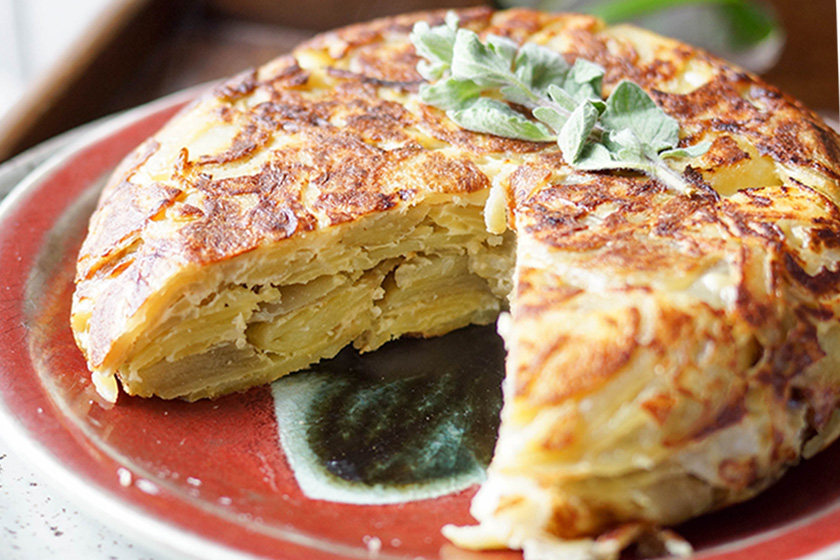 I was first introduced to a traditional Tortilla Española by a Spanish student that was staying with me a few years back. She demonstrated exactly how it should be done and of course the result was first class, but I have to admit I was alarmed by the amount of oil she used (and the mess the splattering oil made!). Of course I am myself a fan of olive oil, but she used so much in her cooking, you could say she practically drank the stuff right out of the bottle.
During this experience, I also learned, from this same student, that the potatoes were never to be cooked ahead, instead they were to be sautéed slowly in copious amounts of olive oil, carefully, so they did not brown in the process, then the excess oil was drained off, and finally the potatoes were added to the eggs with some salt. And there forth the process for creating a tortilla could begin. A messy and intensive process it was. I tried this method myself and it was a miserable and frustrating fail, on all counts.
But in the process, I learned that the potatoes could be cooked ahead and I managed to pick up a few skills on how to manage the acrobatics required to flip a hot tortilla onto a plate and the art of sliding it back in. I also learned the importance of using a trusted non-stick skillet (ESSENTIAL!) and a way to make this classic Spanish dish taste delicious without using half a liter of olive oil.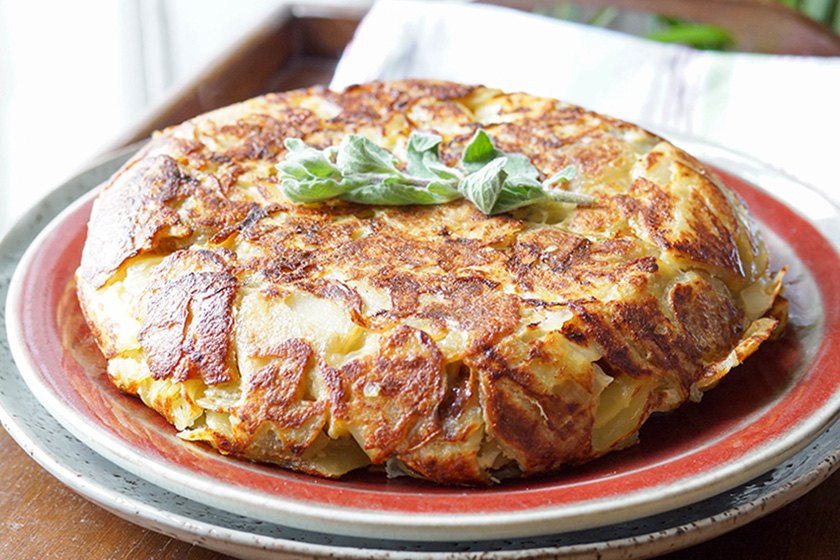 The final result, a delicious Tortilla Española as the perfect accompaniment to breakfast or lunch. It can be served alone or with a deliciously spicy salsa, or in the case of my favorite Schwabe's boys, they loved it topped with a simple prepared gravy. To serve as tapas, just cut the tortilla into bite-sized cubes and serve each piece with a toothpick. Or do as they do in Spain — eat it stuffed in a loaf of bread as a hearty sandwich. Enjoy!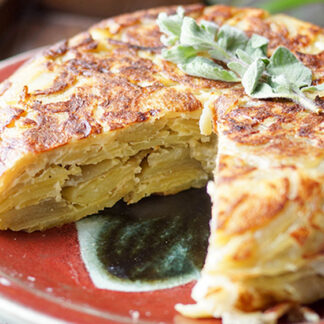 Tortilla Española (Spanish Potato Omelet)
A Spanish potato omelet made with sweet onions (look for Vidalia or Walla Walla onions) and eggs. A low-fat and easy recipe for a healthy Tortilla Española that's just as delicious as the original.
Cook Time
1
hour
15
minutes
Total Time
1
hour
30
minutes
Ingredients
9

medium potatoes,

peeled and thinly sliced using a mandoline (about 1.3 kg)

3

sweet onions,

halved and thinly sliced

2

tablespoons

extra-virgin olive oil,

divided

3/4

teaspoon

sea salt,

divided

4

large eggs
Method
Preheat oven to 350°F / 180°C

Place the potato and onion in a roasting pan lined with parchment paper. Drizzle with 1 1/2 tablespoons oil and sprinkle with 1/2 teaspoon salt. Toss well. Bake for 1 hour or until the potatoes are tender, flipping occasionally with a spatula to prevent sticking and promote even browning.

In a large bowl, whisk the eggs together with 1/4 teaspoon salt. Stir in the potato mixture; let stand for 5 minutes in order to give the potatoes a chance to absorb some of the egg mixture.

Using a 20 cm non-stick skillet, heat the remaining oil over medium heat. Transfer the potato mixture into the pan (the pan will be very full so use a spatula to flatten down the potatoes a little). Cook 7-8 minutes (until almost set), gently and frequently shaking the pan so the tortilla doesn't stick.

Place a large plate upside down over the tortilla and quickly invert it onto the plate. Carefully slide the tortilla (cooked side up) back into the pan, so the other side cooks; carefully tuck in the sides with a fork, and continue cooking, occasionally shaking the pan until eggs are set, about 3 minutes.

Carefully loosen the tortilla with a spatula; gently slide it onto a plate. Cut into wedges and serve at room temperature. Enjoy!
Did you try this recipe?
Then tag @ellerepublic on Instagram and hashtag it #ellerepublic
How did you like it?
Please let me know how this Tortilla Española (Spanish Potato Omelet) recipe turned out for you! I would love to hear how you liked it. Simply rate it with the stars above ⭐or leave me a comment and rate it below.
Did you make any changes to this recipe?
If you have tips for other readers, let me know! It helps me and other readers so much. Sharing is Caring :-).